PRODUCT SEARCH
The Solid Internal Multi Purpose Door
The OIT multipurpose internal door has been manufactured and designed for tough everyday use in both industrial and commercial properties, workshops and administrative buildings, schools, barracks, apartments, nursing homes, hospitals, public authorities and more. In each application, the door is subject to a large deal of wear and tear. To put your mind at ease, the OIT door has also been qualified as a burglar resistant door (DIN EN V 1627). This brilliant new multipurpose internal door has been specifically designed to withstand such rough treatment.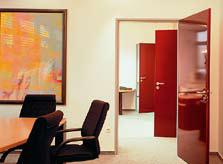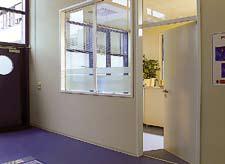 Multiple Uses - Multiple Sizes!
The OIT Multi Purpose door is available in 3 different varieties for different purposes; Single Leaf Door, Double-Leaf Door and Single Leaf High Security Apartment Door. Both single leaf doors are available in similar ordering sizes, however the double-leaf door is only available in larger ordering sizes.
Single Leaf Doors are available in any size upto:
1250mm wide
2250mm high
Double Leaf Doors are available in any size upto:
2500mm wide
2250mm high
Standard Single Leaf Door Sizes
Standard Double Leaf Door Sizes
Single Leaf Door

Double-Leaf Door

Single Leaf High-
Security Apartment Door
Steel doors from Hörmann are more than just practical. They are defined by their conforming visual appearance. The advantage for architects and building owners: Doors fitted on the same building level fulfilling different functional requirements are perfectly suited to one another.
Dependent on the purpose of the door and requirement profile, we offer OIT doors with three different infills available on request.
Tubular Chipboard
standard

Offers dimensional stability necessary in everyday use

U = 2.5W/m²K

Composite Timber
on request

For improved acoustic & thermal insulation

Mineral Wool
on request

For improved acoustic and thermal insulation

U = 1.7W/m²K
The OIT burglar resistant multi purpose door is also available with a range of optional extras to make your door feel unique and optimise your needs. This includes:
A range of handle sets - Plastic, Aluminium and Stainless Steel levers and knobs!

Wide Angle Spy Hole

Letter Box

Ventilation Grile

Retractable Bottom Seal

TS4000 Door Closer

Bathroom Lock

Glazing

Card Locks for Hotel Use
Available In A Range Of Superb Colours
Galvanised
Traffic White


(similar to RAL 9016)

Light Grey


(similar to RAL 7035)

Dove Blue


(similar to RAL 5014)

Sepia Brown
Light Ivory
Window Grey


(similar to RAL 7040)

White Ash
Cherry
Natural Oak
Light Oak
Beech
Dark Oak
NEW!
Golden Oak
Rosewood
Also Available With Window Sections
Circular Glazing - 300mm

Aluminium glazing frame anodized in natural finish (E6/EV1) on request in brushed stainless steel.

Window Section Fig. 5

Glazing frame with galvanized door leaf - Aluminium (can be painted)

Window Section Fig. 6

Glazing frame with powder-coated door leaf: Aluminium anodized in natural finish (E6/EV1)

Window Section Fig. 7

Glazing frame with foil-coated door leaf: stained timber matching the door leaf