PRODUCT SEARCH
Samson Online Shop



Oxford Safe T Glide Powdercoated White

Sectional Garage Doors

MATERIAL: Steel

GEAR TYPE


Sectionalwhat's this?
Description

Application

Specification

Installation

Warranty

Measure
Description
The Oxford Sectional garage door has single skinned Georgian steel panels.
Application
Domestic Garage Door - Low to medium useage
Specification
The Gliderol Sectional garage door enables you to park your car right up to your door. Also minimal side room and headroom is required, saving even more space.

Standard Headroom:
Front Mounted Torsion Springs.
Side Room: 120mm (standard) 80mm (minimum)
Headroom (standard): Manual: 200mm Automatic: 250mm

Optional Low Headroom:
Rear Mounted Torsion Springs.
Side Room: 120mm (standard) 80mm (minimum)
Headroom (standard): Manual: 75mm Automatic: 100mm.

Powdercoated colour option: -
White in either Woodgrain or Smooth finish.

Glidermatic GTS Optima Operator
The Glidermatic operator has a fully enclosed steel shaft to ensure that the working parts are kept out of harms way. The GTS operator will automatically reverse if there is any obstruction in the way. In the case of the door being obstructed when on the upward cycle the operator will stop immediately.

Pulling Force: Torque 1000N belt
Motor: Powerful 370 watts, 24V DC motor
Transformer: High efficiency - 175VA
Courtesy Light: Environment friendly LED illumination
Drive Mechanism: Quiet belt (NGTS 2000)
Soft Start / Soft Stop: Yes - 150mm before reaching both upper & bottom limits
Radio Frequency: 868 MHz
Code: Rolling code technology
Wall Control: Yes - external push button option
Battery Back-Up: Yes - 1000Ah recommended
Accessory Power Output: Yes - 12V
Rated Door Area: Max 21m2max
Rated DoorWeight: Max 200Kg max belt
Manual Release: New easy pull mechanism
Power Off: Auto sensing door distance
Auto Close: Yes - 90 seconds

The Glidermatic GTS 2000 operator is a digitally coded sophisticated mini transmitter with a fully enclosed chain. With a quiet low voltage (24 volt) motor, the GTS 2000 ensures no unnecessary strain is put on your garage door as well as whisper quiet opening and closing.
The GTS 2000 includes a locking feature to prevent the door from opening for unauthorised entry, and with over 16 million code combinations, no other garage door opener will open another.

Manual Release - is available to order (only required when ordered with a remote control operator) in the case of a power failure the door can be operated manually.

To download or view the Gliderol Sectional Doors Brochure, please click here PDF >
Warranty
Warranty
2 years electrical
6 years mechanical
10 years paint finish

PRODUCT WARRANTY CONDITIONS
Warranty Conditions
1. Subject to the undermentioned specific limitations and exceptions, the Manufacturer warrants all new doors, motors and electronic components of its manufacture to be free from defect in workmanship under normal use and service and further warrants all installation carried out by the Manufacturer or by its nominated installers to be free from defects and workmanship its obligations hereunder being limited to making good any such defect PROVIDED THAT notice of any claimed defect in material workmanship in or resulting from installation of any door shall have been given to the Manufacturer within the period from date of installation as prescribed in the schedule hereto.
2. This warranty does not apply to any defect, loss or damage arising or caused directly or indirectly by or as a result of:-
(i) Any masonry rendered or other surfaces cracking or collapsing during installation of the door
(ii) Any defect or deterioration of timber including drying out after installation
(iii) Any weakening or collapse of the structure to which the doors are affixed occurring any time after installation
(iv) Any damage to or deterioration in the condition of the doors occurring in transit by customer nominated or appointed carrier or occurring after delivery and prior to installation
(v) Any defect (including defects in component parts or accessories) rising from or attributable to the failure to carry out normal preventive maintenance or adjustment
(vi) To any additional defect damage or deterioration arising from or attributable to the operation of the door after it is known to be defective
(vii) Any door being installed within 800 metres of the sea or other body of water of equivalent or greater salt concentration or in an area subject to industrial fall out
(viii) Any fault or surge in customer's electricity supply
(ix) The door striking an immovable object during travel
3. Items excluded from Warranty:
(i) Batteries
(ii) Fuses
(iii) Globes
(iv) Sensitivity adjustments
4. While Gliderol doors are long lasting and hard wearing under normal conditions this warranty does not extend to inherent defects in steel or other material used in the manufacture. The Manufacturer will however, procure and assign to the customer the benefit of the warranty of the manufacturer of the steel or other material.
5. If Manufacturer has at request of customer procured painting, powder coating or other surface application to its product this warranty does not extend to such painting, powder-coating or other surface application. For this purpose Manufacturer at all times acts as agent of customer. Manufacturer may as a service to the customer but without any legal obligation to do so, assist customer to obtain redress in respect of any defect.
6. The manufacturer reserves the right to touch up on site the paint finish and or pre-painted surfaces on its range of garage doors but no responsibility will be taken for the possibility of any paint rubs, scuffing etc on the internal wash coat finish or external painted surface.
7. Proof of purchase and original order number MUST be provided to the manufacturer at time of Warranty claim.
Measure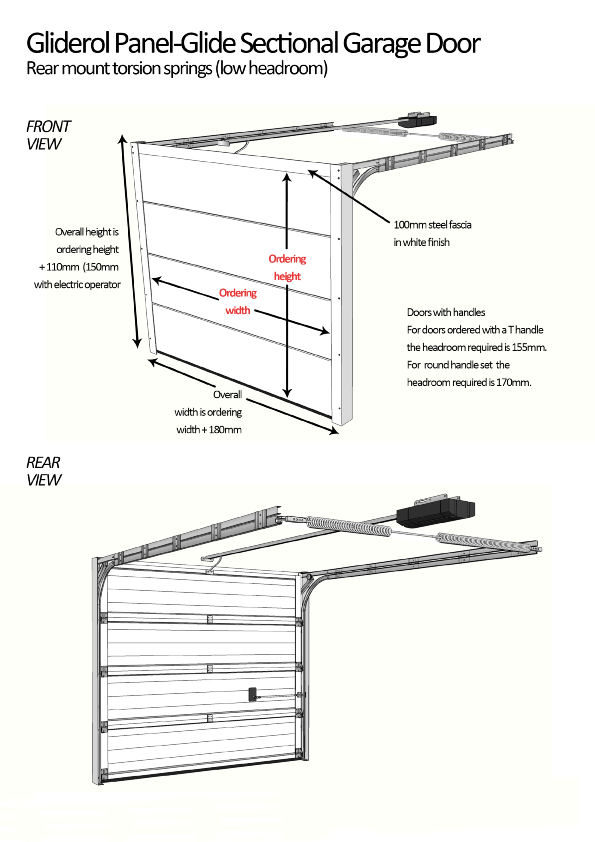 Front Mount Torsion Springs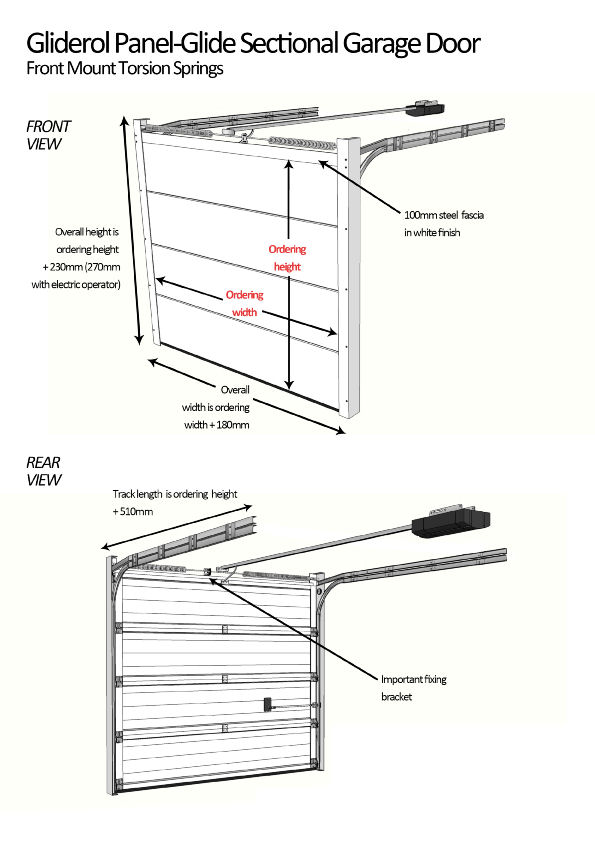 Side Mounted Springs