PRODUCT SEARCH
Samson Online Shop



SeceuroGuard 1000

Security Grilles - Retractable

MATERIAL: Steel

GEAR TYPE


Security Grilleswhat's this?
Description

Application

Specification

Installation

Warranty

Measure
Description
The Seceuroguard 1000 security grille is a high quality collapsible security grille available in made to measure sizes for discreet door and window security in either commercial or domestic applications. Ideal for internal installation in window recesses, doorways and any opening that requires a good level of security whilst retaining visibility.
The gate lattice is available in either the traditional 'X' lattice design or the softer 'S' lattice design at the same price.
Available in single or double sash options with a hinged aside option possible depending on size and requirements.
The Seceuroguard grille is available in 27 standard colours to co-ordinate with almost any colour scheme. Special colours can be ordered on application.

To view the RAL Colour Chart, please click here PDF >
Essentially maintenance free with a wide range of colour options and a choice of lattice styles, classic appearance and convenience combine with the high levels of protection.
Strong security barrier and deterrent
Galvanised for corrosion resistance and powder coated
Fully retractable system
Excellent through-vision and ventilation when locked
Multi-point locking (2 point) from single key
Smooth running carrier system ensures quick and easy operation
Custom built for almost any opening
An unlimited width can be accommodated in sections
A floating sash version is available
A fixed frame version is available when retraction of the gate is not required
Exceptionally strong, yet unobtrusive and stylish, the SeceuroGuard 1000 will transform the way you protect your property.

Download the Seceuroguard Technical Guide PDF >

Download the Seceuroguard Product Guide PDF >
Application
The Seceuroguard 1000 is suitable for domestic or commercial security for doors and windows.

FOR RESIDENTIAL PREMISES
Elegant good looks with a heart of steel - the SeceuroGuard 1000 Retractable Security Gate System combines a classic appearance with strength, making it an ideal security choice for the home.
Designed to keep intruders out while letting maximum light in, they are perfect for patio doors, French windows and any other vulnerable ground floor doors or windows. Gates can be left locked with doors open to provide ventilation without loss of security.
When not in use these retractable gates are surprisingly unobtrusive.
Fitted to the door or window surround, they can disappear neatly behind curtains and a pelmet can be used to conceal the top track.
The gates offer the option to remove the bottom guide track from the opening and sashes may be hinged to swing to the side at 90° or up to 27O° leaving French windows and doorways free from obstruction. (The hinge aside option requires a folding bottom track).
Essentially maintenance free, each SeceuroGuard 1000 is available in a range of powder coated colour options to complement your decor, and can also be supplied with optional decorative 'S' Profile lattices

FOR COMMERCIAL PREMISES
Allowing maximum natural light into commercial premises, retractable gates fold to the sides of the window reveal when not required and can be concealed neatly behind vertical blinds to create a secure but pleasant working environment.
Office premises, staff and equipment are safely protected by an exceptionally strong security barrier, manufactured from pre-galvanised rolled steel with multi point locking from a single key.
Offering security features which are particularly important on vulnerable ground floor windows and doors, the SeceuroGuard 1000 ensures excellent barrier security. Whilst the top hung ultra-smooth carrier system and nylon coated steel bearings also ensure it is quick and easy to open and close.
SeceuroGuard 1000 is essentially maintenance free and available in a broad range of optional powder coated colours to complement corporate styling.
Installation
Download Installation Guide as PDF >
The Seceuroguard is ordered as the overall width and height including the fixing posts, top and bottom track regardless of whether it is fitting inbetween or on the face of a door or window opening. The stack size when the gate is fully open will obviously depend on the ordering width and there is a table to calculate this in the technical PDF.
Warranty
Retractable Security Gates
The operation of the retractable security gate along with the finish of the fixing frame, sashes and tracks are guaranteed for a period of 2 years against faulty materials and workmanship.
Measure
The Seceuroguard security grilles are ordered by the Overall Width and Height - the maximum width and height including the grille and the surrounding frame for fixing. You need to allow for any installation tolerance and take this into consideration.

Always measure your doorway or window in as many places as possible and take the smallest width if you are installing INBETWEEN the structural opening.

If you are installing to the inside or outside face of an opening then you add on the size of the 'stack' and order including this stack size so you clear the opening when retracted.
See our Guide to Measuring for Security Grilles >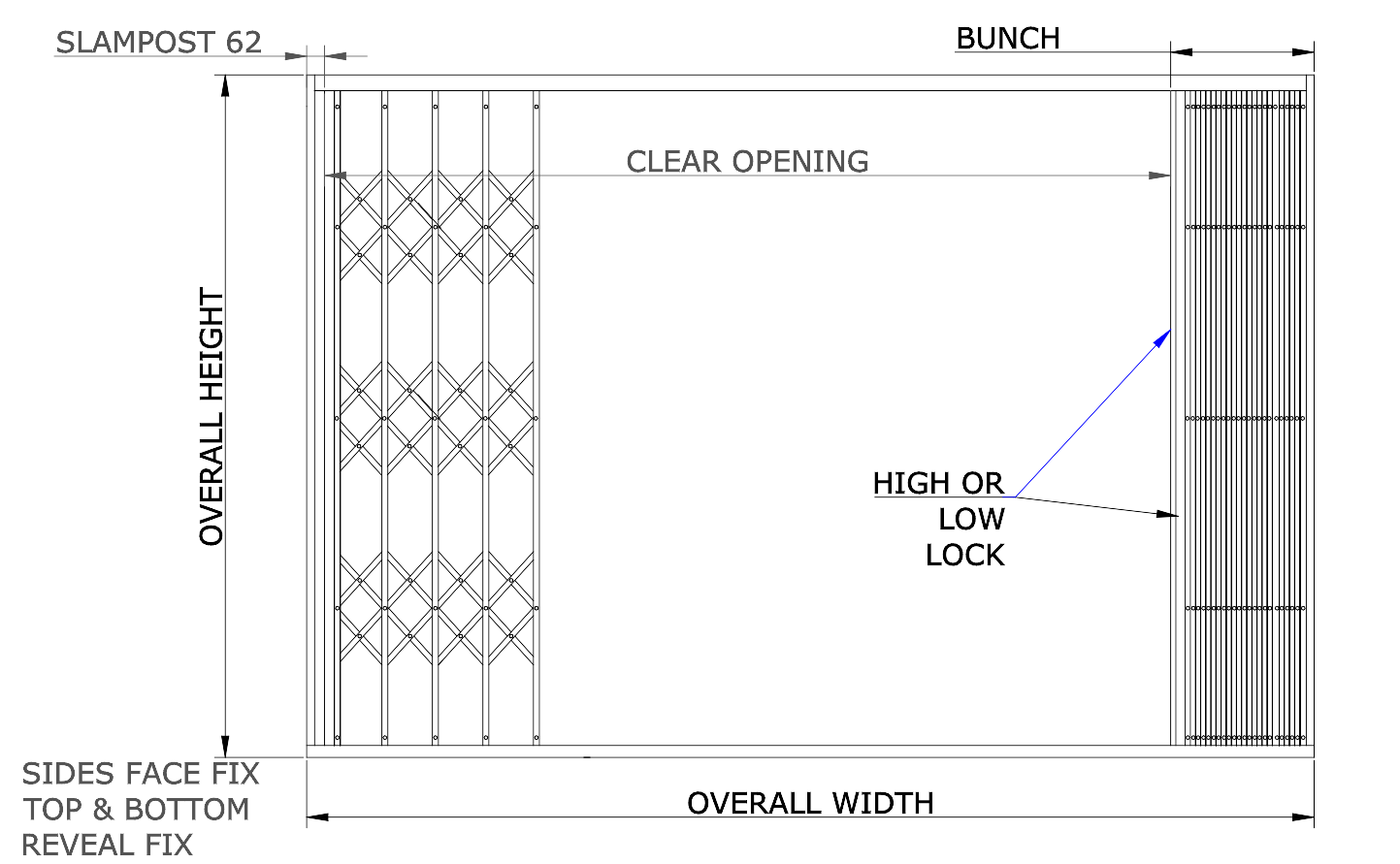 Important dimensions and layout diagrams for a retractable grille: