PRODUCT SEARCH

Industrial Sectional Doors
Industrial Sectional Doors are vertically-opening doors constructed using multiple panel sections built to withstand heavy usage using double skinned steel foam filled panels in the main but also aluminium framed and glazed panels for varying degrees of high quality vision. The vertical opening of these doors creates more space in front of and behind the door allowing you to park vehicles closer and utilise more room inside the building.
When open, the industrial door sections neatly fold up and lay flat beneath the ceiling. For angled roofs, special tracks can be ordered so that the door panels open in line with the roof and you can even have a sectional door foing straight up the wall vertically if you have the headroom.
Manufactured to your specific requirements, each of our industrial sectional doors provide reliable service & exceptional ease of use combined with an outstanding level of access control capable of withstanding high usage volumes to cope with all levels of industrial workloads.
The sectional door for nearly every standard application is the superb Hormann SPU F42 - A double skinned, foam filled 42mm thick steel panel makes this door very robust in all sizes up to 8000mm wide and 6000mm high. You also have some useful and very competitively priced options such as the wicket (pedestrian) door, various window options, electric motors and controls and also various surface finishes on the door panels externally.
Sectional overhead doors offer the very highest level of insulation levels for buildings requiring this and Samson Doors proudly offer the Hormann range of sectional doors.
We consider these industrial sectional doors to offer an uncomprimising level of quality and reliability not just for the door panel and operating mechanism quality but also the highly developed and state of the art access control and automation systems used. The excellent pricing of the Hormann sectional doors also makes it a very sensible and attractive solution for most commercial and industrial premises.
Industrial Sectional Door Products


Insulated Sectional Doors


Hormann SPU F42
For most buildings which require a certain level of insulation. This is the door for all.

Hormann SPU 67 Thermo
The thermal insulation minimises temperature loss, making it ideal for use in food and cold logistics.
Fully Glazed Sectional Doors


Hormann ALR F42 Thermo
Excellent transparency and thermal insulation.

Hormann ALR 67 Thermo
Where higher thermal insulation is required, thermal break profiles, depth 67mm.

Hormann APU F42 S-Line
Slim profile with invisible section seams, which allow more natural light into the building.

Hormann ALR F42 S-Line
Maximum visibility door, ideal for showrooms.

Hormann ALR F42 Glazing
Window sections are made of real glass and allow full view into showrooms and other retail outlets.

Hormann ALR 67 Thermo Glazing
Ideal where high thermal insulation is required, thermal break profiles, depth 67mm.

Hormann ALR F42 Vitraplan
Similar to the Hormann ALR F42 but with larger glazing panels. Very sleek glazing and 'frameless' look option.


Glazed Sectional Doors (with steel bottom section)


Hormann APU F42
For buildings requiring substantial security & natural light. Showrooms and workshops.

Hormann APU F42 Thermo
Insulated and highly stable door which allows large volumes of light into the building. High useage and wicket door options for pedestrians.

Hormann APU 67 Thermo
Excellent thermal insulation due to its glazing beads and thermal break.


Insulated Sectional Doors (for on-site cladding)

Hormann ALR F42
For buildings with an abstract architectural style. Also used for infilling with timber and other materials for special designs.
One of the most useful aspects of a sectional overhead door is the ability to take the guide rails anywhere from a horizontal position through different angles to straight up vertically meaning with most commercial and industrial buildings you can follow the roof line to maximise use of the internal space of the builiding. You can also add 45 and 90 degree bends in the tracks and all this whilst maintaining the option of manual or electric operation for the door.
The spring mechanism can also be positioned to suit the best fixing point as well as many different motor drive unit options for low, medium or high useage with the position also to suit the roof design and track type required.
To see the variety of track versions, click the below link.
Examples of possible Track Versions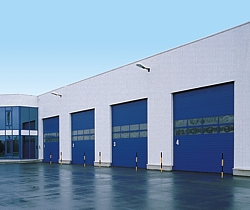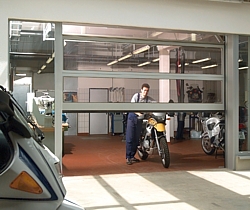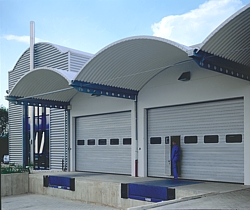 Most commercial and industrial buildings and warehouses benefit the most from a good quality sectional door as it will seal and insulate properly to a very high level if required keeping the building temperature and atmosphere as constant as possible. The strength of these doors is far greater than the average roller shutter door with the glazing being the real beneficial option. A good sectional door will offer many years of trouble free operation with all serviceable components easily accessed unlike most roller doors where most problems occur in the side channels or inside the roll barrel meaning the door needs unassembling to repair. The sectional door has a far sturdier operation action with less moving parts than a roller door. The whole door balance is far superior and means far less stress on the single or three phase electric motor option.