Hormann SB Roller Door
Decotherm Aluminium (A)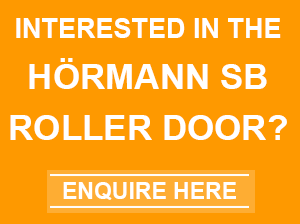 The Decotherm SB Rolling Shutter is a simple operation door for openings up to 6000(mm); it features a space saving design and a high operational safety in all structures.
It is also available as a manual or electrically operated door with a wide range of access controls for every application. This robust, inexpensive solution is available in Aluminium (A) or Steel (S) profiles making the Hormann SB Roller Door the perfect solution for Shopping Centres, Agriculture and Warehouses.
A clean, easy motor design with reliable and high quality components for excellent long term reliability.
The SB Rolling Shutter can be installed with a compact electric operator with integrated control and push button type DTH for increased convenience. Easy retrofitting is possible at a later point if required, another great feature of this new roller door. No additional installation side room is required for fitting.
If the operator is disengaged, e.g. due to a power failure, the door can still be operated manually thanks to the counterbalance in the tension spring assembly.
As a standard both the Aluminium and Steel door comes with:
Double Skinned Curtain - Providing an all-round tight fit. This is ensured by a frost-proof flexible lip seal along the bottom edge, a flocked special material at the lintel, as well as a fine bristle seal in the side guides (Please note: the plastic runners and brush seals are only available in the Aluminium side guides ensuring a quiet and smooth operation)

Finger Trap Protection - Black plastic strips on the edges of the side guide protect against cuts.

Anti-Fall Safeguard - Separate catch safety device for chain drive and tubular operators Just like the integral version, this version is a high-performance device that responds as soon as the speed limit is fractionally exceeded.
Decotherm Aluminium (A)

The intelligent lightweight profile made of aluminium rolls up especially quietly and with minimum abrasion. Either with a bright-rolled surface or colour coating.
Operation
In combination with a WA 300 R S4 operator, the SB Rolling Shutters are characterised by a high level of safety when opening and closing.
Thanks to the standard power limit in the "Open" and "Close" directions, most curtain variants and size ranges do not require the installation of a closing edge safety device to meet the requirements of DIN EN 12453.
Tension spring assembly

Manual actuation only requires very little force

The door does not need to be opened any further than needed, as it can be held in any position

Galvanized octagonal barrel with curtain rings

Ensures quiet and continual door travel, as the curtain is rolled up uniformly.

Aluminium side guide unit with flange-mounted support brackets

Small space requirement increases fitting options (only 165mm on both sides for all door versions, up to 236mm less required headroom than for a basic rolling shutter)

Door appears compact on the inside, as the support brackets, side guides and spring chambers are all in one unit

Low maintenance and repair costs

Precise matching of the door, operator and control ensure the smooth operation of the rolling shutter.

With a complete door solution from a single source, these components form the perfect team. While Hörmann rolling shutters and rolling grilles stand for durability and functional safety, they are also trouble-free to maintain.
Colours and Finishes

The SB Decotherm in Aluminium comes with Roller Aluminium as standard but has the additional option to have the door coated in Grey White (RAL 9002) or White Aluminium (RAL 9006)
The SB Decotherm in Steel comes with Galvanised Steel standard but as above it offers has the additional option to have the door coated in Grey White (RAL 9002) or White Aluminium (RAL 9006)
Additional Options
The SB Aluminium and Steel comes with a number of optional features including Side (Wicket) Door, Glazing options and the additional safety option of a *Side Trap Guard
*A cover made of a special rigid fabric that prevents operators from reaching into the hazard area where the doors rolls up.