Side Hinged Garage Doors
Side hinged garage doors have seen a big resurgence in popularity in the UK since less and less people are using their garages for housing vehicles and more as another room to the main house for many different purposes. Side hinged doors make a lot of sense and are an uncomplicated mechanism with minimum maintenance and a long lifespan.
Samson Doors specialise in high quality steel hinged garage doors with a basic single skin pressed steel range and then a premium, double skinned and insulated steel panel range, with our own high quality brands, as well as other leading brands manufactured in the UK and Germany.
Shop All Side Hinged Garage Doors >
Did you know?
If you are buying a garage door for ease of use, low maintenance and higher security see the features of the side hinged range.
Easy to operate on a daily basis, also very quiet during their operating
Only open small part of the whole garage door to enter or exit on foot
Simple to install, especially as all our doors are prefitted with the sub frame and all furniture
Little to no maintenance as there are no complex moving parts in the door.
Huge range of designs and fully finished colours
Powdercoat or laminate woodgrain finishes
Choice of external surface finishes on many models
Small or large window options for natural light and vision
Long lifespan as no stress on components generally
50/50 split or 70/30 division to provide a pedestrian door access in the smaller door leaf
Single or double skin insulated options
Very secure when specified with multi point locking
The Garage 'Doorset' Principal
All the steel side hinged doors we offer have a steel or aluminium box section fixing sub frame, which is factory fitted to provide consistently accurate tolerances and a complete 'doorset' with hinges, locking and other components already installed professionally in a controlled factory environment.
Gone are the days of buying all the various parts for making a pair of side hinged doors and then having to find a proper carpenter to come to site and assemble the whole lot with varying degrees of finish quality. The future is a complete 'doorset' - an assembled garage door from the factory to ensure continuity in quality and specification. The same principal applies to the pedestrian doorsets and front entrance doors we sell too.
The fixing sub frame is a key part of the overall strength and integrity of the completed installation and having a study steel or aluminium frame with built in weatherseals and the correct hinges and other components already selected makes life easier and the overall finished product so much better.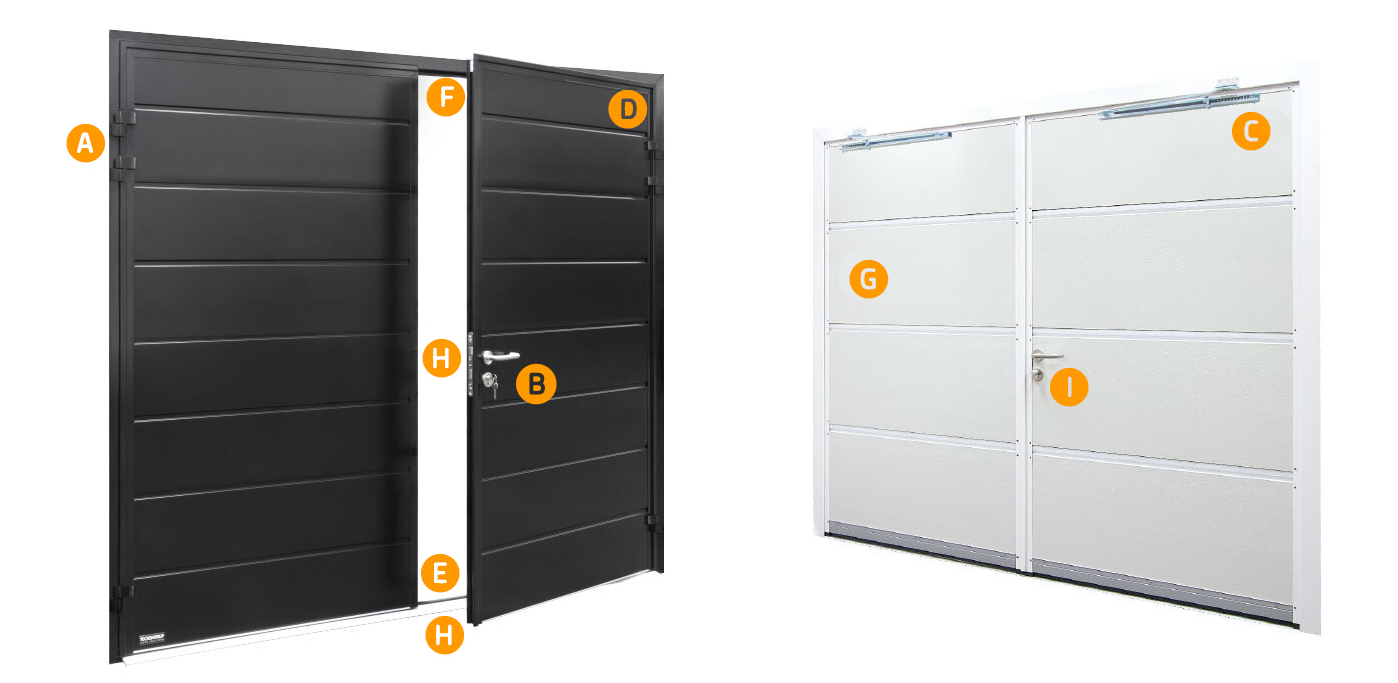 High quality hinges

Aluminium hinges that are easily adjustable and have fastened hinge bolts make it difficult to lever open the door. Depending on size, each leaf has two or three hinges.

Stainless steel handles & locking

Stylish and durable, high-grade stainless steel is used for the handles and lock covers, and a latch and deadbolt combination offer trustworthy security. The lock is conveniently operated from the inside with a thumb turn.

Door stays

The door is held firmly open by these premium, spring-damped stays. The held door leaf is released with a quick delach motion. A stay will not be present on any leaf that is narrower than 780 mm, including asymmetric side hinged doors.

Double weather strips and mitred corners

The door frame includes a three-sided weather strip for good draught mitigation in addition to the circumferential weather strip around the door leaf. Mitre jointed profiles provide a clean finish.

Standard lipped threshold

Standard equipment includes a tiered, three-part aluminium threshold with a bulb weather strip. A better barrier against dust and debris is created when the door leaves close against the elevated weather strip. A thermal break in the threshold reduces heat transfer.

Flush bolt security

Flush bolts are used to fasten the inactive leaf to the leaf's top and bottom. For increased flexibility in determining the position of the leading edge on the inactive leaf as seals deteriorate over time, each bolt features an adjustable flush bolt plate.

Neat inside too

The door's interior is exceptionally well-kept. No obtrusive bracings are present; instead, the surface is finished in a practical grey and white stucco texture (RAL 9002).

Aluminium strip threshold & triple point locking options

The simple low profile threshold (without a weather strip) is provided by the aluminium profile, which is an alternative.

Open-In & Open-Out Options

Typically, all side-hinged garage doors open outward. There is also the option of open-in.
Colours, Finishes and Styles
All our side hinged garage doors use high quality galvanised steel, whether single or double skinned construction and with modern manufacturing technology, we can offer some stunning colours, designs and finishes - traditional and modern. The styles vary from a super sleek and very plain modern garage door design through to a very complete replication of 40's style hinged doors with rows of windows across the top, very traditional styles indeed. The beauty of many of these styles is they are wooden hinged door designs but without the costs and maintenance of wood involved.
Trend Colours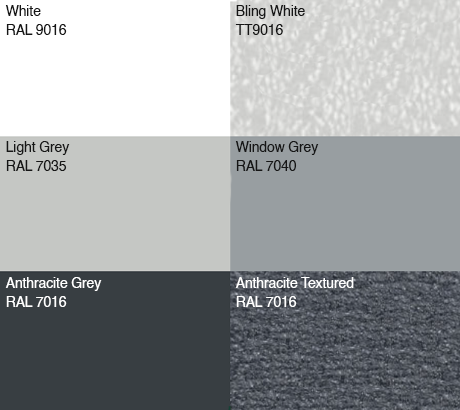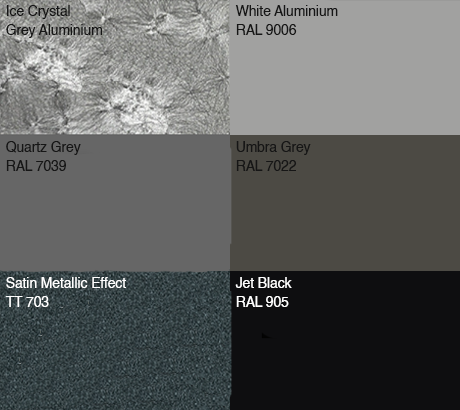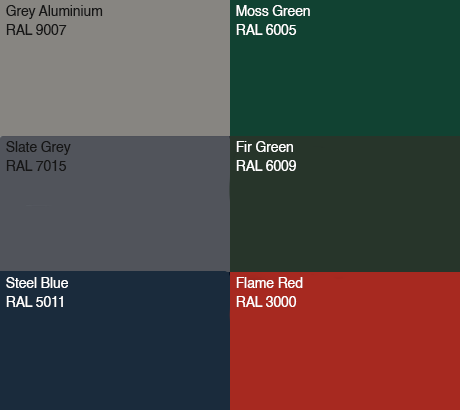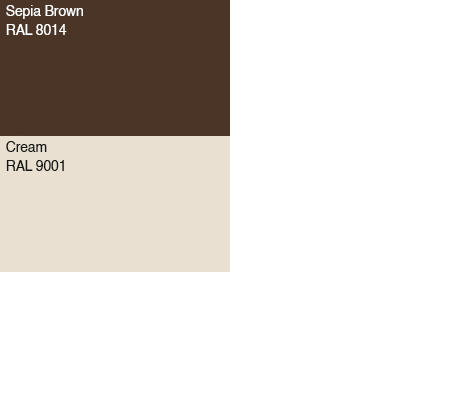 Trend Plus Colours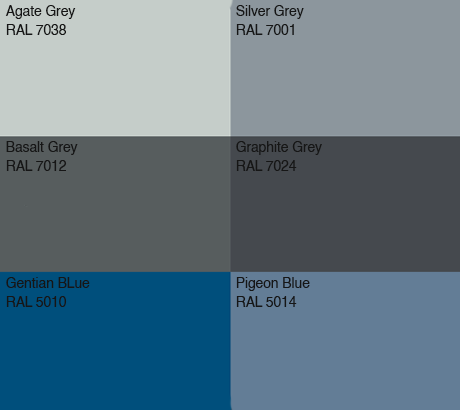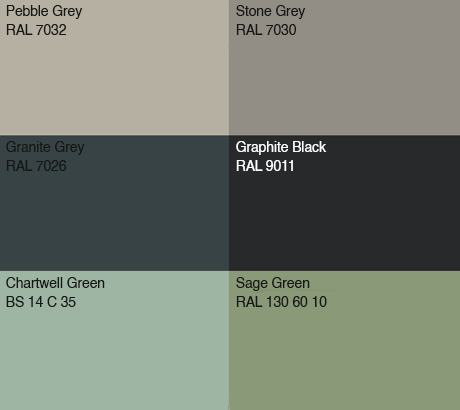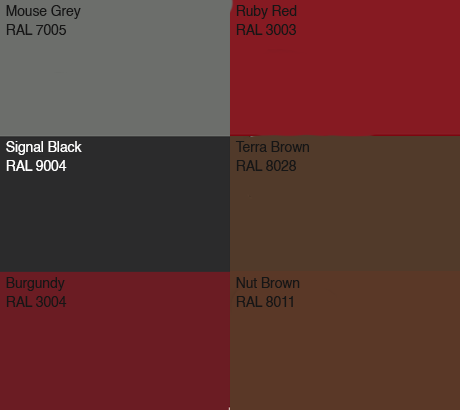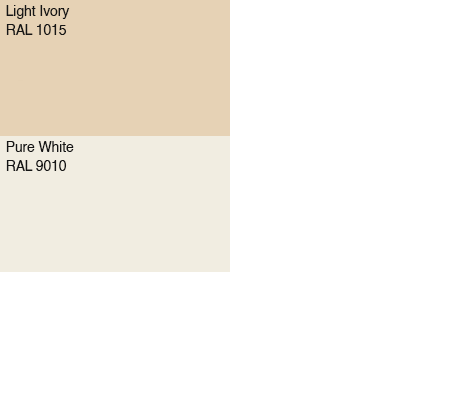 Windows
Apart from a large range of predefined models with windows we can offer pretty much anything with window options, from tiny porthole type windows to the largest windows at the top of the door panels with classic leading to replicate traditional designs.
Windows in our budget ranges are either single pane polymer or even mock effect windows but the windows in our premium double skin steel range are far more diverse because of their double glazed construction. The double glazed units are still a polymer scratch resistant construction for safety and stability, but we do offer some limited range real glass and stainless steel window options.
We can position the windows anywhere where it is physically possible if required and can even provide a drawing beforehand to verify your choice.
Windows are very popular in side-hinged doors simply because the garage doors are being used to provide doors to what is effectively another room, so the light and vision is welcome and practical too.
From smooth plain finish to textured woodgrain finish
From a totally smooth plain finish on many doors we can also offer a textured woodgrain finish on the external face of the panels. Lesser specified stucco or micro profiled finishes are also available.
Most doors are powder coated to a high quality finish requiring no further treatment at all and just the occasional wipe down or wash to keep pristine. Modern powder coats and other paint finishes now enable some very tough finishes to be applied.
We offer laminate foil woodgrain effect options on many models to provide a very realistic and tough finish to match uPVC windows and doors if required.
The UV stability of all the finish options is excellent but we still recommend avoiding darker colours on any totally south facing doors.
The RAL references are all provided as a guide only to the nearest similar RAL colour and a difference in gloss content might result in not matching another RAL colour, please be aware.
We also offer some 'bling' finishes for some door models. Textured paint finishes or metallic effects in the paint to provide special finishes unlike any other. We offer well over 100 colour options as standard across the various ranges and can always provide a special finish if required, just ask.
Insulated Double Skin Doors - Our Premium Range
Why bother with the expense of double skin door panels?
So many reasons why in reality, but based mainly on the overall strength and stability and the benefits of the insulation from the door panels and their 40mm sandwich construction they are a great value product. Although a complete and fitted U value isn't available, the doors will offer great levels of insulation from heat, cold and sound over any single skin door panel. Along with the double skin panel construction comes enhanced and larger weather seals all round and overall better locking as there is simply more panel to use and fit the locking into.
The strength of the double skinned panels also means it is easier to cut and maintain stability and hence why we can do so much with window options on the double skin doors. Whilst the insulated hinged doors are not built quite to a level and specification of a front entrance door, the only real differences are in the bottom cill and details surrounding that area. Many of the insulated hinged doors have various threshold options to choose from.
Insulation is a big deal these days and saving energy costs both in heating and cooling is essential for a greener planet and saving money each and every day.
The insulated steel hinged doors we offer have the very best construction and high quality furniture and specifications. The reassuring clunk when they close gives enough clue to their integrity. Thees doors are a great solution to any garage entered mainly on foot or which is used infrequently.
Super strong panel construction
40mm sandwich build, with foam filled centre core offering insulation against cold and heat and sound
Integrated locking and seals from having a thicker panel to work with
Greater security through stronger panels and factory fitted sub frame
Comes as standard with a box section fixing sub frame, already factory fitted
Options for thresholds
Excellent high quality window options with double glazing
Enhanced 3 point locking options on some models
SR1, PAS24 ratings available on limited models
Massive standard colour choices - Always factory finished with no extra work required
Certified Security & Performance
We can offer hinged garage doorsets with certified security ratings if required albeit in limited designs. PAS24 and LPS1175 SR1 and SR2 are possible the most relevant for domestic applications offering the peace of mind of a tested and approved specification which is totally focussed on security. When any garage door is built for the purposes of security and especially if it is to be tested and approved then as you might imagine the general overall integrity of the door and components is even better than a normal door. This can often mean better weathersealing and certainly a stronger door dealing with everyday knocks far better.
More side hinged garage doors will have security ratings shortly as the demand for proper security with evidence of performance is growing fast in the UK. Please email of call us for the very latest details and prices of security rated steel hinged garage doors.
Generally most side hinged garage doors are secure, but for some peace of mind and higher levels of security we would recommend the double skin s...
There are many advantages with a good set of side hinged or 'swing' garage doors… We are seeing a massive resurgence in the...
The warranty periods below only apply to products that have been correctly installed as per the instructions.
2-year manufacturer's guarantee
on window units, hinges, locks, handles and stays (opening/closing max. 5 times a day)
5 Point Guarantee
10-year manufacturer's guarantee
on panels against rust penetration from inside to outside
against door panel separation of steel from foam
on material and manufacturing flaws of all non-moving parts of the frame that are verifiably unusable or whose usability is substantially compromised
on floor seal, intermediate seals and frame seals against rotting
Remote Controlled Side Hinged Garage Doors - Electric Operation
It is perfectly simple to automate a pair of side hinged garage doors using the right equipment. We have pre packaged electric garage door operators in our showroom with the swing door kits included to automate doors up to 3m wide with remote control operation.
Using the best remote control motors available and the boom type mechanism as used on sectional doors the principle is to add 2 steel booms which push and pull the door leaves in and out when operated. Obviously the manual locking isnt useable with the electric operation and various steps have to be taken to exclude or even omit from the build if required.
Made to Measure as Standard
Most of our double skinned insulated steel garage doors are made to measure with no extra cost. We do have some standard sizes, but these have been identified more for ease of ordering and to speed up manufacturing times in the main.
We make your doors to the exact millimetre.
The made to measure doors are manufactured to the exact overall width and height, including the outside fixing subframe. Allow some tolerances for installation, usually about 10mm all around the sides and you get the easiest installation, with hopefully just a mastic seal to complete once fitted. Remember the doors come pre assembled with the sub frame, hinges, furniture and other options already factory fitted..
Commercial Hinged Steel Doorsets
Not only do we offer some great hinged garage doors but we also have an extensive range of commercial steel doorsets for almost any application in either single or double leaf arrangements.
We pride ourselves on only offering tested and verified compliant steel doorsets manufactured either in the UK or Germany and fully compliant with UK regulations.
High quality trade steel doorsets for commercial and industrial applications and environments.
Security rated, Fire rated, Acoustic rated, Emergency exit doors, Fully glazed doors, Stainless steel doors, and many others…
Call or email us now for prices and details on any aspect of steel doorsets. It's what we do..
FAQS
Side Hinged Garage Doors are still one of the most popular types of garage door in the UK and the demand for this type of garage door has increas...
Yes, this is possible in both timber and steel hinged doors. Samson Doors offer a wide range of standard door designs in single skin steel, do...
How long is delivery?
Usually 4-6 weeks on most purpose made doors, but we do have some models which are faster.