Extra Large Industrial Roller Shutter Doors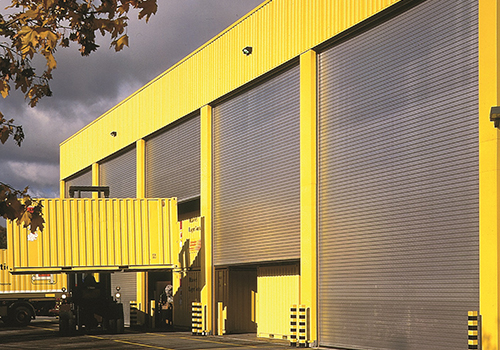 The demand for larger and larger roller shutter doors is growing rapidly for many reasons, and Samson Industrial Doors are getting more far more requests for doors over 10 metres wide than ever before for various commercial applications. Serious sizes with serious considerations required.
Typically, a basic, steel roller shutter door is manufactured up to about 6m x 6m and supplied in varying concave single skin steel lath sections which should ideally be 18 guage steel at this size, with the added safety of windlock side guides if the door is exposed in its locaton and likely to be hit by high wind speeds at any time.
We get requests for roller shutter door now with a wind load rating of over 100 mph. This is not really possible with a roller shutter door and other door types should be considered, but specified correctly it is certainly possible to get a door suitable for application.

Larger sized roller shutter doors are now readily available up to 10m wide using double skinned steel or aluminium lath sections with far greater strength than a single skin section door construction.
Heights are typically available up to 7m high and the wind load class would be 2 for this and higher wind loading possible with additional bracing technology inside the door.

See the Hormann video with the WPS system in use below:
It is now perfectly possible to have a roller shutter door up to a massive 36 metres wide and also 12 metres in height. This is the size of a tennis court, to put it in perspective. Although you cannot have a single uninterrupted span at 36 metres wide, you can up to 18 metres wide, it is only a matter of a sliding central support post system which is easily taken to one side when full access is required. This size of roller shutter door is only possible using a very strong, double skinned lath section with very good lateral stability.
The wind loading will be either 1 or 2 depending on a few factors and the final size and of course a door this size is always electrically operated with many options on the access control.

Take a look at the technology involved in a roller door of this size below:
For more information on the complete Industrial Roller Door range click here