Hormann Thermo65 Steel Entrance Doors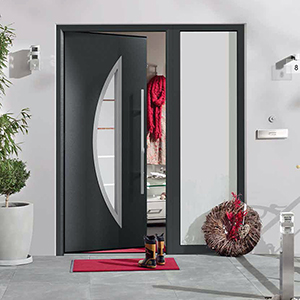 Experience the highest quality steel entrance doors in the UK with the Thermo65 range from Hormann.

The original Thermo range has been a fantastic success for an international manufacturer mainly known for garage and industrial doors by most.
The Thermo range was introduced about 5 years ago to the UK and originally marketed as a range to compliment and match some of the LPU 40 sectional and N80 garage doors already sold.
The principal of matching a garage door to a front door is one that gets many designers and architects very interested, especially on many modern new homes where a minimalistic look is required and the emphasis is on colours and finishes rather than complicated designs.
What we didnt expect was the enormous amount of sales of only the entrance doors as the Thermo door range does seem to be unique and sell thought out in terms of security, insulation and importantly pricing. The Thermo65 range was launched late last year and has been a great follow on additional range to continue the success of the range so far.

The Hormann Thermo65 options for even greater insulation and security as well as new designs. Increased side light widths now available up to 1000mm wide and 2250mm high. Triple glazing for all side lights in the Thermo65 range.

The new Hormann Thermo65 doors feature a 65mm thick steel door leaf mounted on an aluminium frame. This frame adds to the insulation value as it offers a better thermal break. The thicker door leaf is filled with rigid CFC free PU foam for both strength and insulation.

Not only does the door leaf contribute to enhanced insulation but the 80mm aluminium door frame also has PU foam infill and a thermal break. Triple seals on the threshold strip and another thermal break all help to maximise insulation to give a fitted door with a thermal u value as low as 1.0W/m2K.

What is a Thermo65?

The Thermo65 range offers 8 door designs, 3 of which are unique to this range and the other 5 being 'upgrades' from the Thermo46 standard range. The door thickness is 65mm instead of 46mm and this means more strength and higher insulation levels. More weatherseals are incorporated into the door and sub frame as well as a continuous security strip also in the sub frame giving protection from attempted forced entry.
Thermo65 010

Thermo65 015

Thermo65 700

Thermo65 750

Thermo65 850

Thermo65 900

Thermo65 800

Thermo65 810

Thermo65 515

New for 2016

Thermo65 410

New for 2016

Thermo65 430

New for 2016

Thermo65 100

New for 2016

Thermo65 450

New for 2016

Thermo65 700

New for 2016
High quality entrance doors with the best insulation.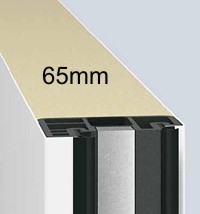 The high quality Thermo65 doors come with a flush fitting 65mm thick steel door leaf with a leaf frame on the inside and a thick rebate. The door view, flush-fitting from the inside, give the impression of a Domestic internal door and blends harmoniously with the look of your homes interior.
Frame
The 80mm aluminium frame with thermal break and PU foam infill is available in a round style version.
Seal
Thermo65 doors are charecterised by their well thought-out details, such as their 20mm high aluminium/plastic threshold with triple sealing and thermal break. This improves the doors thermal insulation, saving you energy.
Thermal Insulation
With a U value of up to 0.8W(m2K) the Thermo65 version is the best when it comes to insulation, saving you energy and possibly money in the long run.
Break-in Resistance.
All Thermo65 styles, including those with side elements and transom lights are optionally available with RC 2 security equipment. The doors are approved for being fitted opening inwards and outwards.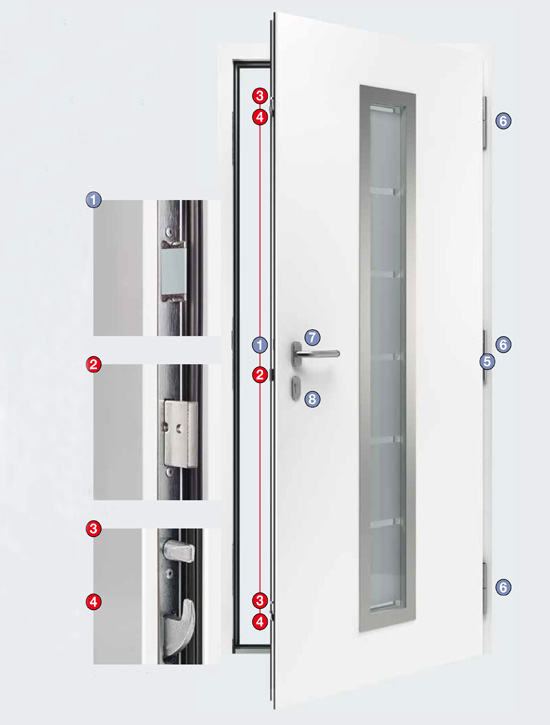 Fully equipped and secure as standard.
The Thermo65 door is designed to make sure that you feel safe at home.
2 conical swing bolts engage with 2 additional security bolts and 1 lock bolt in the frames lock plate, ensure the door is tightly pulled shut.
The lock plate on Thermo65 doors is adjustable for an optimal door setting. With a soft lock latch to quietly close the door.
1. Soft Lock Latch

2. Locking Rod

3 & 4. Swing Bolts with Security bolts

5. A continuous safety strip made of aluminium.

6.Sturdy two-part, 3 way adjustable hinges with safety pins and stainless steel decorative covers guarantee a smooth door function

7. Interior Lever - Each door comes with a beautifully shaped stainless steel interior lever as standard.

8. Profile Cylinders - Delivered with 5 keys as standard. With emergency and hazard fuction i.e. the door lock can still be operated when the key is inserted on the inside.
Hormann Thermo65 Steel Front Entrance Door Colours
The Hormann Thermo65 steel front entrance doors are all available in white as standard however they are also available in a range of 10 fantastic colours at a small surcharge.
White Aluminium

RAL 9006

Terra Brown

RAL 8028

Clay Brown

RAL 8003

Pigeon Blue

RAL 5014

Light Grey

RAL 7035

Cream

RAL 9001

Ruby Red

RAL 3003

Anthracite Grey

RAL 7016

Light Ivory

RAL 1015

Window Grey

RAL 7040

Moss Green

RAL 6005

Flame Red

RAL 3000

Grey White

RAL 9006

Gentian Blue

RAL 5010

Grey Aluminium

RAL 9007
Decograin Laminate Woodgrain Colour Finish Options
Further colour options available in the Hormann Thermo65 steel entrance door range include Decograin laminate foil coating finishes - Dark Oak, Golden Oak, Titan Metallic and Night Oak.
| | | |
| --- | --- | --- |
| Dark Oak Decograin Finish | Golden Oak Decograin Finish | Titan Metallic Decograin Finish |
| | Night Oak Decograin Finish | |