General Purpose Sliding Doors
Samson PSD Straight Sliding Steel Doors and Hormann MZ - Standard Specification - Manual or Electric

The Samson PSD door and Hormann MZ FST are both traditional straight sliding, steel door systems for general purpose use, available as a single or bi-parting option. Available in almost unlimited opening widths, the maximum height is 9 metres, and the maximum width 12 metres. All doors are purpose made to suit the requirements and specification of each application.
These doors are very economical systems for medium to large openings, especially when only manual operation is required. When manually operated, a common specification is to have a pedestrian door for easy, quick and regular pedestrian access. This type of door can save significant amounts of time, granting access to pedestrians without having to open the whole door system.
Door systems in this style are either top-hung rolling, or bottom-track rolling. This installation form depends on the overall size and weight of the panels, as well as the structure being installed to.
The panels are double-skinned, galvanised steel construction, with a solid foam core for strength, stability and insulation. These steel panels are available in various surface finishes - Smooth, Woodgrain, micrograin or 'Stucco'. There is also a wide range of standard external colours, with a further range of optional colours to cover almost every RAL option available.
The Samson PSD door has 2 very discreet top hanging track systems which allow for a smooth and uninterrupted floor surface to exist below the path of the sliding door. Up to a certain size nothing is required in the ground at all and once over a certain width and height there is a simple straight steel channel required in the ground to accomodate the rolling wheel and guide for the bottom of the door panel.
We often use the PSD door internally to divide rooms, offices and buildings.
This example below was used in a car showroom and was one of 6 doors used to create a display area which could be opened up easily to change displays when required.

The PSD sliding door is assembled from individual double skinned and insulated steel panels so assembly and transport is relatively easy onto sites.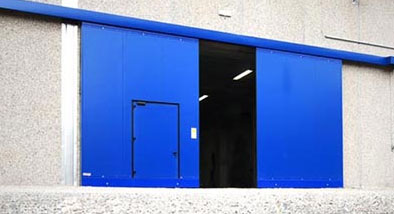 Installation can be completed internally or externally, with an optional cowling cover. The ease of operation means that doors are often manually operated, however they can be automated if required, with a number of control and motor options to choose from.
Due to the low rolling resistance, even weight distribution and low levels of stress on components, these doors require very little maintenance, saving time and money over the years.

Many options are available regarding handles and locking hardware, potentially helping to coordinate the appearance of the door with other existing systems.
Hormann MZ Sliding Industrial Steel Door
The Hormann sliding steel doors offer a modern appearance with a patented V groove between each element jointing. The elements are 72mm wide in a double-skinned steel construction, all perfectly aligned and jointed using a toothed labyrinth plug-in profile. Each panel element is aligned with another using a threaded rod.
The elements are available up to a height of 9m, covering the majority of aperture sizes for warehouse, factory, office and other such buildings in the UK. The high quality door appearance and excellent factory finish is what makes Hormann sliding doors such a great option.
Top-hanging and rolling with an integrated floor guide system ensures minimal intrusion into the opening, and the cleanest trip-free opening.
For the fire-rated versions, there are guidance dampers and weight driven closing systems, providing years of trouble free, low maintenance use.
Click the image below to clearly see the annotations. It will open a new browser window.
Finishes
The MZ sliding steel door is available in 7 standard colours for the outside face, with Grey White (Ral 9002) as standard for the internal face. You can specify almost any RAL colour at an extra cost if required.
The surface of the door panel is available in either pearl grain or smooth, with both options using galvanised steel. The track and profiles are smooth in either option.
Stainless steel is also an option for these doors, using stainless steel V2 A. In this version every component is made from stainless steel, including the closing weights if required.
Please click on the image to the right to see the finishes in closer detail. Please note - this will open a new tab or window.
Configurations
The MZ sliding door can be either a single leaf sliding system, a double leaf system, or a telescopic system, depending on the amount of wall space available and customer specifications/requirements.
A wicket door can be incorporated into any of the aforementioned door leaf systems.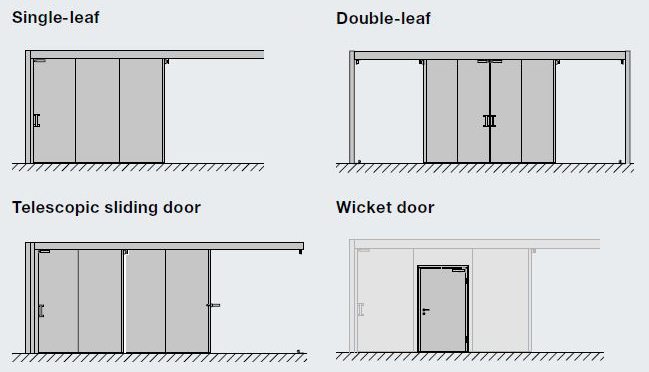 Wicket Doors
The wicket (pedestrian) door option is a rebated door construction and does not have a threshold rail as standard, so there is absolutely no trip hazard. The smoke-tight door specification can include a pedestrian door that is also smoke-tight.
A wicket door can open in both directions if required.
With various options for the furniture and locking, with panic furniture available for fire exit compliance, this is an excellent and efficient door system for space, costing and maintenance.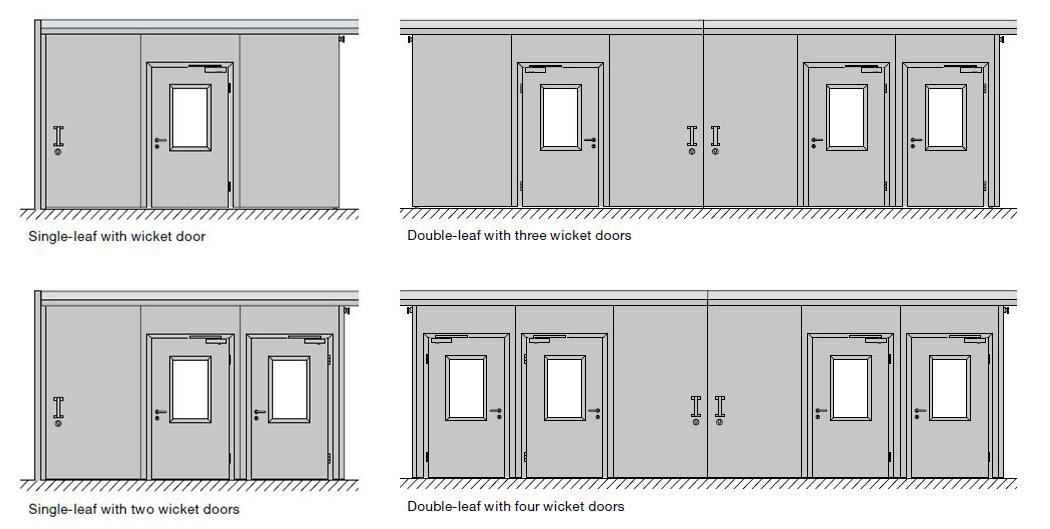 Fire Sliding Specification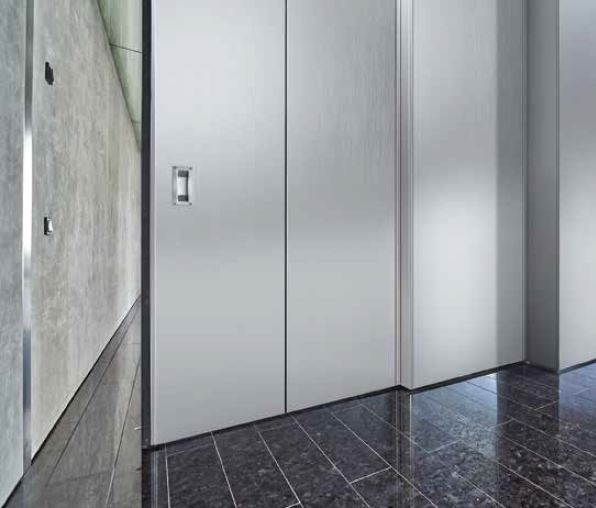 For the Hormann fire sliding doors, you can have some fantastic, visually appealing finishing options.
There is a flush fitting option to maximise opening dimensions, as well as keeping the aperture as clean as possible.
As a single leaf, this system can give you a door with a maximum size of 7500mm wide x 4500mm high, remaining inconspicuous in many buildings.
For further intergration into the building you can have a vertical wall recess option, with a lintel recess option too.
This flap closes and conceals the door completely into the wall space, as required.
With a fire rated door there is a compensatory system which automatically closes the door if it is opened, but it does close the door gently, and the resistance when opening is negligible.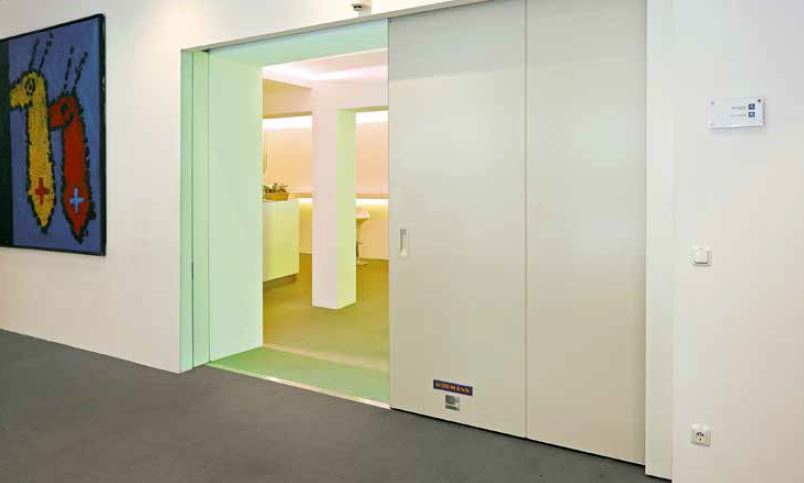 Electric Operation
Any of the Hormann sliding doors can be automated, using various systems. The ever popular and hugely reliable Supramatic HT can open and close the sliding door with stunning consistency. Various access controls enable the perfect set-up, meaning everyone stays happy and able to easily operate the door in a safe and speedy manner.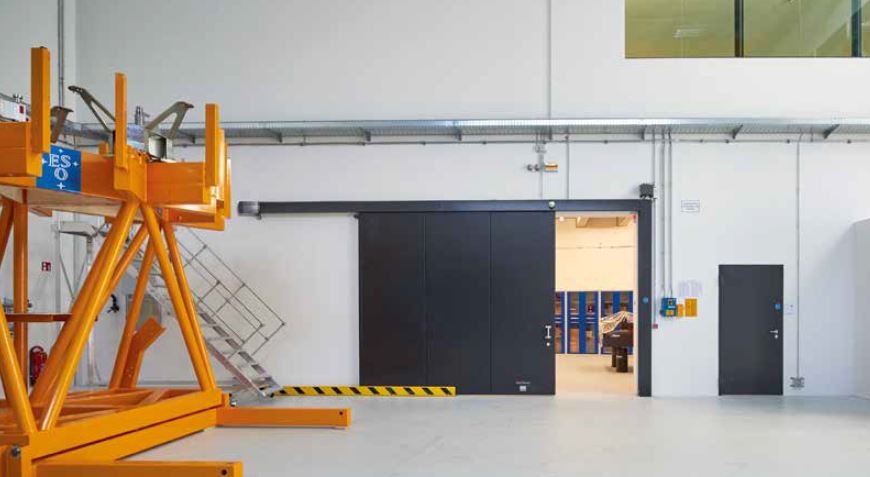 Opening speeds between 400-1000mm per second, and closing speeds between 40-800mm per second, are available. All safety devices are included as standard, suitable for the door size and specification. A high speed electric version is possible where required.
High speed doors are ideal for high traffic areas inside warehouses and factories, or any external opening where high levels of traffic occur. The opening and closing can be automatic and triggered by numerous control options, including radar or loop detectors, or the door can operated using various access products, from a simple push button to a remote transmitter.
All in all, the Samson PSD and Hormann MZ sliding doors will cover the majority of non-specialised applications for medium to large openings.
Call or contact us now for prices and details about any of our sliding door systems.
Product Ranges
| | |
| --- | --- |
| A diverse range for the medium to largest openings – Hangars, warehouses, factories. Pedestrian door options. Fully or partially glazed. Limitless widths. No maximum width. | Diverse range of doors for multi purposes – Manual, electric operation with fire and smoke tight options Stainless steel models. Maximum size 12m x 9m |
| A range of general purpose sliding doors for outbuildings, factories, warehouses. Also for internal division of space. Maximum 6m x 5m | |