Sectional Doors - the best value for money
Sectional garage doors are possibly the best value for money garage doors you can buy in the UK today. They offer everything in terms of performance, style and multiple size options.
Anyone looking for a garage door offering high levels of security, safety and style need look no further than the sectional type garage door. They solve many of the common problems we have all experienced when living with the traditional 'up & over' or 'side hinged' garage door and offer the highest levels of safety, security and sealing from the weather with insulated options.
Gaining massive popularity in the UK now, this is a garage door which provides a perfect door solution for a modern world and is perhaps the only garage door which has actual consistent, real, and stated performance declarations in terms of what it can do and is tested and certified to show it can do it. If you want great security and also great insulation for your garage then look at no other garage door.
Click here to view our Sectional Doors range or call us today on 01933 448 850 .
Security & Energy Saving Features
High levels of security as standard with higher level security options
Excellent safety features as standard as manual or electric operation
High levels of weather sealing with all perimeter rubber seals as standard
Secured by Design accreditation options
​Insulated, double skinned, steel panels for high insulation levels, with stated U values
Thicker 67mm insulated door options offering below 1 for the U value
​Insulated, double skinned, steel panels for high insulation levels, with stated U values
Fully glazed options for maximum vision and light
Popular Feautures
Vertical operation for maximising driveway space and inside space for the garage

Real timber options with traditional designs for period properties

Made to measure and standard sizes right up to 8m wide

Variety of track options and angles to maximise internal space
Pedestrian inset door option for easier access to garage on foot
Manual or electric operation at most sizes

Enormous range of double glazed window options

Various surface finish options to panels for different aesthetics
Any RAL or BS colour possible but many standard options offered

Smart phone control apps and massive options and accessories list

Fast opening options
This long list perhaps only still tells part of the story of how really good a sectional garage door actually is, with its super strong panels, super strong operating mechanism and a mechanical operation design which means low maintenance and true longevity in terms of its lifespan.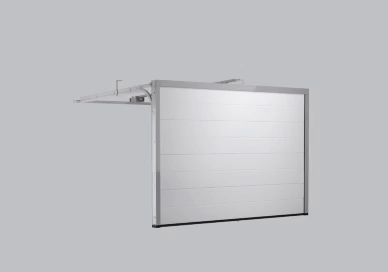 Sectional doors are perfect for a garage where you intend to maybe use heating or air conditioning and the garage is more of another room for you. Your garage will have a door which is more like a 'movable wall' system. The U value for a standard insulated sectional door is practically the same as a standard house wall in terms of the insulation, let alone the performance in some of the higher performance models available.
Of course, dust, leaves in the autumn, wind, rain and general dirt is also kept out of your garage with this door type, that is assuming your garage floor is level of course.
Why a Sectional Door is Better than Other Garage Doors?
Obviously it does ultimately depend on what you want visually perhaps, BUT the sectional overhead garage door definitely offers the greatest value for money all round in terms of the performance you get as standard, let alone when you start increasing the specification. The main benefits come from the basic strength of the standard insulated double skinned steel panels, providing security, stability, insulation for cold, heat and sound, and longevity by the fact the door panels operate with minimal contact, unlike other garage doors.
It is a proven system and used on most garage doors across Europe and USA, especially on larger size garages. The door is never really under any stress, whatever size it is as the steel sandwich panels are able to be used up to 8.5m wide without any deflection issues. High quality panels with high quality powdercoat or laminate finishing really sets the scene for a great door with options on style and with or without windows, which are also double glazed units as standard.
The Tracking System
A lot of people get concerned over the tracking system coming into the garage, but look carefully at many of the options available and you will see the tracks are generally wider than the door and garage opening and also sit higher than the door, therefore in most garages do not interfere with anything.
They tend to follow a normal garage ceiling and take the door panels up and out the way when open, unlike an up and over door where banging your head is a real concern on lower height doors.
Tracking system options
| | | | |
| --- | --- | --- | --- |
| Z Track Sectional Frame | N Track Sectional Frame | L Track Sectional Frame | H Track Sectional Frame |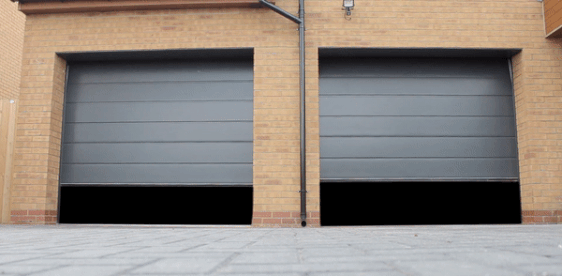 Standard or Made to Measure
Because steel sectional garage doors are manufactured from a steel, foam filled sandwich panel, they are also very easy to cut to sizes if they are not made to measure from the factory, all dependent on the manufacturer and their process.
There are many standard sectional garage door sizes to choose from either as UK imperial or European metric sizes and usually always one which will fit your opening, even if you have to compromise on the width or height and the door isn't the same size as the structural opening.
You can buy the doors truly made to measure to the millimetre in many of the sectional doors we have in our online shop.
Remember, sectional doors never travel through the opening during operation, so you can install a door which is slightly to large, say an 8 foot wide door (2438mm) behind a 7'9" (2361mm) opening, and the 3 inches (75mm) extra width is simply lost behind the opening, assuming you have sufficiently large internal returns to accommodate of course. The same is true if the door size is smaller than the opening as there is an 85mm steel frame either side of the door effectively giving you about 160mm of wiggle room.
You can even now install most sectional garage doors inbetween your garage opening is required. This has been a development for the UK over the recent years.
Behind or Inbetween Fit?
Sectional doors were originally designed to fit behind a structural opening maximising the drive through width and height but also maximising the insulation from the double skinned panels and giving the best security too. There is a surrounding L shaped steel frame system which fits directly to the structural opening.
In the UK we tend to have pipes, meters, cables and other obstructions in many garages so most popular sectional door models developed the options to fit inbetween the openings as well.
This is done in one of 2 ways. Firstly, adapt the standard framework using brackets and cover sections so the frame is stable fitted inbetween and has a cover frame profile section to match the door panel colour and finish, or not. The standard frame for most sectional doors is white regardless of the colour chosen for the main door.
The second option is to buy a specific designed aluminum box section framework, which will create a face to fit to when installed inbetween the opening. This is a better overall solution in terms of providing a better finish and also some insulation. You could also make a hardwood timber sub frame to do the same job and some people do. Again, you would then have some insulation benefits.
| | |
| --- | --- |
| Behind Fit Installation | Inbetween Fit Installation |
All sectional garage doors are ordered by their Opening Sizes, meaning the sizes without the outer fixing frame, as these frames vary, along with the headroom required from one manufacturer or specification to another.
You can also make larger tolerances in the width and height if you are trying to simply make a standard door size fit your opening of course.
Designs and Styles
The most basic sectional garage door design comes from plain panels which when assembled simply have the horizontal lines inbetween each panel creating a design. This is about as modern and sleek as it gets for a door of this type.
Add stainless steel framed double glazed windows and you can start to really make a statement and also create your own style with the position of the windows.
Generally the majority of sectional doors are split into 3 main designs:
| | | |
| --- | --- | --- |
| No Ribbed design where the panels are totally clean and the only design comes from the split between each panel and this is usually 3 on a standard door height. | Mid Ribbed design where there is one line in each door panel so now making 7 horizontal lines in a standard garage door height using 4 panels. | Standard Ribbed design where there are 3 lines per panel, giving a total of 15 horizontal lines in a standard height door with 4 panels. |
These doors can be subtly different depending on the manufacturer and the front face finish chosen, whether that be totally flat and smooth or a woodgrain or other graining effect.
Most brands will also offer a panelled 'Georgian' style design option and the size and design of these panels will vary from one manufacturer to another giving different numbers of panels depending on the width chosen. Nearly all panelled design sectional doors have a woodgrain embossing as standard and no option on this.
| | | |
| --- | --- | --- |
| Carteck Solid Ribbed design in Anthracite Grey | Carteck Solid Ribbed design with embelishments | SWS Georgian design |
Colour and Finishes
Variations come from the massive choice of actual surface finishes available from a completely smooth front face to many of the various grained effects, which is actually a pressed design on the front face on the steel itself before painting takes place.

Smooth surface finish

Plannar surface finish

Silkgrain surface finish

Slategrain surface finish

Miscro-profiled

surface finish




Stucco surface finish


Woodgrain

surface finish
Electric Operation
Most sectional doors are sold as electric operated door specifications. The ease of use at any size and the fact that they are locked and kept shut by the electric operator unit means the manual option is rarely considered. If you have an electric sectional garage door then you do not need an external handle, so you keep the outside face clean and sleek looking, with nothing for anyone to attempt to force.
Safety is standard on any electric garage door using a boom type operator and the slightest resistance from the door when moving will kick in a safety stop and reverse mode to ensure damage isn't done to the door or the object it is hitting.
Sectional doors are also ideal for using a lot of the smart technology now available.
Sensors can detect the humidity inside your garage and open the door just a little to let air flow in if necessary as one example. Perfect for many classic car wonders.
You can order options which provide a one off code to a parcel courier so they can access the garage to drop off your parcel, with the door only opening partially and then closing itself in a certain time or by you and smartphone control anywhere in the world.
LED lighting is also something more popular on many garage doors with options of inside and external down lighting all connected back to the electric motor drive and control unit. All electric operators have a built in light of some kind on the motor drive head unit but for larger garages it is good to consider adding additional lighting to work with the controls of the door
Our Choice
Below are the Sectional garage doors we recommend and sell through our online shop:
To view our page comparing the features and benefits of Sectional doors v's Roller Doors, click here