Horman FST Sliding Door System
The Hormann range of sliding door systems includes the MZ multi purpose model, the T30 and T90 fire-rated models, the RS and Sm smoke-tight models, and the stainless steel versions. All of these models are available with options for manual or electric operation, built-in wicket doors, and glazing, and are all made to order for a perfect fit.
The doors are available as single leaf, double leaf and telescopic panel sections which run on multiple tracks. A wicket door is possible with all of these models, subject to minimum width requirements.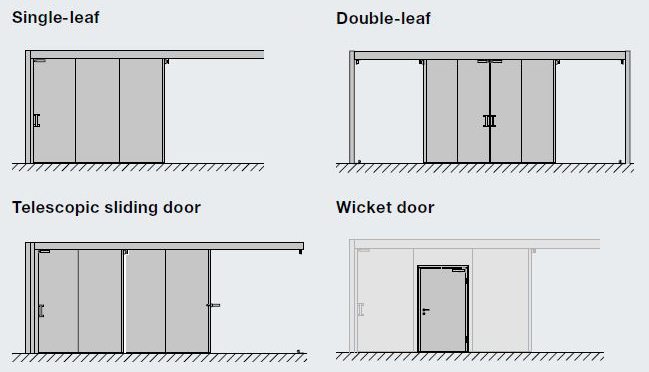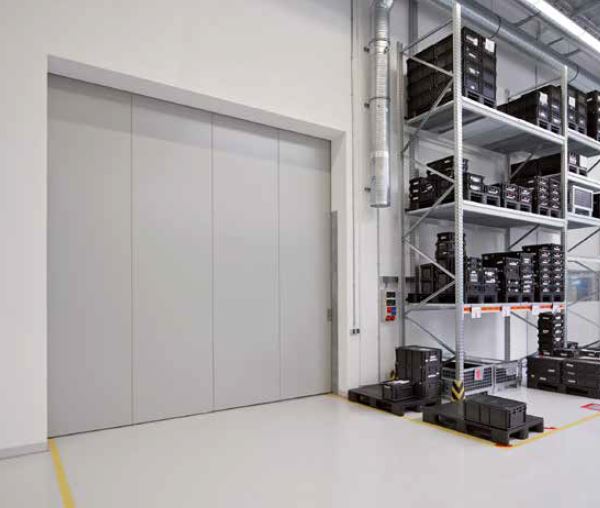 The FST MZ Sliding Door (multi-purpose)
This is a double-skinned steel sliding door system, available up to 12000mm wide x 9000mm high in purpose-made sizes.
Colours and Finishes
The door is available in a range of standard colours, with further optional RAL colours available for an extra charge.

The surface finish for the door panels can be one of 3 options, and manufactured without a colour finish. Click on the image to see a larger version; this will open a new window/tab.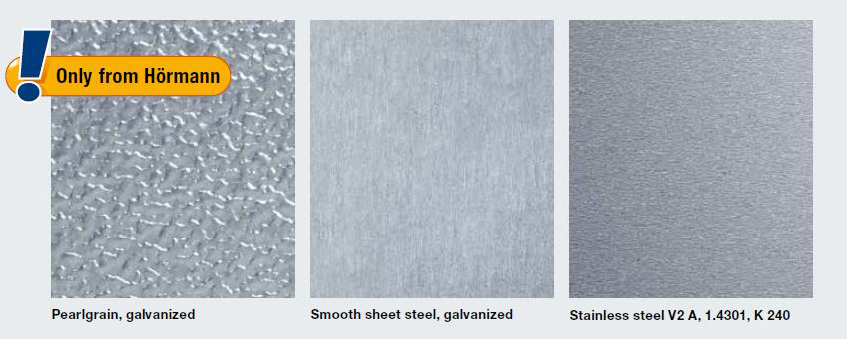 The majority of general purpose sliding doors are specified with no bottom tracking, as this reduces potential issues like trip hazards and uneven floor levels. The top-rolling system employs several large rollers in a track above the door, which is the best way to ensure smooth operation and longevity. This does require a suitable structure around the opening, with sufficient space for the door mechanisms.
The MZ is perfect for factories, warehouses, barns, workshops, garages, and any building where tracking or door panel size is an issue. Sliding doors also require minimal maintenance, and are easy to manually operate regardless of size due to efficiently engineered mechanisms. The door can be fitted inside or outside of the opening, however it is often the outer fitting that offers the best solution and results for many applications. When fitting externally there is a steel cover for the tracking, which prevents any possible water ingress.
Wicket door without a threshold
The wicket door option in the Hormann HZ sliding door provides excellent and easy access for pedestrians, day and night, with a well-sized clear passageway when opened. The wicket door can also be specified with panic furniture, for situations where the sliding door is used as a fire door, and can also specified for smoke-tight purposes.
Below is a diagram of some of the possible wicket door configurations. Click on either image for a closer look; this will open another window/tab.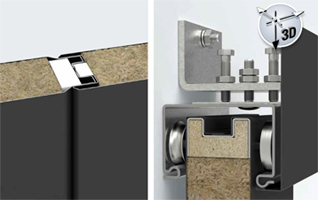 Precision Door Leaf Guide
The cylindrical track roller and stable track roller work in conjunction with the patented tracking system to provide optimal force balance.
The very quiet operation and easy movement of the FST door is assured by a suspension with ball bearings.
On site, the tracking can be adjusted to ensure the smoothest possible door operation upon completion.
Detailed Quality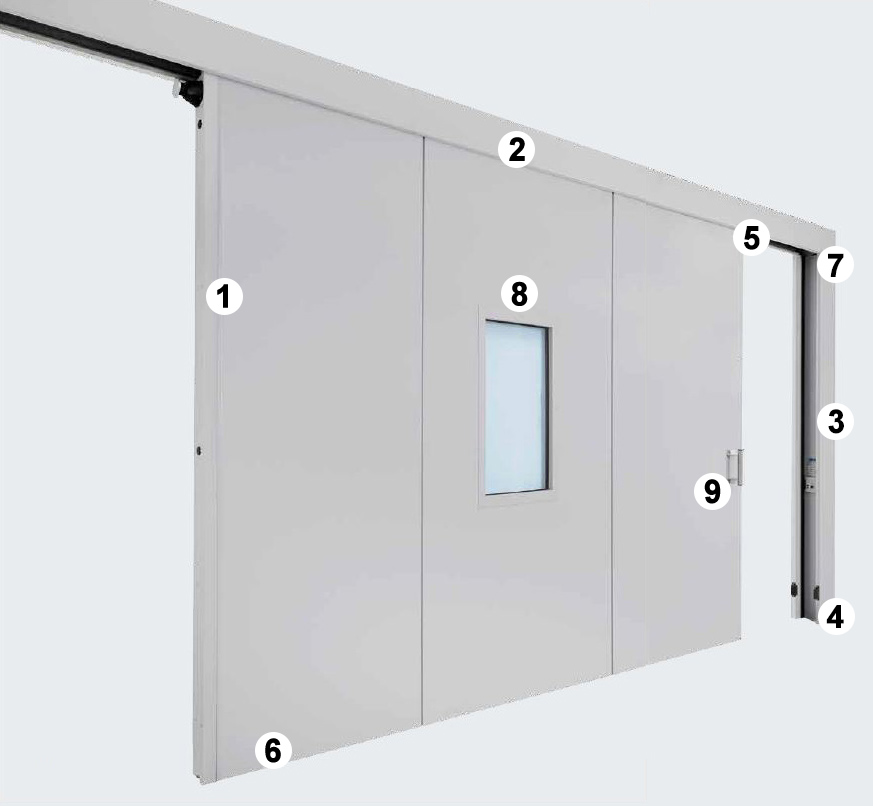 1 - Slim Overall Construction
Recess width: 180mm - 380mm
2 - Track Panel
Galvanised, stainless steel or RAL colour
3 - Closing Weights
Easy maintenance with screw-mountable weights
4 - Guiding Profile/Centring Device
Device for precise door guidance in the guiding profile
5 - Guidance damper
Integrated into the door for single leaf T30 fire sliding doors
6 - Integrated floor guide roller
Concealed, horizontally adjustable
7 - Hydraulic track control
For continuously adjustable closing speeds (0.08 - 0.2 m/s)
Invisibly integrated into the weight box
8 - Glazing in wicket
Maximum glass size of 500mm x 1000mm
Glazing size: 468mm x 815mm (standard)
9 - Grip and Recessed Handles
High-quality stainless steel, as standard
The T30 and T90 Fire and Smoke-Tight Sliding Door
Available up to 8500mm x 6000mm, this door provides an excellent solution in buildings where unsightly tracking or large roller door boxes cannot fit or cannot be seen.
The neatness of a sliding door is indisputable, along with its operational practicality and safety. Providing 30 and 90 minutes of certified fire protection, this is a fantastic door for a whole range of applications.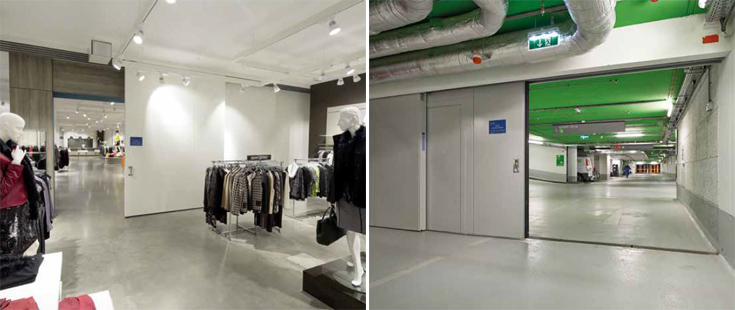 All FST sliding door models can be manually or electrically operated, with various motor drive options and speeds.
Click here to read our article on the Classification of fire doors.

Product Ranges
| | |
| --- | --- |
| A diverse range for the medium to largest openings – Hangars, warehouses, factories. Pedestrian door options. Fully or partially glazed. Limitless widths. No maximum width. | A range with diverse panel specifications – Fully and partial glazed. Manual or electric. Domestic or Commercial use. |
| A range of general purpose sliding doors for outbuildings, factories, warehouses. Also for internal division of space. Maximum 6m x 5m | |