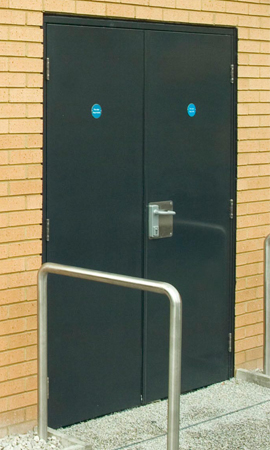 Doors and windows with PAS 24: 2016 accreditation have complied with the accreditation's terms and standards, meaning their security is enhanced to offer a level of security for buildings at a certain risk.
The PAS 24 certification means these products have been tested to British standards, and must be examined by the UKAS accredited certification body.
This certification took the place of PAS 24: 2012 to allow for a simpler way to assess security standards of doors and windows in the UK.
What Doors Do We Recommend?

The Samson SecurGuard and SecurGuard + are of course PAS 24 accredited, and are excellent options if you are conscious of potential intruders. As every SecurGuard door is custom-built to your requirements and measurements, they will be made for a perfect fit, meaning there is no compromise at all on security when installed.
Both ranges consist of three doors that all offer a substantial amount of security, with the SecurGuard + offering the most significantly secure doors.
The doors in both ranges allow a choice between various levels of security, however as all are PAS 24 certified, you can be certain that they are all compliant with EU standards and up to sufficient security standards.
SecurGuard
The SecurGuard range has three doors which have different levels of the LPS 1175 specification, offering varying levels of time in which they are able to resist against certain methods, tools and levels of experience during a break-in attempt.
SecurGuard +
Offering even higher levels of security than the standard SecurGuard range, the + range comprises of three doors with varying levels of protection. The highest rated door, the SecurGuard +4, provides a significant level of security, and can even protect against explosives.
Contact Samson
There are various certifications and ratings that a door may achieve, however we believe that only ones compliant with EU standards have full validity.
There are many available, so if you need any assistance with these ratings and products, don't hesitate to contact us.
For more information on PAS 24 and our other doors with the accreditation, give our team a call on 01933 274276.