Roller Garage Doors
Roller garage doors have become a very popular type of garage door in the UK over the last 10-15 years and the main reason is their flexibility for installation, along with the neat mechanism and vertical operation. They leave space inside and outside the garage uninterrupted when operating and only generally require around 250 - 350mm of headroom and internal depth to accommodate.
Samson Doors offer a wide range of basic and premium roller garage doors either as manual or electric operated models and in steel and aluminium, double skinned construction.
We have our own extensive range as well as some of the finest brands available in the UK right now.
Shop Steel Roller Garage Doors
Roller Garage Door Benefits
It isn't hard to see the appeal for a roller type door:
Vertical operation with no swing out during opening or closing cycle
No internal tracking required and only vertical tracks below the curtain roll
Minimal side room on many models, as little as 60mm either side
Can be fitted inside, inbetween or outside for most models
Manual or electric operated models
Massive choice of colours to choose from
Bottom rubber seal will perform better than an up and over door generally can
Insulated curtain models for better control of internal climate
Insulated Aluminium Roller Garage Doors
The majority of customers opt for the aluminium, double skinned roller doors, which use various double skinned foam filled slats, between 55mm and 77mm in height and always slightly curved in their construction to enable the best rolling action. Various brands and models we offer all have the relevant safety features as required by their control method and are fully compliant with the current UK regulations on power operated doors.
The slats that make up the curtain are generally available in the 77mm depth up to around 6m in width and a maximum of 3m in height so will cover most garage openings easily. We offer various brands and most have internal tube motors with the exception of the Rollmatic 2 from Hormann, which uses an external motor drive making an easier job of emergency manual release whilst using motor technology from many years as a motor for other door types.
Manual or Electric?
Unless you don't have power available or are really adverse to electric operation then manual operation on a double skinned aluminium roller door isn't really of much use. The electric motor drive technology and controls has developed to such a stage as they are not really any different in price to the manual options which have to use spring balancing and also some form of manual locking too. The few manual door models which are available are only available in single width sizes.
Remote Control or Button/Key Control?
The majority of aluminium roller garage doors are electric operated, but for years the UK market has driven remote control operation as normal. We believe and see that many customers don't actually need remote control and are quite happy or even prefer having a key switch outside and push button inside. This is easy and makes life simpler too.
Samson can provide this for you and keep life simpler in terms of electronics and the setting up. If you access your garage on foot most of the time then maybe a simple key works better for you, or even an external keypad perhaps, but the simple fact is if you use a key and have to hold the key to open and close, then you don't need the safety sensor systems, so not only save some money, but keep things simple.
The remote control systems are super reliable and you can have handsets for control, a digital keypad, a keyswitch and an internal push button all together and even add on Smartphone app control too but the safety system has to be incorporated if there is any remote or impulse control involved at all.
Email or call us if you have any questions on the controls for an electric roller door.
Smart Control
Most of the leading brands have the option for smart control using your smartphone or tablet to have control of your roller garage door from anywhere in the world.
If you are not at home very often one simple example is having the ability to open your roller garage door partially to allow parcel deliveries and combined with a smart camera too you can observe and be sure the door closes after the delivery.
To many people the number of functions and products which can be incorporated into a 'smart home' is not understood. Adding simple and reliable little devices to include them onto your app gives more control, security and peace of mind.
Smart cameras, door sensors, light controls and sensors, awnings controls and temperature sensors, PIR detection systems to switch other products on at only certain times of the day as programmed by you, and so on.
You can start the smart journey with a Somfy controlled smart roller garage door and then simply add more products as you understand what can be done.
The equipment is great value for money and extremely simple to set up yourself once you have the Tahoma Switch in place and operational on your router.
| | |
| --- | --- |
| | |
| Our own range of high quality insulated aluminium electric roller garage doors designed and built from many years experience. | The most original roller garage door in the UK market. Manufactured to the highest standards and over 30 years experience and design in each door. |
| | |
| | |
| | |
| Hormann only offer high quality specification as standard with their world renound German engineering and constant product development. | Manufacturered in the UK, Gliderol specialise in Roller Doors all of which are fully CE compliant with latest UK regulations. |
| | |
Security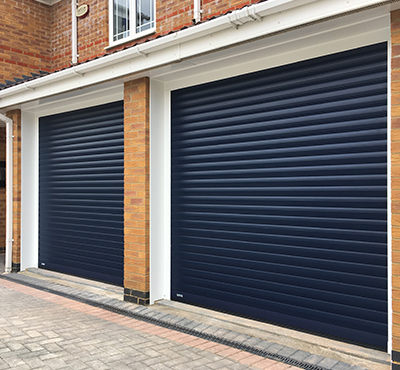 The single most important question which no one ever asks about roller garage doors is: 'How do they lock'? The simple answer for the majority of electric roller doors is that they don't.
The majority are simply a curtain, which is raised and lowered by a rotating barrel above it. When the curtain is down and closed, most roller doors can simply be lifted up and whilst there might be some resistance this is only usually lightweight straps attaching the curtain to the barrel and they can be snapped quite easily on cheaper roller doors. There is no actual physical lock engaging unless you have a manual operated door with a lock or one of the increasing number of roller doors which have been designed and tested with security in mind.
Lateral resistance is dependent on the type of curtain slat used and there are a lot of different slats on offer. If you want a decent level of resistance then always go for the 77mm double skinned slat.It is also dependent on the size and strength of the side guides used and the best guides are 70mm or wider with 90mm being a default guide for the security rated roller doors available. Some specialist smaller but very strong guides are possible, but these are usually on commercial roller doors. A combination of a good quality, strong curtain slat with a good quality set of guides will give the best resistance to anyone trying to literally barge or break their way through the door.
Vertical forcing is a different issue and if you want a security based roller garage door then pay attention to how the curtain is attached to the barrel, preferably fixed with a solid and very strong attachment method.
Samson offer various designs with Secured by Design accreditation and a certified testing to LPS1175 SR1 and SR2 as an option.
The Seceuroglide Excel for example along with the Original model too has a unique and patented physical mechanism preventing the curtain to move once closed. It is a simple and clever design and if also combined with a very strong physical attachment to a larger barrel than most doors This roller door will offer excellent security in single and double width sizes and is a very advanced roller door in terms of colours and control methods.
Pros and Cons
Every product has its pros and cons and roller garage doors are no exception. You would be advised simply not to get driven towards a roller garage door simply because currently it is the most marketed type of door in the UK. Often there are better and more relevant alternatives for similar budgets.
Pros
Vertical Operation helps utilise all your space and the lack of tracking can also help in some garages too inside
Can be made to almost any size and if fitted behind a garage opening as intended they can also work on any shape of garage opening - arched for example.
Some benefits form the insulated aluminium models, although make sure it is the 77mm slat as minimum because smaller slats offer very little benefit.
Simple operation as most roller doors are electric operated.
Massive choice of colours and woodgrain finishes too
Cons
Only one design with the horizontal lines, varying only by the size of the curtain lathe sections used - i.e. 55mm or 77mm
Little or no security on cheap electric roller doors as they have no locking mechanism and on a single size roller door it is too easy just to lift up the closed door. Pay for the certified security models if security is important to you.
The design of a roller door is somewhat flawed in that each slat of the curtain rolls over itself when opening and closing. Cheap and low specification roller garage doors can damage themselves very quickly from daily use scratching the slats of the curtain and sometimes damaging the connecting endlocks ultimately leading to failure.
55mm slats may be compact but always try to use a 77mm slat even if your headroom is limited, they will still work but just give you slightly less drive through height when open. 77mm slat is a lot stronger than the 55mm. Avoid anything less than 55mm, unless it is extruded and therefore possible even stronger.
When looking for a roller garage door, either in a basic manual operation or an electrically operated model you will probably already have seen t...
Continue reading →
This is a simple process compared to some garage doors. The pricing and ordering is done by the Overall Width including the side channels and the...
Continue reading →