Security Shutters for Your Home
Security Shutters are becoming ever more popular additions to many modern homes within the UK to protect against increasing crime rates.
Prevent vandalism and forced entry with real, physical security rather than, or in addition to, measures such as alarms and cameras that do not offer physical protection.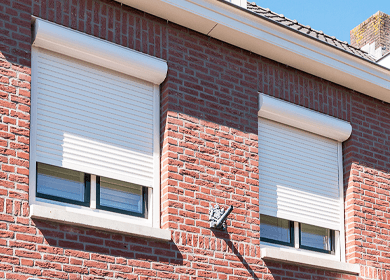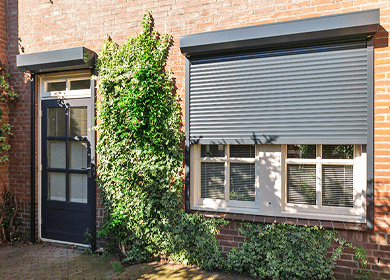 Samson Security Shutter Range
Samson offer modern, alumnium constructed security shutters that are far more advanced than the rattling, rusty steel shutters that can be seen on many high street shops. The Seceuro ranges we offer are high quality, German manufactured, continental style security shutters, with all the benefits of some shutter models having insulation within the twin walled curtain construction. High quality paint finishes are available for our domestic shutters, with any colour available to suit the surroundings.
All security shutters are made to measure to the millimetre, ensuring the very best specification can be obtained for your doors and windows.
Our vast security shutter ranges are available in both solid slats or ventilated slats with perforations or punched larger sections for maximum light and vision when required on the entire curtain or just a section for some vision at eye level.
In addition to security, security shutters in-turn also provide excellent levels of weather protection, temperature insulation and sun light control into a room.
Operation
All the shutters can be manually operated up to a certain width and height, and will be electrically operated beyond these sizes.
RTS wireless technology has now become the norm, offering radio control of the security shutters without any cabling apart from power supply. Home automation systems can be integrated into the controls for our shutters, with options to control your shutters and other products from your smartphone or tablet.
Security Levels & Upgrades
We offer a wide range of options for different levels of security dependant on application.
Many options exist for the locking and control, whether this be internal or external.
Our lower level security shutters for the home provide both adequate levels of security and a stylish visual deterrent to intruders.
We offer a range of higher level security shutters, including 'Secured by Design', LPCB rated models. Such ratings signify that the product has been tested in conditions approved by UK Police and insurance companies.
The shutters themselves are mainly double-skinned, extruded slat shutters with significantly stronger side guides and curtain sections in comparison to regular shutters.
A Level 1 LPCB rating ensures compliance and a tested level of resistance with assured installation techniques.
Other Security Shutter Benefits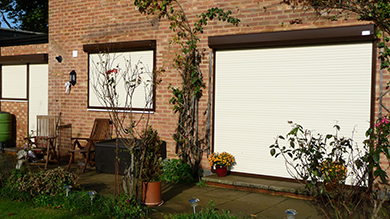 When security door and window shutters are specified correctly on a home they can provide far more than just physical security. Carefully chosen colours and positioning the guides and hood correctly will ensure the shutters blend in as best as possible. Colours will of course make the biggest difference and we can offer almost any RAL or BS colour for the shutter curtain, guides and hood. The hood size and the subtle design feature of a chamfered edge will also make a huge difference rather than a large square hood as often seen on many cheap steel shutters.

The security shutter curtain itself will also make a difference and the use of concave lath sections with a good quality, smooth finish to the surface will ensure the overall look and feel is one of high quality rather than cheaper, poorly built shutters where the slats may not quite line up with each other giving the impression of second hand from the day they are installed. Make sure you try to see the slats and an example of a closed shutter before making a decision based on price alone!
| | | |
| --- | --- | --- |
| | | |
| Discreet smaller hoods in high quality colours ensure a neat and tidy look on security shutters | Some shutters are available with perforated sections to get light into a room when required. | Hide the hood cover section into the eaves of a soffit in certain property types. |
Speak to the Experts
All the shutters are available in our online shop, and if you require any help in specifying please email us directly.
We specialise in the supply and install of security products for your home.
Whether you wish to book a survey and organise an installation by our expert fitters, or purchase a product for DIY, just get in touch to find out more. Our professional team are here to help, and waiting for your call!
Security Shutter Brochures: