Extra Large Sliding Doors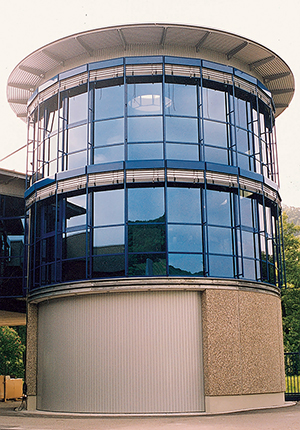 When an opening is larger than around 8 metres wide it becomes increasingly difficult to find the right solution, especially for a price that is not astronomical. The same occurs for doors over 8 metres in height. For such large openings and applications a large sliding door must be considered.
Manual operation is a simple with sliding doors, regardless of the size, due to efficient and innovative engineering. The weight of the door is distributed evenly across the panels and wheels, ensuring easy and smooth operation every time.
Here at Samson Doors we offer straight sliding industrial and commercial doors, in a double-skinned panel construction, to fill almost any sized opening. Telescopic sliding makes for a very sensible choice when controlling access on a large scale opening. Telescopic opening also means that the door can be opened partially to allow easy access to traffic, pedestrian or vehicular, without needing to open the door fully. This time saving feature can convert itself into realistic time-savings in a workplace setting.
Of course, you can also have a pedestrian door (wicket door) inset into one of the main sliding door panels and these will always be larger than pedestrian door options offered on roller shutter doors.
A pedestrian door allows for easy access via a hinged-swing door, usually about 1 metre wide with either a very low threshold or no threshold at all. Various handles and furniture options are available, including panic furniture to act as a fire exit, which can potentially remove or reduce the need for other fire doors.
Specification Overview
Unlimited width for manually operated door systems
Double skin steel construction with a foam-filled insulated core
Top-Hanging or Bottom-Rolling, depending on site conditions and structural opening
External or Internal mounting of door system
Solid panels, with a range of glazing options
Pedestrian door inset for easy access
Electric operation available (limited sizes)
Easy manual operation with low rolling resistance
The Moreschi Range



Glass Sliding Door

Sutible for large openings, great visual impact.

This model of door can slide either inside or outside and therefore eliminates the problems of encumbrance from the door leaves when they fold aside.

The glass enhances the external or internal appearance, and makes the door a design element of fine workmanship.

Stainless Steel Inox Sliding Door

Our fire-rated sliding doors are solid and safe and represent a new concept of fire-rated barriers.

Consisting of one or two opposing or overlapping leaves, the fire-rated door grants the maximum safety and security of people, facilities and property.

For environments food, chemistry, pharmacology, there is the possibility to manufacture fire-rated doors in stainless steel finishing. The closures Moreschi are certified according to the law relating to fire regulations.

MTF Fire Rated Sliding Door

Robust and safe, fire rated sliding door represent a new conception of fire retardant closing systems.

Produced with one or two overlapping or opposing leaves, fire rated door guarantees maximum active and passive safety for people, structures and goods.

Click here to read our article on the Classification of fire doors.

Sliding Doors with Lower Guides

For large openings: excellent durability and maximum functionality, this is synonymous of guarantee.

Large openings in the smallest space: the insulated doors overcomes the problem of folding door leaves. With the installation inside the building, this model of door can slide between walls and shelving or machinery, to make it almost "invisible"

Our doors are made of materials that, even if installed outdoors, would not create problems. Ensuring the sliding space, as a simple and practical solution.

Sliding Door without Lower Guides

For those small sizes but with intensive passage of vehicles, the answer is the door "suspended sliding door": the weight is fully supported by the upper guide and can also be arranged motorised.
Samson Product Ranges
| | |
| --- | --- |
| A range with diverse panel specifications – Fully and partial glazed. Manual or electric. Domestic or Commercial use. | Diverse range of doors for multi purposes – Manual, electric operation with fire and smoke tight options Stainless steel models. Maximum size 12m x 9m |
| A range of general purpose sliding doors for outbuildings, factories, warehouses. Also for internal division of space. Maximum 6m x 5m | |