Manual and Electric Operated Roller Shutter Doors
A roller shutter door is exactly what it says, a door which is a vertical rolling shutter by design and available in many sizes and specifications for many different purposes. A roller shutter door is possibly one of the most versatile industrial and commercial doors on the market as it can fit almost any opening, square, oblong or many other shapes, as the door curtain operates vertically and never actually swings through the opening at any point. It can also be built to many different specifications depending on the intended use and performance required.
Samson offer well over 50 different types of roller door curtains, single skin steel and aluminium and then also double skinned steel and aluminium, in either solid slats, perforated and punched or vented options. All these different slat types are used, depending on the size, specification, colour and performance required by the customer.
Industrial Roller Shutter Doors
We can supply various industrial roller shutter doors with sizes up to 18m wide and up to 8m in height for almost any application. It is so important for a customer to review the door specification and what expectations they have from the door. A door is never just a 'door', it has a purpose and required performance, and in an industrial application needs to also be compliant with regulations. It might just be 'secure and electric' in many cases, but the speed of operation, the controls, the safety, wind ratings and so on are all relevant and need some discussion.
Commercial Roller Shutter Doors
Our range of commercial roller shutters is vast and in so many commercial applications the safety and total compliance is essential, especially if the door is being used in public buildings where the general public are always exposed to the door. We can offer roller shutters for securing retail shops, offices, factories and so on. From the smallest servery shutter on a bar to the largest shutter for securing an open retail store in a shopping centre, Samson Doors have a door to suit and generally they are all made to measure and specification in every way.
Domestic Roller Shutter Doors
A wide range of high quality roller garage doors and shutters for domestic applications available in single skin steel and double skinned aluminium specifications. Manual or electric options and almost any colour can be catered for as well as being made to measure as standard.
Find out More
Electric Roller Shutter Doors
Most roller doors in industrial and commercial applications will be electrically operated, not only for convenience, but also because of the large sizes of most roller doors. The standard method of a hold to run electric control requires a person to literally hold their finger on a wall mounted button for the entire duration of the opening cycle, and if it is an older system, the same applies for the closing cycle too. This can waste a lot of precious time during an average day, so having a roller door with the required safety sensors will mean you can use your door with an impulse control, just push the button and walk away whilst the door completes its cycle.
Other control methods can include key switch operation, keypad control, card readers, magnetic loops or radar sensors and remote control with various different handsets to choose from.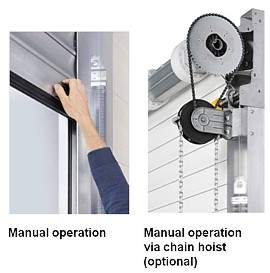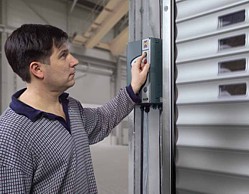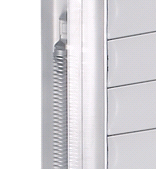 Small doors can be either single or 3 phase, with larger doors always requiring the power of three phase to operate efficiently and safely.
When is comes to specifying a new roller door for your premises we always recommend spending more on the electric motor drive and controls. They are the 'engine' for the door and can also enable a choice on the speed of operation for some doors, along with the retrofitting of other controls in the future if required. One of our recommended motor drive manufacturers is GFA, a renowned German manufacturer for motors and control units, who have a reputation for high quality and excellent functionality, whatever the application requires. GFA also offer the variable speed control electric motor drives, which enables you to have a higher speed roller door operating cycle.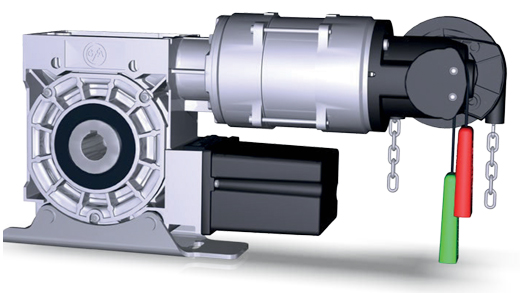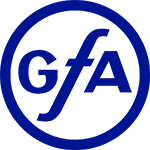 An electric motor will drive the curtain up and down by several different methods, whether that is a chain drive and gearing, with the motor fitted externally and in various positions to suit, a direct drive motor straight onto the barrel, or an internal electric tube motor, which is super neat by fitting inside the barrel and perfect for low use and where space is limited.
Most Popular Electric Industrial Roller Doors



Light Electric Roller Door
Seceurodoor 77
Seceurodoor 95

Steel Continuous Curtain manufactured from 0.45 guage steel
Up to 5000mm wide x 4900mm high
Uses single phase 240v electric operator
Ideal for when daily use is less than 20 operations a day
Prices from £792+ VAT

​

Heat transmission performance for 77 mm single slat profile 4.01 W/(m2 K)
Max width 6000 mm
Max area 20 m2
Your choice of motor
Can be powder coated any colour
Choice of 4 guide arrangement options
Standard guide angle is 75mm x 50mm
Safety and Compliance on Electric Roller Doors
It is imperative that any new commercial or industrial roller shutter door used in any environment is built to a minimum safety standard and when electrically operated has the necessary safety detection systems incorporated to comply with BS EN 12453:2017.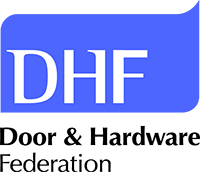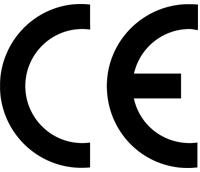 Simply put, a roller shutter door with manual operation has to have a safety system to prevent the door curtain from ever just free falling if a major component fails. This is to stop it taking on a guillotine action and damaging people or objects beneath it.
For any electric door the same applies, but also depending on the controls used there has to be detection systems in place to prevent closure onto any object or person. This is a requirement if the door is either 'impulse' controlled or radio controlled, meaning that in either scenario the door can be closing or opening without anyone monitoring the door movement.
If an electric door is using a 'hold to run' system then the operating person has full control over the door and has to stay with the door until fully open or closed so there is no need for any safety detection system.
This simple logic applies to ANY electric door and not just roller doors, but the larger the door is and how close it might be to the general public activities might dictate some additional safety measures being adopted for total peace of mind and compliance.
Entrapment is also a big consideration with any open vented roller shutters and grilles, requiring a robust detection method to stop the door opening if someone is hanging into the curtain either by accident, or for fun perhaps.
Infra red beams of varying kinds, radar detection systems and light beams built into rubber bottom seals are just some of the safety systems.
High Speed Roller Shutters
Many customers ask for a high speed roller door and in reality we find most customers are just after a faster roller door than the one they currently have. So many lower specification roller doors have old 3 phase electric motor drives with basic gearing and therefore you can easily find an average 5 metre high door will take up to 2 minutes to open fully. This is like a lifetime for the operative and worse for closing, so usually the doors are left open, leaving heat or cold in and out and so on...
With some extra thought and not too much more cost a modern 3 phase electric roller door can be built with a high speed motor drive and you can obtain a high quality double skinned steel door which at 5 metres could open in around 20 seconds or even less.
We also offer super high specification roller doors which can open up to around 2 metres a second!!
The traditional method for many factories and warehouses to utilise high speed 'fabric' doors is a primary steel door and the fabric high speed roller door situated behind this primary door. The primary roller or sectional door is used as a security external door and the fabric high speed door is the product keeping out the heat, cold, wind and rain along with dust and unwanted pests. It is a great solution for ultra high traffic and more relevant to the food industry or any factory where the internal atmosphere must be kept as constant as possible.
This is still a relevant solution for so many food and other factories where keeping the internal climate and atmosphere constant is important, but it does require 2 doors always maintained.
Modern technology in electric motor drives and materials has now meant those high speeds can be achieved with a steel or aluminium roller door which then acts as the security and the climate monitor, along with other benefits like insulation and security too.
Insulated Roller Shutter Doors
Such a massive topic, with the cost of energy rising all the time. It is in fact difficult to get a traditional rolling shutter type door specified and 3rd party tested with any real U values, mainly because of the sheer volume of gaps in and around the roller door curtain itself.
Samson can offer a range of insulated roller doors with tested U values on the curtain sections and they will provide insulation, just not always certified and tested. The benefit of a double skinned insulated roller door curtain is in its strength and durability, quite often over and above the insulation itself. For the higher speed roller door operation you need a strong curtain to take the stresses of the motor drive power and this means a double skinned lathe build.





Insulated roller doors will be a lot quieter than a single skin steel curtain roller door, not only in the wind, but also during operation. They all generally have higher wind ratings, so are better for exposed locations and with this strength of course they will be more resilient to a forced attack of any kind, so they are more secure.
Most Popular Electric Industrial Roller Doors



SeceuroDoor 77t
Seceurodoor 95
Seceurodoor 100

Heat transmission performance for 77 mm single slat profile 4.01 W/(m2 K)
Max width 6000 mm
Max area 20 m

2

Your choice of motor
Can be powder coated any colour
Choice of 4 guide arrangement options
Standard guide angle is 75mm x 50mm

Heat transmission performance for an operational door unit 3.9 W/(m

2

K)
Acoustic reduction rating of 27dB
Max size 7000mm x 7000mm
Your choice of motor
Choice of guide arrangement options
Standard guide angle is 100mm x 50mm
Vision options available
Wind class rating: Class 3
Spiral Roller Door
Our high speed insulated spiral roller doors offer the insulation levels you might require if U values are part of the requirements for a building and there is a defined specification. The Hormann HS7030 PU is really a cross between a sectional overhead door and a roller shutter door, with almost no parts making contact during the operation, for a super smooth and low maintenance daily performance.
These spiral type roller doors are perfect for high volume traffic in buildings where the internal or external separation and exposure to a different atmosphere has to be minimal.
Prevention of heat or cold loss and exposure to outside particles can be kept to a minimum with a door which opens and closes in seconds but also offers high levels of insulation and also provides the security for the building too. The price tag might be higher but make a comparison to lost time as well as the costs of other solutions and it suddenly looks like value for money over a period of time.
| | | |
| --- | --- | --- |
| Non-contact automatic safety cut-out thanks to a standard safety light grille | The 42mm thick, PU-foamed section offers excellent thermal insulation value of 1.95 W/(m2K) | The non-contact roll-up technology pulls the sections into the spiral bracket at a high speed and without any wear |
High Security Roller Doors
It is amazing how many people simply don't realise that most roller doors don't have any kind of locking mechanism which actually locks the curtain when closed. The locking is performed generally by the motor and barrel holding the curtain closed in place, but that depends on the specification and build of the door as most don't even have that. They are effectively just a curtain 'hanging' in guides and can be actually just lifted up. Many cheap roller doors are in fact very insecure indeed and offer very little performance in other areas too.
For any external roller door surely security is important? Warehouses, factories, storage units and so on all need a door they can rely on, also preventing casual intruders from entering.
The tested security roller doors we can offer at various levels are LPS1175 rated and we offer levels 1, 2 and 3 for security in most cases. The security and locking is a combination of a high quality steel lath with a thicker guage steel than standard along with a direct drive motor with direct connection to the axle assembly. Along with a high quality motor and internal bullet locks you will have very good security when closed.
We offer other locking methods where patented self locking technology is used and this locks the curtain in the guides if force is applied.

Security Shutter Range | Security Shutters and Grilles
How to Choose the Right Roller Shutter Door and Specification
Every day we receive many enquiries for new or replacement roller shutter doors. What usually follows is also the same most days, in that there is rarely any real thought given to the purpose of that roller door on the building or in the environment it is in, so a lot of questions need answering which have never been given any thought previously…
A 'roller shutter door' is a 'roller shutter door' - Right?
Well, yes generically, roller shutter doors all behave similarly regardless of size and colour but the real question is always 'What do you expect this door to do? What is its purpose on the particular building it is going onto?
If we are talking about the door actually acting as a 'door' then it has to have some minimal standards for a start, whether that is an internal or external door, acting as a barrier between one side and the other.
Here are some of the common questions to get to determine a specific model or specification to focus on.
1. Is this roller door to be manual or electric operated?
A manual operated door will have some limitation on its size before it is too heavy but a good manual roller door will have spring balancing and a geared chain operation on larger sizes so is fine for certain size doors and often used when access is infrequent or the door is small. Electric operation is so simple and inexpensive with basic controls that manual operated doors account for only around 5% of total roller doors sold these days.
2. If the door is electric operated, is it to be single or three phase operated?
This often simply depends on what is available on site but when you get to a certain size and weight of door the single phase electric motors are not strong enough, so three phase is the only option. Also, if the door is to operate many times a day the ratings on three phase are far higher too. The same goes for any higher speed motor drives, these are usually always three phase motors to take the strains and have the ratings to accommodate.
3. What size is the door?
Arguably the first question to ask as it determines whether it is manual or electric but also if it is to be three phase or single phase, but customer preference and the power available on site is obviously very relevant to begin the process. The size of the door opening and also where the door is to be installed, i.e. inside, in between or outside, also has some bearing on the model we would recommend but the size helps to narrow down the doors available.
4. Approximate number of Operations Per Day?
For electric operation this question gives us the clue as to what motor rating and power might be required to deal with the higher volume operations. Many doors are only opened and closed once a day, but so many others, such as factories, could be opening every few minutes all day long, and even 24 hours a day in some cases. The right electric motor is very important and so many roller shutter doors have electric motors right on the limits of their capability often meaning very slow opening and closing times because the motor has been overgeared to accommodate the size and weight.
5. Basic Single Skin Steel or Double Skinned Insulated Curtain?
So many more customers are opting for double skinned roller doors now and this is often not because of the insulation, but more for the strength, stability and security offered by a roller door with a much stronger curtain as given by a double skinned steel or aluminium roller door. If the door is on a non insulated building with low usage and security isn't too much of an issue then a single skin traditional steel roller door might be fine. You can always beef up the specification anyway on these more basic steel curtains and have security ratings. The double skinned door curtain is stronger, so we specify this for anyone wanting higher speed opening times or high usage.
6. Site and Aperture Restrictions?
Quite often the type of motor and its position on the endplate is determined by site restrictions and often because there might not be a lot of side room internally to work with. Most doors can have what's called an 'Inboard' or 'Outboard' motor set up and yes, it is like a speed boat reference by comparison. The Inboard motor needs less side room to accommodate whilst the Outboard motor is sticking out the side and needs more side room, but does give you the direct drive option which is better for larger or high speed, high usage doors. Headroom is often a big issue when anyone is trying to maximise their drive through height when the door is open and the roll and endplate size becomes critical in these cases. Sometimes you maybe just have to concede and change the door type to achieve this.
7. Controls?
Who is operating and how is the door to be controlled? As we state all the time, the simplest form of control for an electric door is the old fashioned 'hold to run' system, where a person simply presses and holds their finger on a button for the duration of the opening or cloning cycle. This system generally does not need any safety devices so the costs are kept down and the system is also simple. For larger doors, unless you specify high speed motor drives, holding a button for what seems like an eternity can get to be a grind after several times a day. Consider the 'Impulse' control which simply means pressing a button on a wall panel and then you can leave whilst the door opens or closes. This system needs safety devices to comply with regulations but is better all round generally. Going up to more complex controls, most of which are wireless these days, will require safety systems built into the door. Handset remote controls, digital keypads, magnetic readers and cards, radar detectors and so on are all available on most roller shutter doors and depend on the customers individual requirements along with a site assessment.
8. High Speed Operation?
Busier schedules, longer operating times, 24 hour operation and so on, all lead to the need for the fastest possible door opening and closing times. Along with a need to keep the cold and heat in or out on many buildings, the speed of the external door operating, or multiple doors on some buildings can be critical and save a lot of money in time and heating bills Whilst we can offer super high speed rolling doors with speed of up to 2 metres per second, we generally find for many customers the need is simply for a faster door than they have already. So many buildings have older, low specification build roller doors with overgeared motor drive and it isn't difficult to find many roller doors which take over 60 seconds to open on an average 5m high door. A simple bit of thought, effort and spend can bring this down to around 15-20 seconds making a huge difference to users and the building environment, generally encouraging the door to be closed at all times.
9. Security?
Surely on any external door to any building security should be an issue and understood? A most basic roller shutter door will pretty much have no security at all. No locking of any kind and a curtain simply hanging in the opening, able to be lifted with minimal noise and effort. The method in which the curtain is driven up and down can make a roller door far more secure along with additional physical locking too. Ask or look at our range of LPS1175 SR1 and SR2 rated roller doors. We can offer higher ratings if required and also have European roller door models which can have their own security ratings is acceptable on site.
10. Colour?
The colour and type of finish used on any roller door can affect the price a lot. Many models we offer have a range of standard colour options, whether that be in plastisol coated or powdercoat options and then more uncommon colours are generally priced on a square metre costing. In some cases if you have a very specific colour requirement it can mean many door models are simply not an option to look at.
11. Price?
If it is only about the cheapest price roller door, then I am afraid we won't be able to help you. A cheap, low specification roller shutter door is a terrible product, which will almost inevitably bite you back within a short period of time. As there are so many moving parts in a roller shutter door then those parts as low quality components made into one large moving product with many stresses involved is a recipe for disaster. We can offer great value for money on properly built, certified and compliant roller shutter doors.
Conclusion…
Whatever type of roller shutter door you may require for your industrial or commercial building then please take a couple of photos of the existing doors and the aperture, send them to us with some approximate dimensions and we then have most of what we need to discuss options with you and provide some pricing too. Alternatively if it is a new build and you have the drawings, please send those in for us to evaluate sizes and any performance that may be expected. We can offer you supply and delivered prices or a supply and install, with site survey. What exact roller door specification and model you need will depend on what you actually want the door to do each day. Just provide some basic door properties onto an opening. I.e. close it off Basic manual operation as it isn't opened very often at all… Provide some security for the opening… Add extra insulation to the building…. Open and close very fast to reduce waiting times and reduce heat or cold ingress…. Look good in a specific colour and with some of the above properties Have some light and vision when closed available.