PRODUCT SEARCH
Samson Online Shop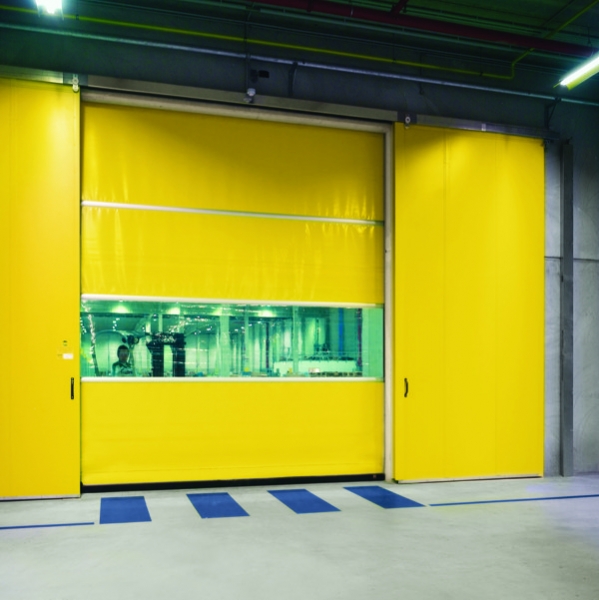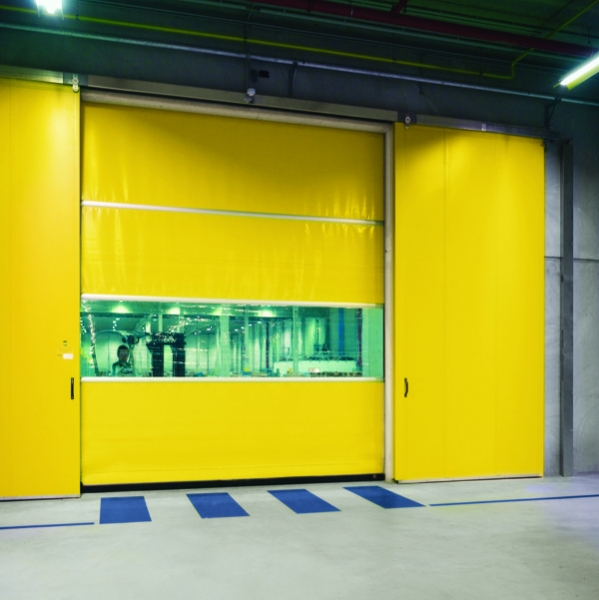 Background Information about this Product
V 4015 SEL Alu R
High Speed Roller Doors
Internal High Speed Door - Tubular Drive
Material: Fabric
Gear Type: Roller Shutter


The Hormann V 4015 SEL R. Thanks to its compact tubular drive and the alignment of the barrel drive and the guide rail, the V 4015 SEL R looks smart from both an internal and external point of view.
With the anodised aluminium surface finish of the side elements and top plates, the standard shaft cover in White aluminium RAL 9006, the integrated wiring and few visible screw fittings, the door is very elegant and can also be used in the customer sector.
The door is equipped with light grille and SoftEdge profile for a high level of security and cost-effectiveness. The light grille stops the door immediately if a person or vehicle is in the door opening.
Downtimes due to door system damage is prevented thanks to the flexible SoftEdge profile. You can also optionally obtain the V 4015 SEL Alu-R with aluminium bottom profile for wind class 1 (DIN EN 12424).
The small gap dimension of the side elements and the lip seals also ensure very good door sealing. The high-speed door is particularly suitable for narrow fitting situations in high frequency areas thanks to the narrow side elements and the powerful tubular drive.
The high-speed solution for constricted spaces
A gearbox that protrudes to the side is normally not possible with storage shelves in logistic areas and supermarkets. The high-speed door V 4015 SEL R with the tubular drive integrated in the door shaft is an optimum solution.
Fully equipped
The fast and quiet run of the door due to the standard frequency converter (FU) control, the light grille and the increased personal safety that results from the vertically flexible Soft Edge bottom profile with manual insertion make the V 4015 SEL R a safe internal door for areas where there is high frequency. Aluminium profile option for improved curtain stability.
The barrel cover that is limited to the door width is available as a galvanised version and on request also powder-coated based on RAL.
Fitted quickly and simply
To enable a quick fitting, the door shaft is already assembled with the tubular drive at the factory.

Size Range
Max. Width (LDB) 4000mm
Max. Height (LDH) 4000mm
Speed* opening/closing
Standard control
FU Control BK 150 FU E H 1.5/0.8 m/s
*max., depending on the door size
Curtain
Spring steel in curtain pockets or aluminium profile
Fabric/vision panel thickness 1.5/2.0 mm
Emergency opening
Optional:
Automatic opening via UPS during power failure
(BS 150 FUE H UPS, 230 V)

Curtain Colours
RAL 1018 Zinc Yellow
RAL 2004 Pure Orange
RAL 3002 Carmine Red
RAL 5010 Gentian Blue
RAL 7038 Agate Grey
Enquire
Specification
Door Type
V 4015 SEL ALU-R
Suitable Application
Interior
Size range
Max. width (mm)
4000
Max. height (mm)
4000
Speed with control

BK 150 FU E-1

Max. opening (m/s)
1.5
Closing approx. (m/s)
0.8
Curtain
UPVC, with spring steel wind locks and lateral twin rollers
Temperature range
+5°C to +40°C
Fabric thickness (mm)
1.5
Vision panel thickness (mm)
2.0
Curtain Colours
RAL 1018 Zinc yellow
●
RAL 2004 Pure orange
●
RAL 3002 Carmine red
●
RAL 5010 Gentian blue
●
RAL 7038 Agate grey
●
Emergency opening
Emergency crank handle
◌
| | |
| --- | --- |
| ● = Standard | ◌ = Optional |