Security Steel Doors
High quality steel security doorsets for domestic, commercial and industrial applications
Commercial steel doorsets for almost any application from Samson Doors in galvanised or stainless steel options. Thanks to the durable material and high design quality, each door Samson supplies is built to last with security usually a top priority too. A 10 year warranty is also offered on many models with an assurance against corrosion from the use of Magnelis steel in the door construction.
We offer high security doors based on their hardware and locking as well as security rated steel doorsets with various certifications through LPS1175, LPCB, Exova and also European equivalents such as RC2, 3 and 4 ratings.
Ranging from high security fire-rated safety doors to multi-use doors suitable for offices, restaurants, hotels, dealerships and many more, Samson knows high quality is a necessity.
Furthermore we know our products inside out so can give a valued opinion on whether a door is suitable for an application. Please select your intended use for a security steel door and we will offer our professional recommendation. If we have not included your intended use, do not hesitate to call us - we are here to help!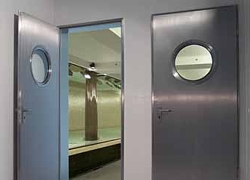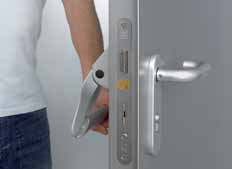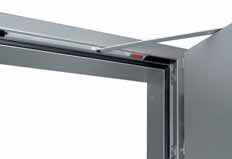 Browse the Steel Doorset Range
High Quality Steel Doorsets from Samson
We are now offering Domestic Steel Doorsets with higher security specifications and an assurance of complete compliance with the current regulations.

| | |
| --- | --- |
| | |
| | |
| The Home Guard is a steel doorset designed to provide a one hour certified fire protection and is for use between your integral garage and main house. | The Garage Guard is a steel doorset designed to protect your garage and any other outbuildings with a steel door designed around security with various higher levels of security if required. |

The Samson range of Commercial Steel Doorsets provide excellent levels of security, safety and strength.
| | |
| --- | --- |
| | |
| | |
| The Store Guard has been designed to protect your premises from intruders and offers an enhanced level of security for a wide range of applications. | The Exit Guard steel doorsets are designed for emergency designtaed fire exits with panic hardware but also an emphasis on security. These doors can be single or double leaf sizes. |

Internal Steel Hinged Doorsets
Samson Doors also offer a wide range of internal steel doorsets manufactured by Hormann and Teckentrup, both leading manufacturers of steel doorsets in Germany. The use of internal steel doorsets is growing in the UK with a recognition of their superior strength, durability and security compared to timber. The range of attractive paint and laminate woodgrain finishes has helped to accelarate the sales with a greater desire from the visual appearance as well as offering risk free compliance in the door performance and specification. These doors are all manufactured, tested and delivered as a complete doorset with outer steel frame, hinges, ironmongery and locking all factory fitted to ensure total continuity in performance and quality.
Click a door below to see the specifications and recommended use
| | | |
| --- | --- | --- |
| Single and double-leaf steel fire-protection doors with additional protection features. | A wide range of steel door sets for all applications in the non-domestic building sector. Includes a variety of designs. | Robust, highly-durable, heat and stain-resistant steel door sets. Available for a variety of different uses. |
Each door is manufactured with the latest safety devices and are available with optional handle and window options. If you require doors the meet certain specifications of fire-rating, smoke-tight, acoustic-rated, high security or multi-purpose, then call our office to see which door would be the most appropriate for your business. The benefits of having steel multi-functional doors stems to both architectual design and building aesthetics, matching each door to give the practicality needed in a busy retail environment while complimenting any room.
These doors can work in a number of commercial areas such as: Apartments, Fire Protection, Internal Office Doors, Public Service Areas, Living Areas, Storerooms, Toilets, Basements, Attics, Containers, Schools, Barracks, Hotels, Nursery Homes, Hospitals.

Call for further information and features