A one piece, up and over garage door is still one of the most popular types of garage doors in the UK. A simple concept with such a massive choice of designs just not possible on most other doors meaning many people and housebuilders still prefer this door to others.
Up and Over garage doors are available with two different operating mechanisms in single sizes - Canopy and Retractable.
For double width up and over doors you can only have the retractable type mechanism, due to the weight of the panel. Double width doors are usually defined in the UK as any width from nine feet (2743mm) wide. Some specialist up and over door models will go up to 6m wide, but beyond that width start looking at sectional or round the corner type garage doors.
Canopy Operating Mechanism
A canopy operated up and over garage door is the most cost-effective and efficient garage doors on the market. It is simple in design and easy to use which makes it one of the more popular garage doors sold by Samson Doors.
The name derives from the position it takes when open. A third of the garage door protrudes outside of the opening when open creating a canopy cover. A canopy up and over garage door is attached to the sub frame through two rolling wheels on each side and a folding arm attached to each side of the door - as the door is opened, the wheels stay within the roller tracks as they move higher with the door. Assistance is provided by a torsion spring system at the top above the door panel lifting the wheels either side via the cables
A canopy gear up and over garage door is not usually recommended when requesting electric operation due to the way the door opens. If you wish to add electric remote control operation to an up and over garage door, a bow arm converter is required which allows for perfectly smooth opening cycle.
Retractable Operating Mechanism
A retractable mechanism on an up and over garage door is seen as the more practical up and over garage door. Costing slightly more than the canopy gear, a retractable gear provides additional lifting power, meaning it can cope with up and over door sizes anywhere up to five metres in width and around 2.6m in height. All double size up and over garage doors and single doors over 8 feet wide are supplied with retractable gear as well as many heavier timber door panels.
The retractable operating gear gets its name from the way the garage door retracts into the garage. It is attached to the garage opening through spring-loaded side arms rising from the floor of the fixed sub frame and assisted into its open position by the tension of the tension springs either side. Roller wheels in the horizontal tracks allow for a smooth and reliable opening all the way into the opening.
A retractable operating door is perfectly suited to electric motor drive, without the need for any additional accessories. The door panel is simply pulled up and pushed down by a centrally positioned 'boom' type electric operator. Direct drive onto the door panel ensures the very best safety and trouble free operation over many years.
Door Panels
Up and over garage doors have been manufactured since their inception mainly from steel, but over the years timber and GRP composites have been developed too, covering possibly the widest range of standard designs for any garage door.
Pressed steel panels are generally the best value and the panels are constructed within an outer steel C or box section and then fitted with the relevant operating mechanism.
Nearly all the up and over garage doors are now sold with the steel box section fixing sub frame already attached, with perhaps exceptions when the garage door panel is a timber construction and you wish to match the materials.
Steel is mainly lighter than the timber doors and with modern paints and laminate foil coatings you can choose from a very wide range of solid and woodgrain effect finishes.
Panel designs will range from the simplest horizontal or vertical lines through to relatively complex designs incorporating panels and windows.
Samson Doors only offer the steel and timber garage doors from leading manufacturers from the UK and Germany. We also offer a unique range of 'open for infill' doors which are effectively the door panel chassis without any panel infill, leaving this to the customer to choose their own infill, usually timber. This way you can buy a prebuilt up and over door system with everything required to operate immediately and the panel is merely a cladding design of your choice.
Electric Up and Over Garage Doors
Most up and over garage doors purchased as a retractable operating door or using a high quality canopy gear can be easily made into electric operation, with remote control and usually at very affordable prices.
Any retractable up and over garage door can have a boom type electric operator added and the set up and control will be as simple as it gets compared to other electric doors.
A 'boom' type electric operator is any electric motor drive using a long boom with a chain or belt drive system and the motor situated at the back end, usually meaning it sits in the middle of your garage just above the height of the garage doors when open.
This system simply directly drives the main door panel up and down and incorporates a safety mechanism which detects any electrical surge if the door meets an obstacle during opening or closing. The operator will immediately stop and reverse when this occurs to prevent damage or injury.
All good quality remote control operated garage door motor drives will usually have 2 hand held remote transmitters for control, a set of controls on the motor head unit and an internal emergency manual override in case of power failure. If you don't have any other access to your garage then this manual override needs to be fitted with available access from the outside of the door, either using the manual handle mechanism or drilling a small hole and using a cable release device with locked access to just anyone on the outside.
Most garage door operators will have a built in light in the motor head and more advanced units will have the ability to add more lighting and then also have different settings such as speed or timed auto closing and so on...
Of course another big change is the use of smart technology, enabling users to control the garage door via their smartphone or tablet from literally anywhere in the world. Ideal if working with a camera for example to let people in such as delivery drivers or tradespeople when you are no at home.
Quite simply, owning an electric garage door will ensure you always put your car away, especially if your garage is integral to your home and you access your home from the garage. What better way to arrive home when it is raining and just push a button in your car and step out into a dry garage?
For larger doors it also makes operation so much easier of course because although larger doors will have spring balancing there is still physically more effort required to make the door move in either direction.
Up and Over Doors with Pedestrian Doors Built in
The concept of a smaller access door within the larger main garage door isn't a new concept by any means. They have been used for many years to provide an easy and simple way to access into and out of the garage on foot, without opening the main door.
We can offer up and over garage doors with built in pedestrian doors in many standard and purpose made sizes and you should definitely consider this option if you generally use your garage for anything but storing your vehicle in or it is an access to your main home.
Door sizes from 2135mm wide right up to 5000mm wide can be ordered with the pedestrian door inset to cover pretty much all single and double garage sizes in the UK.
Most of these doors will be manually operated because by definition having the small access door is because the main door is not going to be opened very often at all.
We can also offer the very specialised counter balance operated ET500 door from Hormann with a choice of pedestrian doors in certain styles. This is a commercial garage door, originally designed for use in underground car parks and available up to just under 6m wide and always electrically operated. This is a door to consider if perhaps the door is operated a lot more than usual, the size is larger or you wish to add your own timberwork and therefore use the 'Open of Infill' model in this range, capable of carrying more weight per square metre than other doors.
For further information on timber up and over doors, click here
Accessing your garage several times a day on foot is far easier with a simple access door hinged on one side and always opening outwards.
Check out our up and over garage doors with wicket door access in our online shop here
Security
The next level enhancement from this is specifying 4 point locking and having a locking point in each of the 4 corners internally, again operated by cable or steel rod.
The electrically operated up and over door will have security from the electric operator itself and varying methods are used depending on the operator model but the general concept is simply to hold the door firmly closed at the top by the towing arm. Make this a rock solid solution by using a 'De Latch' mechanism which will utilise the manual locking in conjunction with the electric operator , effectively providing 3 point active locking, working by the action of the electric operator when opening and closing.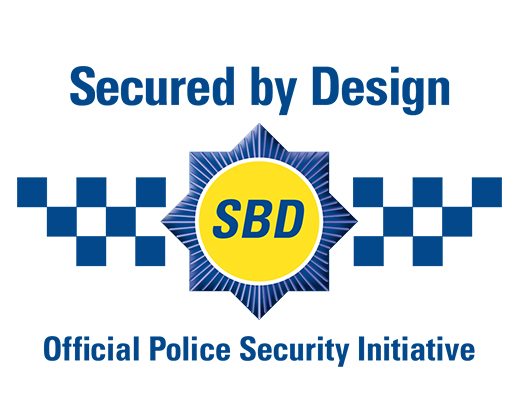 Secured by Design Accreditation
Samson Doors offer a limited range of enhanced and tested security rated steel up and over garage doors. Reinforced internal steel sections and increased steel panels in the most vulnerable parts of the door all go together to offer a 4 point locking 'Secure by Design' garage door. LPS1175 SR1 rated, the Guardian Door range will provide comfort for you knowing this is one of the hardest garage doors to break into and also a simple and easy mechanism for daily operation and us
Garador Guardian Range
To view the Garador Guardian Range click here
The Guardian range qualifies for 2 points under the Code for Sustainable Homes, a national standard for use in the construction of new homes in the UK, which encourages greater sustainability. Guardian range doors come on a pre-fitted steel box section frame and cannot be fitted to a normal timber frame. There is is no mechanism to unlock Guardian range garage doors from the inside.
10 year limited warranty
Smooth, low maintenance and durable powder coated paint finish colours
Secure euro cylinder with solid locking rods
Strong box section chassis with superior lifting gear
Reinforced plate for lock body protection
Anti snap cylinder and improved lock security
High security bracing on inside of garage door

Available Options
Canopy gear available on door sizes up to 2284mm wide doors
Retractable gear
Retractable plus gear
Colours and Finishes
Steel and Timber Up and Over garage doors are all sold with fully finished factory colours and wood treatment options and we strongly recommend any timber door for external use is always purchased fully finished, making sure all parts are treated and protected as best possible.
| | | | | | |
| --- | --- | --- | --- | --- | --- |
| Antique Oak | Chestnut | Dark Oak | Ebony | Golden Oak | Light Oak |
| Mahogany | Medium Oak | Rosewood | Teak | Walnut | |
Steel Colours and Finishes
All steel one piece up and over garage door panels are a smooth galvanized steel construction and most people will order the door and sub frame powdercoat finished in a choice of popular colours. There are options for some very modern paint finishes with some doors, a metallic finish maybe, or a more matt finish creating a very different final look. The gloss content will vary from one manufacturer to another and this affect the final colour if you are attempting to match another RAL colour on your home, so please be aware.
| | | | | | |
| --- | --- | --- | --- | --- | --- |
| Black | Chartwell Green | Green | Light Blue | Light Grey | Light Ivory |
| Red | Slate Grey | Steel Blue | Stone Grey | Terra Brown | Window Grey |
Many foil coated laminated options exist as an alternative to replicate the warmth and finish of a timber garage door, offering woodgrain effects in various oak and Rosewood variations depending on the manufacturer.
| | |
| --- | --- |
| Golden Oak | Rosewood |
More manufacturers are offering colours which are suited to period properties now, certain greens and greys very much on trend right now, as well as others. The standard timber up and over doors are manufactured using Western Red Cedar and there are many factory finishes to choose from for these timber doors. Water soluble and breathable modern timber treatments will ensure a very long lasting lifespan for external timber.
Installing an Up and Over Garage Door
Most of the garage doors sold by Samson Doors will be delivered to you totally preassembled, with the operating mechanism and furniture already fitted and ready to go. Before we had the steel sub frame options on up and over garage doors they were all fitted using a 3 part timber frame, a goalpost arrangement, requiring fitting before you even started fitting the garage door and gear together in many separate parts.
Now this is all factory assembled and the door arrives as a complete unit, ready to simply offering up into the structural opening and securing, adjusting to be square and then tweaking to perfection, once the balance is correct from the relevant spring system being used. It couldn't be simpler really.
The benefits of any of our garage door being pressembled is obvious in that you always get a perfect tolerance between door and frame and the ease of installation with all major parts prefitted. Nearly all our Up and Over and Side Hinged garage doors are offered like this, the exceptions perhaps being double width doors and specials.
Measuring and Ordering
All Up and Over doors either fit INBETWEEN or BEHIND the structural garage opening and never in front. Obviously going behind the opening will provide you with more width and height for the drive through dimensions when open if this is a consideration.
​If you are ordering for INBETWEEN fitting then take the smallest width and height measurements and take off a tolerance (usually 10mm all round) and then you have your ideal ordering sizes for the door and frame complete. This might be close to a standard size and you can perhaps allow more tolerance and make a standard door fit with some packers, etc.
Bear in mind a lot of up and over doors are ordered by the frame opening sizes, so please check carefully defending on the brand and how they process orders. You will have to add on the relevant sub frame size to get the overall width and height dimensions.
If you are ordering to fit BEHIND your structural opening then take the narrowest width and height and these dimensions will be the very tightest opening sizes inbetween the sub frame which is fitted to the inside face of your opening. You will need to find an opening size with some tolerance to allow the door panel to go through the opening when operating.
Example: Say your structural opening width is 2300mm wide and the floor to lintel height is 2150mm then you could fit a 2286mm x 2134mm door onto the back of this opening (7'6" x 7'0" in imperial ordering sizes). This of course does assume you have an internal reveal with sufficient width to allow for the width of the steel sub frame as well.
Most Popular Up and Over Garage Door Manufacturers
Most Popular Steel Up and Over Garage Doors