SeceuroBar Systems
Constructed by reputable UK manufacturer SWS, the SeceuroBar is an award-winning system designed to protect vulnerable window openings.
The system features anti-cut steel bars which are securely locked into position. These can be released from the inside to allow complete vision or maintenance of the windows.
Security window bars are suitable and can be utitlised for many applications, including domestic, retail, commercial, bar, servery, kiosk or cabinet.
Installation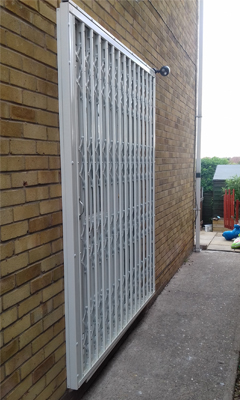 Suitable for installation in a horizontal or vertical format, SeceuroBar is finished to a high standard and delivers security which is quick and easy to install, yet highly effective in a range of locations.
Window bars are installed into a permanently fixed top and bottom rail system. A key is required to unlock the system, before individually removing each and every single bar.
Note that this can be a highly laborious task when dealing with large windows!
Comparitive Products
A higher security fixed window bar system is also available for locations where removal is not a requirement.
Window Security Bars offer similar levels of visibility to Security Grilles, however they take a lot longer to remove individually.
SeceuroShield Mesh
The SeceuroShield Mesh window bars are ideal for internal, higher security domestic and commercial applications where removal of the security device is not required.
View in Samson Shop:
Secured by Design
The SeceuroBar range is Secured by Design and LPCB Insurance approved.
Samson's range of security window bars are available in various performance specifications. Many of our products can be upgraded to certified, high security specifications for reliable and effective physcial security.
The SeceuroBar is Secured by Design specified, meaning the product has been thoroughly tested to rigorous standards and is UK Police and Insurance approved.
The Secured by Design initiative was developed to effectively 'design out crime', meaning the installation of SeceuroBars makes for great security and peace of mind.