PRODUCT SEARCH
Samson Online Shop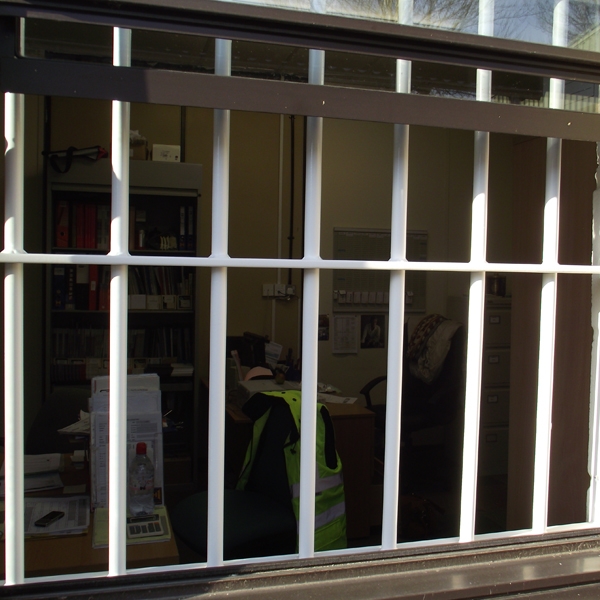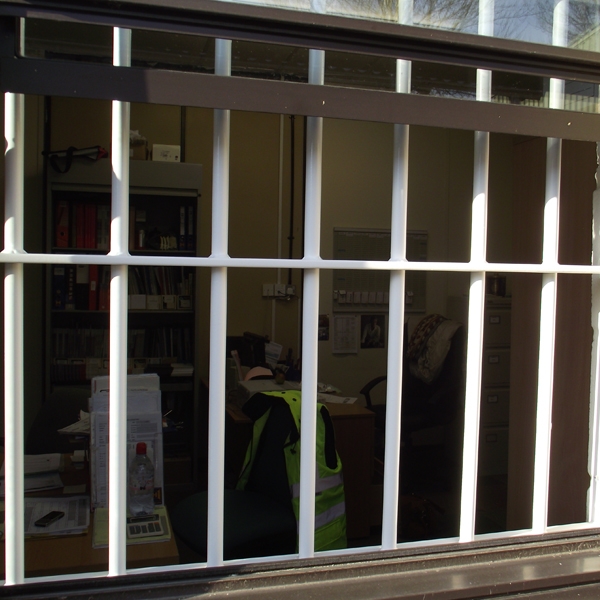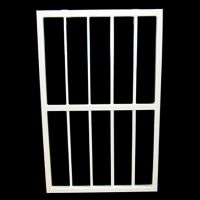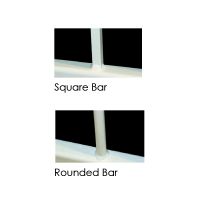 SeceuroShield Window Bar
Security Bars and Grilles
Fixed Security Window Bars
Material: Steel
Gear Type: Security Grilles - Fixed


Web Price: £179.00
(Excluding VAT and £214.80 Inc. VAT)
Description

Specification

Installation

Warranty
Description
The award winning SeceuroBar security window bar system uses tough powder-coated steel bars which are locked in place on the inside of windows, in either a vertical or horizontal format.
Specification
The fixed window bars can be powdercoated in any of the following standard colours at no extra cost:
Brown RAL 8014 Satin
Black RAL 9005 Satin
Brilliant White RAL 9016 Satin

The following colours are priced per m²:
White RAL 9010 Satin
Beige RAL 1001 Satin
Pale Green RAL 6021 Gloss
Moss Green RAL 6005 Satin
Fir Green RAL 6009 Satin
Poppy Red BS 04 E 53 Satin
Traffic Red RAL 3020 Satin
Dark Red RAL 3011 Gloss
Pale Blue RAL 5015 Satin
Royal Blue RAL 5002 Satin
Off White RAL 9003 Satin
Pale Grey RAL 7047 Satin
Pale Grey RAL 7035 Satin
Dark Grey RAL 7015 Gloss

To view the RAL Colour Chart, please click here PDF >
Please Note: If this product is being installed externally we recommend that you select the zinc base primer option.
Powdercoating of the bars and grilles: The coating is fused by heat to produce a continuous film and curing of the coating which gives its design properties. The result is a high performance finish that delivers exceptional corrosion protection, durability and resistance to yellowing making it suitable for both interior and exterior use. The process is virtually emission free, so is environmentally friendly.
Gloss: A highly reflective smooth surface. Gloss surfaces due to their highly reflective appearance tend to highlight surface imperfections.

Satin: A satin finish is not as reflective as the gloss finish and because of this is less likely to show any surface imperfections. Satin finishes also provide a good surface for cleaning and resisting abrasion.
Spacing is approx. 125mm between the centers of each bar.

Cut Out options are available as price on application*
*Please let us know the number of cut outs required, the size and location of the cut out.

To view or download the Seceuroshield Brochure, please click here PDF >
View our page on Security Window Bars.
Installation
The security bars for windows system is designed to fit as close as possible to the window frame, this will avoid any cavity for dust and dirt to collect in.

The top and bottom retaining units can be placed up to the window frame and the fixing positions marked with a pencil, the retaining units can then be removed and the appropriate size hole drilled.
The minimum recommended fixing is 10 x 2" (50mm) countersunk wood screws (see fig. 1). It is very important that countersunk screws are used, these will allow greater clearance in the top retaining unit. It is usually necessary to create a small recess directly below the lock position to allow the bottom fitment to seat correctly.

For wider or horizontal bar applications the fixing plates can be secured within the retaining unit by using masking tape or a small amount of silicone sealer. (This will eliminate fixing plate movement). Before finally tightening the top and bottom retaining units the end caps should be moved out to the end of the opening, this will provide a neat and even finish to the system. The location of the fixing screw can beseen to the right.
Warranty
The operation of the window bar system along with the finish of the retaining units and window bars are guaranteed for a period of 2 years against faulty materials and workmanship.
The warranty period commences from the date an item is invoiced. Where a warranty claim is upheld, SWS UK will supply all necessary parts to enable distributors / installers to complete a satisfactory repair. The warranty terms do not extend to cover labour and consequential loss arising from any claim.