Classic 75mm Steel Roller Shutter
The majority of galvanised steel industrial roller shutter doors used and seen around the UK will mostly be single skin 75mm scrolled lath construction. The 'Classic' roller shutter for many years.
Using this weight single skin steel slat in a roller door gives great flexibility indeed. The size range is enormous, the choice of electric motors and also manual operation methods is vast and the slats can be powdercoated or precoated in a plastisol colour coated front face in a wide range of colours, many of which match outer cladding on industrial buildings.
Samson offer a variety of different models using this classic 75mm steel slat and the guage of steel used also has a large bearing on features and cost, along with security and other options such as perforated sections or wind rating.
Need more help? Click here to contact us or call our team on 01933 448 850.
Manual Operation
If you do not use the roller door very often at all or maybe don't even have power in a building then a manually operated door might be your choice.
The Samson Seceurodoor 75c is our chain operated version and the most basic model, with a maximum width of 5500mm wide and maximum height of 5500mm.
The door is lifted up and lowered down using a chain to one side which is geared to suit the size and apart from maybe taking a while is quite easy and smooth to operate.
Shop The Samson Seceurodoor 75c

Manual Chain Operated
Our manual chain operated shutter combines all the qualities of our robust SeceuroDoor 75 but with the added benefit of manual operation.
Max width 5500 mm
Max height 5500 mm
Max area 30 m2
Can be powder coated any colour
Choice of 4 guide arrangement options
Standard guide angle is 75 mm x 50 mm
Other sizes are available on request
Vision option available
Wind class rating: Class 3
Shop the SeceuroDoor 75c
Please see below for Bottom rails, Guide and Slat options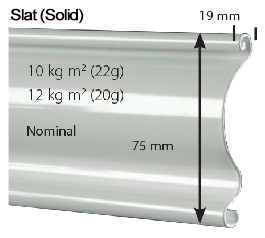 The third option is a security rated version with LPS1175 rating using enhanced specification components to provide increased resistance to attack. This 'Secured by Design' roller door option is a great product in more exposed locations.
All these options have multiple control methods with the most common method still being a wall mounted push button control internally. The largest size parameters using this tube motor drive is 7000mm wide and 5000mm high. A tube motor is not ideal for high usage and only has one speed of operation up and down.
The other single phase electric motor option is an external chain or direct drive industrial electric motor system. Using various gearing variations on the chain driven motor, which also give you different options for the fitting position to overcome any obstacles, the outboard and inboard industrial motor means larger sizes are possible for the door and higher usage too.

Galvanised steel single skin industrial door
Steel roller shutter with scrolled slat profile. A popular choice for medium security retail and industrial applications.
Strong single skin galvanised steel profile
Can be powder coated any RAL / BS colour
Your choice of motor, see Page 12
Available with 20g or 22g steel slat
Choice of 4 guide arrangement options, see Pages 14-17
Standard guide angle is 75 mm x 50 mm. Other sizes are available on request
Maximum width 7000 mm
Maximum height 7000 mm
Maximum area 49 m2
Wind class rating: Class 3
The entire SeceuroDoor range is available as either a direct drive, inboard, single phase or 3 phase.

SeceuroShield 7501 - Security Shutter
The SeceuroShield 7501 - Security Shutter is insurance approved security shutters tested to Loss Prevention Standard 1175 (LPS1175)
The rigorous LPS 1175 burglary resistance standard is operated by the Loss Prevention Certification Board (LPCB). LPCB are the UK's leading independent certification body and the LPS 1175 standard is recognised and endorsed by 16 organisations including the Association of British Insurers and the Association of Police Officers.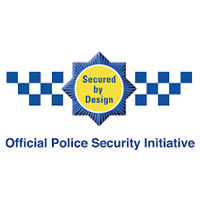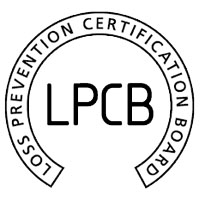 Traditional and Continental design
White, Brown, Black and Cream as standard
Available as solid or perforated
Strong single skin galvanised steel profile
Medium security office / commercial / industrial applications
Spans widths up to 6000 mm
Can be powder coated any RAL / BS colour
Flexibility to mix solid and perforated slats together when only partial vision is required
Will reverse coil if required (will increase coil size)
Available with either traditional or continental specifications
​​Only available in 22g slat
​Wind class rating: Class 3 (when used on 65 mm+ guides)
Single Phase Electric Operation
We offer a few different motor set ups for the single phase electric drive version of this door.
The simplest and neatest is the 240V tube motor drive where the motor is installed inside the shutter barrel, neatly out the way with controls and setting up all at one end along with a wall mounted control panel hard wired to the motor.
The 3 options for the Seceurodoor 75 with a tube drive motor include a traditional set up with traditional steel guides, endplates and associated components to provide an industrial door but with the benefits of a neat and low cost tube motor drive.
The second option is a Continental guide arrangement with the guides and endplates all neatly lined up. The Continental Design gives a shutter with a neat continental style head box cover and aluminium guides for higher grade installations. The design facilitates easier installation than traditional shutters. Aluminium guide width of 90 mm either side. Neat design compared to any other industrial door.
Three Phase Electric Operation
For larger doors or any door with high usage (number of full operations per day) three phase electric motors are essential. The motors are far more durable with more torque and power overall. Think of a diesel 4x4 vehicle over a small to medium petrol engine car for a fair comparison here.
We offer a range of chain driven three phase motors, but more often than not the direct drive electric motor is preferred and far better for less moving parts and a direct power drive onto the roller shutter barrel, giving a smoother and quieter movement. The direct drive is always specified for the fast opening door models.
For any double skinned insulated roller door models where the weight becomes a lot more, then three phase drive is normal for the specification.
Higher Speed Roller Doors
Although we can provide faster operational speeds with the use of higher quality, more powerful GFA electric motors, generally if you want a roller door to open very fast you would look towards a double skinned steel curtain. The simple reason is the single skin curtain doesn't have the individual slat strength to take the forces in any roller door using a powerful high speed motor.
Security Rated
Using a thicker guage (18g) of galvanised steel slat and increased specification on the relevant components, along with an industrial specification electric motor drive, the Seceurodoor 7502 offers an insurance approved roller shutter tested to LPS1175 with a security level 2 rating.
This shutter is ideal for exposed buildings or buildings in more remote locations for peace of mind it has a far better resistance to forced break in attempts.
The shutter is only available with an external motor drive in either single or three phase supply.
It can only be fitted internally as a face fitted shutter and can span width up to 7000mm wide and the same for the height.
Most roller shutter doors are either lifted up because they have no locking of any kind or they have small, weak side guides which could be forced quite easily to pull the curtain out.
Security rated roller doors will offer better wind ratings as well as higher quality components so are a good option to consider for any opening.

The SeceuroDoor 7502 is the newest addition to this range, becoming available this summer after its predecessor, the SeceuroDoor 7501. These two doors are as a result of thorough research and testing in alignment with the standards of the LPCB (Loss Prevention Certification Board); the 7501 consequently achieving the Security Rating Level 1, and the 7502 Level 2.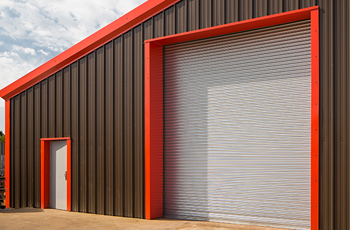 The industrial roller shutter has also been certified with the Secured by Deign accreditation, an initiative supported by the UK Police in order to protect against crime by testing products for security.
With both the Secured by Design and LPCB accreditations, as well as the constant commitment to design and manufacture quality security products by SWS, the SeceuroDoor 7502 has a distinctive level of burglary resistance.
The SeceuroDoor 7502 remains to perform to a high standard and with ease of operation like every SWS product, despite its new and re-enforced features, including:
18-gauge steel
Windlocks
Wind guides
Internal bullet locks
Strong, single skin galvanised steel profile
Widths available up to 7000mm
Installation Positions
The beauty of most roller shutter doors is they can be installed to an aperture internally to the internal face, inbetween the aperture and underneath the lintel or completely outside, again face fitted but to the outside face. The gives great versatility in avoiding obstacles, utilising structural opening quirks in the steel work or brickwork, or simply making the most of an aperture for maximum width and height.
A roller shutter, simple because it opens and closes vertically, can be face fitted to any shape opening because it doesn't travel through the opening. The majority of industrial roller shutter doors will be face fitted internally and the design of the openings and steel work used are built to suit. When face fitted internally, no guides are exposed to be caught by a vehicle or person, the curtain roll is pushed above the lintel height to give maximum opening height and for security all parts are fitted behind and out of reach from outside the building.
The use of a steel hood cover (full box) is always recommended but is obviously essential when fitting outside or even within the aperture to cloak off the curtain roll altogether, This gives protection, weather proofing and better safety whilst also looking a lot neater too.
In short, the classic 75mm scrolled steel lath is one of the most versatile slats used in most industrial roller shutter doors in the UK. We also have variations on the market leading Hormann roller shutter range with their single skin roller door model - The HR120 DD, which can offer widths up to a massive 12000mm wide!!
It is extremely important to ensure that if you choose any budget 75mm single skin roller door you also make sure the door is manufactured and certified to minimum standards and can be scrutinised by any third party as built and fit for purpose, but also compliant. There are too many very cheap single skin steel roller doors made from multiple sourced components but never actually tested and certified as compliant as a complete working door. In a commercial environment this is an essential minimum requirement for compliance with regulations and laws on installing and operating an industrial door in a workplace environment.