SEARCH SHOP - If you know the manufacturer, model or material, you can use our search below.
Commercial Security Shutter
Shop Front and Commercial Premises Security
Samson offer a wide range of security shutters and fixed or retractable securitygrilles for retail premises for the protection of glass and doorway security. Different levels of security are achieved with different specification curtains and guides. Many local authorities now insist on vision sections for fire and rescue services to determine levels of danger inside if a call out to a fire is required. Vision slats also can offer retail shops in high streets the ability for people to see goods on display after hours when the security shutters are closed, security is still maintained however.

Many people see security shutters as a grudge purchase perhaps even forced upon them by their commercial insurance broker. Properly specified and installed they can easily enhance a premises, especially with vision slats, colours, signwriting, etc.
Seceuro Range - built on security shutters
The neat finish of the Seceuroshield range of security window shutters is particularly evident when they are built-on to an existing building with compact aluminium boxes, styled to minimise the visual impact. The slimline finish makes the internal fitting of window shutters a frequent choice. The continuous programme of product development has produced a compact shutter of exceptional strength for small to medium size apertures.
Installations nationally protect windows and doors on city centre, suburban and rural homes, offices, factories, sports facilities, medical premises, schools, community centres, computer rooms, village halls and golf clubs. In short, any building where security is a concern.
Commercial Security Shutters Range


You can now order most of the security shutters directly online on our online shop. Some of the more specialised shutters will require a consultation by phone or email to ensure you get the correct specification and size.
Go to our online shop >

For most of the roller shutters on this website the dimensions to obtain a price are taken as the ordering sizes as shown in the diagram below.
The OVERALL WIDTH is the ordering size and always included the guides chosen and the OPENING HEIGHT is the ordering height without the roll and hood above the curtain which varies depending on the overall height of the shutter and the model chosen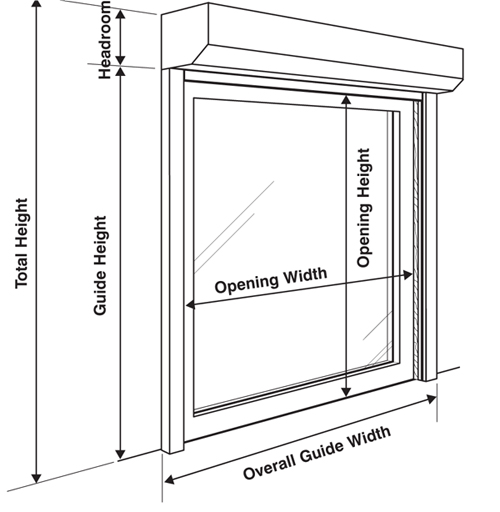 GENERAL METHODS OF OPERATION



Swivel and geared belt
Shutters are raised and lowered from inside by a belt.
Depending upon shutter size the belt is operated manually or by geared crank handle. This is a low security option.
Rod crank
Shutters are raised and lowered from inside by a geared rod crank winding handle which hangs down vertically underneath the box and secures on a clip when not in use. This is not a common method on commercial premises and used more on domestic properties.
Spring loaded
For external operation on exit doors, shutters can be spring loaded with a transverse key lock in the bottom slat. A popular option for bar, servery, counter, cabinet and kiosk applications. (N.B. the bottom slat projects below the shutter when fully raised, check that this will not obstruct outward opening pedestrian doors)
Electric Motors
These are required on larger shutters and are optional on smaller shutters. Tubular motors fit inside the axle and require a 3 amp fuse. Standard operation is by rocker switch, key switch or remote control. A manual override can be specified to operate from inside. Quite often now the difference between an electric security shutter and a manual operation is minimal as electric motors are such good value and do not usually require additional locking mechanisms and other saftey devices all adding to the manual operation costings.
Where desirable a manual override can also be engaged through the outside of an externally fitted shutter box. Under these circumstances a lockable override cover is available as an optional extra to maximise security. Multi-shutter electric installations can be wired to operate from a central or group switches. Battery back up systems are more common now as the cost has come down over the years and this is ideal for the last point of entry or exit door shutter. Ask for further details. Care should always be taken to ensure that such installations are in line with current Health and Safety Legislation.

Thermal Cut Out Switch Tubular motors have a thermal cut out to prevent overheating after approximately four minutes of continuous running. This may cut in while setting limit switches; wait 15-30 minutes then restart the motor.
CE Marking All power-operated shutters are supplied with full CE marking documentation to assist in compliance with:
The Supply of Machinery (Safety) Regulations 1992
The Health and Safety at Work Act 1974