Shop Categories

Products Overview

Services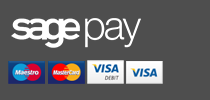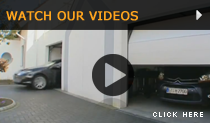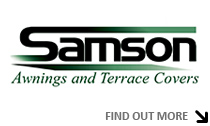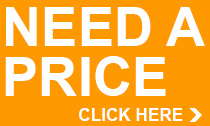 PRODUCT SEARCH

Security Shutters
Shop Fronts, Doors and Windows
Samson offer a wide range of security shutters and fixed or retractable security grilles for retail and office premises for the protection of glass and doorway security. All the products are made to order for a perfect fit and optimum security.
Different levels of security are achieved with different specifications of curtains and guides. Many local authorities now insist on vision sections in security shutters for the fire and rescue services to determine levels of danger inside if a call out to a fire is required, and the shutters are closed down. Vision slats also can offer retail shops in high streets the ability for people to see goods on display after hours when the security shutters are closed, security is still maintained however. The vision sections with light behind also enhance a retail premises rather then looking like you have closed your shop for good. Our range of high vision security shutters is quite extensive and flexible in specification to suit.
Many people see security shutters as a grudge purchase, perhaps even forced upon them by their commercial insurance broker. Properly specified and installed they can easily enhance a premises, especially with the correct vision slats, colours, signwriting, etc. In the long dark nights of winter would it not also be better to leave your premises at the end of a day and know it is secure? Walk away from your premises feeling a sense of comfort.
Commercial Security Shutters Range
SeceuroShield 38

Used in higher security domestic sites, medium and higher security office/commercial use dependant upon space size and exposure risk. Also recommended for smaller shopfronts and single garage doors with restricted headroom. Available both as built-in and built-on models.

SeceuroShield 3801 - Insurance Approved

For installation in domestic retail and commercial premises requiring an above average level of security. This is a police and insurance approved specification with an LPCB rating level 1. Installation has to be in accordance with the tested method.

SeceuroShield 75

Roller shutter with scrolled 75mm galvanised steel slat profile for the most traditional look. Popular within medium security offices, commercial and industrial applications. Available up to 7000 mm wide or 5000mm high.

SeceuroShield 7501 - Insurance Approved

Insurance and secured by design version of the standard 75 this shutter has additonal manual locking and windlock guides. This shutter can only be installed INTERNALLY and the entire shutter box must be above the structural opening to comply.

SeceuroShield 60

A high level of security for vulnerable office/commercial applications and shop fronts wherever special colours are required. The 60 is one of the strongest aluminium slats available for commercial security shutters needs. Available up to larger sizes. in width and height.

SeceuroShield 77

Perfect for single or double insulated garage doors. Also acts as a high security domestic shutter, medium security office entrance doors and external shopfronts. The slat used is a larger foam filled aluminium slat with widths available up to 5400 mm wide.

SeceuroShield 150

Internal low security domestic sites, bars and servery hatches. The 150 provides excellent heat insulation, shading and light control. External installation is recommended only on smaller sizes. Not for commercial use unless for shading or insulation purposes only.

SeceuroVision 75

Very strong gavanised steel slats offer sizes up to 6800mm wide and 4600mm high in 20SWG sections. The 75 is always single phase electrically operated over 4000mm wide or 2800mm high but can be a manual push up shutter up to these sizes. Ideal for many uses and colours.

SeceuroVision 800

Designed to provide see-through protection against crime whilst catering for window shoppers, the SeceuroVision 800 is ideal for internal/external applications in retail and commercial outlets. The shutter is very strong whilst delivering up to 58.5% vision - with or without polycarbonate glazing inserts.

SeceuroVision 900

Recommended for shopfronts, the SeceuroVision 900 is suitable for both retail and commercial applications where permanent vision is required. There are no polycarbonate insert options for this shutter, only open vented brickbond sections with options on spacing configuration.

SeceuroVison 38 - Punched

18% vision is obtained using the punched version of the Seceuroshield 38. The sections of lath are only single skin aluminium in the perforated sections and can be combined with the standard double skinned slats of the 38. Powdercoated optional colours available.

SeceuroVison 38 - Perforated

44% vision is obtained with the ouched lath version of the 38 and again the slats are single skin aluminium sections with or without polycarbonate glazing inserts. Can be combined with the solid or perforated slats. Ideal for bars, smaller shop fronts and offices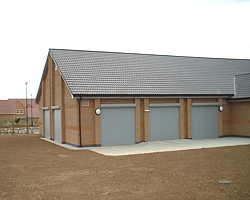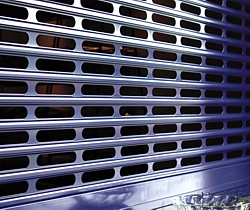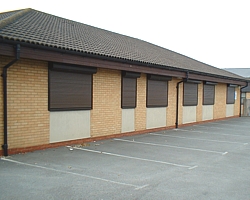 Sizes for Ordering
You can now order most of the security roller shutters directly online in our online shop. Some of the more specialised security shutters will require a consultation by phone or email to ensure you get the correct specification and size and when there may be multiple shutters the control and safety is very important and we can help you through the process of specifying and ordering with a full installation service available throughout most of the UK. We can of course survey and quote for your requirements when the installation may be complex or with multi shutter installations where some planning is required for the control devices.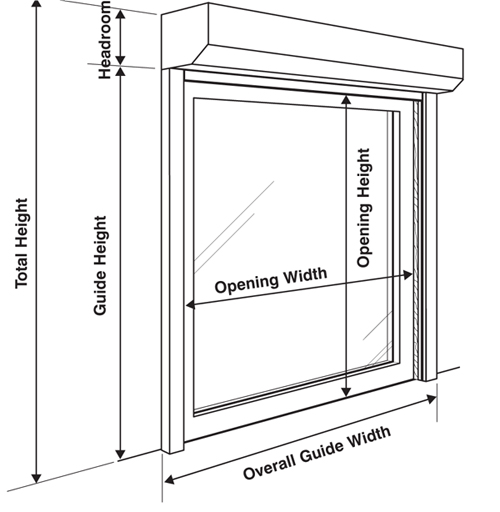 For most of the security roller shutters on this website the dimensions to obtain a price are taken as the ordering sizes as shown in the diagram showing below.
The overall width is always the ordering size and always includes the side guides chosen and the total height is always the ordering height with the roll and hood above the curtain included, which varies depending on the overall height of the shutter and the model chosen. Be careful to ensure you understand the overall dimensions compared to the dimensions of the daylight opening and the guide height. There is also always a hangdown of the bottom salt with any shutter and this is about 50mm so if the clearance reqired is critical please check before ordering. This critical opening height is usually when there is a window or door openings outwards and it is crucial not to foul the opening with the shutter not opening high enough to clear.
OVERALL WIDTH INCLUDING THE GUIDES = ORDERING WIDTH
TOTAL SHUTTER AND HOOD COVER HEIGHT = ORDERING HEIGHT
Side for Handing
The handing when referring to the side for operation for say the crank handle or the side which the motor is fitted and therefore has the power cable and also the manual override is ALWAYS taken from the NON HOOD COVER side - i.e. the side of the security shutter which shows the flat fascia panel. If you were installing the security shutter to the outside face of an opening then this would mean the handing is taken from looking inside the building outwards.
General methods of operation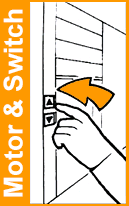 Motor & Switch
These are required on larger shutters and are optional on smaller shutters. Tubular motors fit inside the axle and require a 3 amp fuse. Standard operation is by rocker switch, key switch or remote control.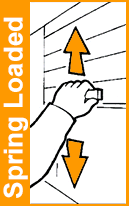 Spring Loaded
For external operation on exit doors, shutters can be spring loaded with a transverse key lock in the bottom slat. A popular option for bar, servery, counter, cabinet and kiosk applications.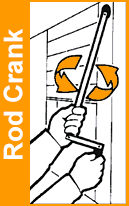 Rod Crank
Shutters are raised and lowered from inside by a geared rod crank winding handle which hangs down vertically underneath the box and secures on a clip when not in use.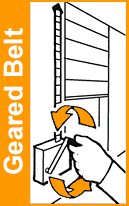 Geared Belt
Depending upon shutter size the belt is operated manually or by geared crank handle. This is a low security option.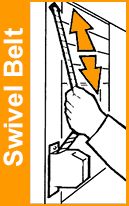 Swivel Belt
Shutters are raised and lowered from inside by a belt.