PRODUCT SEARCH

Retractable Patio Awnings
Choices for UK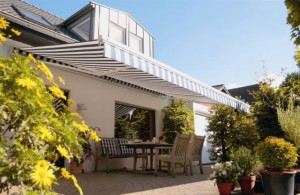 Samson have a specialised patio awnings and terrace covers division for the supply and installation of the highest quality patio awnings, and large umbrellas including terrace covers available in the UK.
Awnings are available at direct prices from manufacturers Markilux, Winsol and Weinor with specialist sun protection systems from Paraflex, Pogessi and MDT umbrellas.
The wide range available from Samson offers standard or purpose made sizes with manual and electric operation and a range of controls to taylor the installation to exact personal requirements. We also have an extensive range of commercial sun shade and rain protection solutions for schools, restaurants, bars, offices and the like.
Don't let the weather spoil your special occasion
Whether you're having a small get together or a large party, there'll be no more hoping & praying that it won't rain and spoil your day. An awning supplied by Samson have a Teflon coating which helps to keep you dry. Not all awnings available on the market will stand rainfall, especially heavy bursts, so careful consideration needs to be given to the correct model and installation position.
We have a large display of working awnings at our Wellingborough showroom that you're welcome to come and view before purchasing. See the Markilux, Weinor and Lakeland Awnings models working as well as the unique Paraflex umbrellas.
Most Popular Retractable Patio Awning Manufacturers