PRODUCT SEARCH

Steel Door Sets Security Doors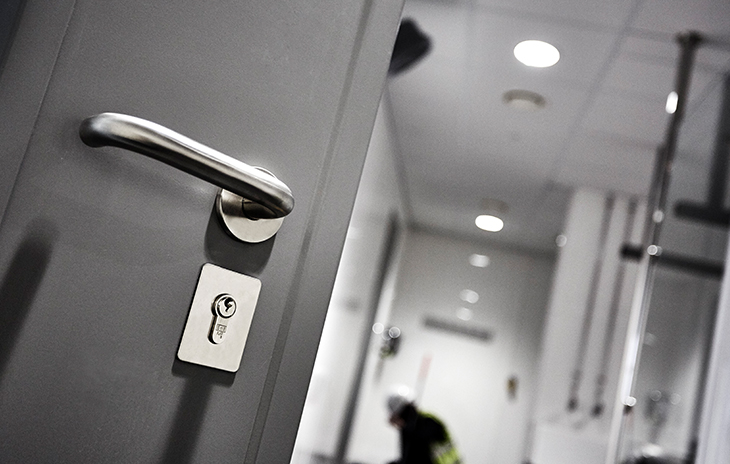 Samson Doors offer the finest range of steel door sets for many purposes, general or specific. A steel door set is an investment in peace of mind and any compromise in specification and quality can only mean a compromise in the reason for buying the door inthe first place. There are many very low priced, cheap steel doorsets available in the UK which offer little in the way of protection or insulation and are just sold on headline flashes such as '18 point locking', etc. 18 point locking is a total waste of time
If the main locking cylinder can be broken easily or the door panel itself can be opened like a can of beans.Predominately used in commercial and industrial premises (although also eminently suitable for certain domestic applications) the steel door set provides increased security, fire proofing and convenience. Steel door sets come in a wide range of styles and designs, with hugely varying options depending on the individual use and application.

Applications
Fire Exit

Not to be confused with fire ratings of the door structure, the panic escape element is purely door furniture - a bar that releases the locking mechanisms without the need for unlocking.

This furniture would only be fitted the internal face of the doors. An external locking handle set is available to enable access from outside should the door be used as the final entrance and exit

Fire Rated

Fire rated doors help slow the spread of fire & smoke and can ensure that if a fire was to break out, you would have vital extra time to make to make your exit from the property.

They are becoming increasingly popular in today's modern health & safety conscious world. On most new builds there is often a requirement for at least some of the doors to be fire rated.

Security Rated

Security Doors will protect people, property and assets within any building.

Security Doors offer maximum protection from theft, vandalism and attack, and are available in a variety of specifications to suit all levels of security risk.

Insulated

Steel doorsets can be built to your exact specifications, within budget, any size, any colour. Offering ' Easy-Fit designs to ensures fast and easy installation as standard. All offering different degrees of insulation.

Sound Proof

Noise is not only uncomfortable; it is stressful and can even make you sick. Even a small noise can be stressful in the long run. Therefore, soundproofing internal doors are important.

No matter how loud it is outside, soundproofing brings the peace that a person needs – to feel good, to sleep, and to leave.

Louvred

Designed to provide ventilation the louvre door will provide degree of security whilst also allowing some free airflow.

The amount of airflow can be increased by incorporating larger louvre panels, the amount of airflow required will depend on the usage of the part of the building they are protecting.

Hormann Security KSi Thermo Door
The proven classic for more security
Basement entrances, outbuildings and garages are often equipped with old doors that can be forced open in seconds. Always remember: if the basement door is open, the whole house is accessible. This is why we recommend the KSI security door with standard security equipment for these areas.
Stable door leaf
The KSI features a double-skinned, 40-mm-thick door leaf with 3-sided thick rebate and sheet steel on both sides (0.8 mm). The stability of the door leaf is a result of the all-round reinforcement frame and the mineral wool insert which is glued over the entire surface.
A 3-sided EPDM seal and double lip seal (incl. aluminium semicircular threshold at the bottom) seal the door reliably. This means you can always rely on the door in terms of function and tightness. Hörmann offers this door as a complete set with frame.
High security
The standard security of the KSI lets you and your family sleep peacefully, as it comes with pull-off protection and a drill-resistant security lever / knob handle set.
The solid steel bolts on the hinge side make it almost impossible to force the door open. The KSI has been tested in accordance with European standard DIN EN 1627 on the hinge and opposite hinge side and has resistance class 2.