PRODUCT SEARCH
Garage Doors and Front Entrance Doors
A garage door is often the most unchanged feature within a home and is often only replaced once an existing garage door is broken into or falling to pieces. This should not be the case. A modern garage door with all the technical features of the modern day can increase the security, image and more importantly price of your home and offer you peace of mind. The choice now for styles and mechanisms has never been greater, choose from the 4 most popular below for a start.
---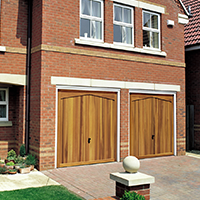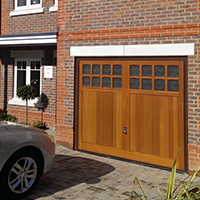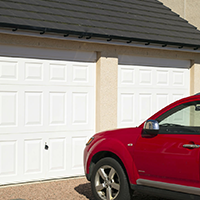 An Up & Over Garage Door is the most common and often the least expensive garage door around. Each door consists of a solid panel constructed from timber, steel, and GRP (glass reinforced polyester). Each door comes with a sophisticated central locking system and can be arranged in a selection of different designs. Each door is available in either of two operating mechanisms - canopy and retractable gear.
Canopy Gear is the most simple concept of the up & over garage doors which is why it is the most common type of garage door on the market. Attached only to the guide rails on either side of the door frame, a canopy up & over garage door is aptly named after its tendency to partially protrude out of the opening to create a canopy cover. The benefits of having a canopy up & over garage door far outweigh the negatives; due to the lack of a wider frame system used with a retractable gear, the canopy gear provides a larger drive through width for larger cars to fit through. However, the canopy gear does require a bow arm conversion kit to assist electric operation.
Retractable Gear is steadily challenging the canopy type of garage door. It is named from the door panel fully retracting inside the garage door without any protrusions. It consists of a framework system which is attached to the door frame and has a track system in which door rollers guide the garage door. This mechanism is most suited to electric operation requiring no bow arm conversion to fully convert it. Retractable up & over garage doors can lift heavier loads which enables doors to be manufactured in larger sizes. They also have no cables involved and generally last many more years without major maintenance.
Up & Over garage doors are available both manual or with electric operation.
---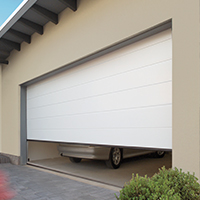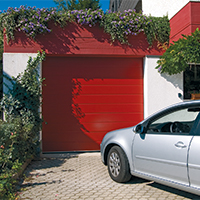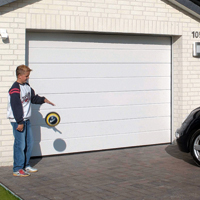 Sectional Garage Doors are becoming increasingly more popular in the UK as homeowners search for that unique garage door that is different to all others in their neighbourhood.
A sectional garage door is designed into multiple hinged sections so that when opening, each section is given flexibility to allow the door to change its shape to reach its end position above the garage space.
Sectional Garage Doors are a very spacious form of garage door protection. Due to the fact that the doors open vertically, sectional garage doors provide more space on your driveway allowing you to park closer to garage reducing the risk of any damage having your car parked closer to the road.
Sectional doors are available in two primary designs, with several variations of each. The designs available are Ribbed and Panelled design sections.
Ribbed designs are models which have linear indentations to provide an organised appearance with a design flowing from top to bottom. As their design is so basic, they retain their beautiful appearances without becoming unfashionable. Ribbed designs
Large Ribbed/L-Ribbed
Medium Ribbed/M-Ribbed
Small Ribbed/S-Ribbed.
Panelled designs are models which have indented panel sections. These panels allow the door to appear more symmetrical with a precisely printed design. Panelled designs also allow for the addition of windowed sections to entice the natural sunlight into your garage. Panelled designs are available in:
Large Panelled/L-Panelled
Small Panelled/S-Panelled
Sectional garage doors are available both manual and or electric operation.

---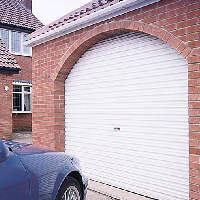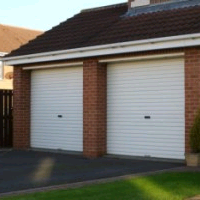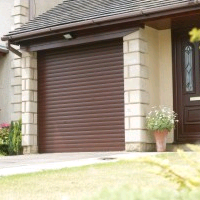 Samson Doors offer a finely selected range of low cost roller shutter garage doors that meet the strictest security and safety requirements. As one of the simplest and easiest garage doors available, the roller shutter garage door is a stylish no-nonsense door that represents real value for money
When open, the roller shutter garage door curtain rolls up above the garage door opening allowing extra space both on the driveway and above the garage door. A typical up & over or sectional garage door would lay to rest above the garage, a roller shutter simply rolls up allowing you extra headroom and storage space.
We offer roller shutter garage doors with non-insulated or full insulation qualities to meet your garage door needs. This allows you to personalise your garage door to meet your needs should you use your garage all year round.
A fantastic range of colours are available upon request with the personal preference on where the roller shutter box should be situated.
Roller shutter garage doors are available both manual or with electric operation in both the steel and aluminium types.
---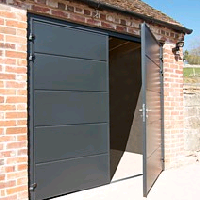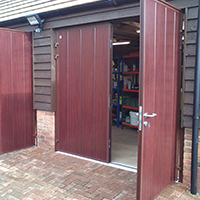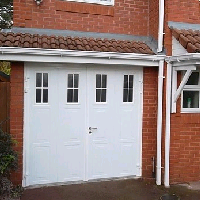 A side hinged garage door is one of the best solutions to all other problems restricting you from having an up & over, sectional or roller shutter garage doors. They do not invade the space required inside the garage opening thanks to their unique operating style - this means low lying beams and other obstacles within the garage can be overcome. Side hinged garage doors open towards the driveway into open unrestricted space. They are ideal for garages entered frequently on foot and not used for vehicles or also where the garage is used as a workshop, office, playroom, gym and so on.
Of course a side hinged garage door is not just a solution to any restrictions. Side hinged garage doors possess classic qualities and their unique operating style has several uses. Both door leaves do not need to be opened when the door is in use - one side can be used as a doorway to allow easy access to the garage to store items such as bicycles, garden utilities etc. and it is also possible for many designs and models we sell to have a 1/3rd and 2/3rd split in the lefg arrangement.
Side Hinged garage doors are available as single or double skinned panels in many steel options and a huge choice of timber species for the wooden doors. Timbers such as Oak, Cedar, Idigbo and Accoya.
All our side hinged doors are available manually or electrically operated using various different methods depending on size and weight.
Samson Doors has a new range of insulated double skinned steel side hinged doors for 2014 all made to order and including a pre fitted aluminium fixing sub frame. These doors have double rebated edges with built in rubber seals and offer the highest levels of weather protection for your garage.
---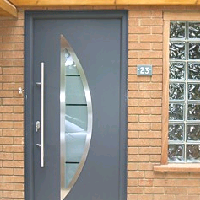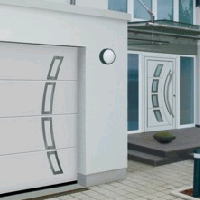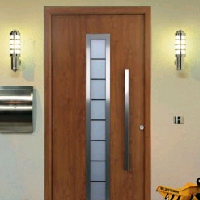 At Samson Doors we understand how important the security and appearance of your property is and a front entrance door from us can improve the safety and look of your home.
Samson Doors are specialist suppliers for the latest front entrance door ranges for the home from Hormann. There are a large selection of sizes, finishes and styles to suit your home. If you are looking to change your front door and garage door, Hormann also offer a range of Matching Garage Door and Entrance Doors which can be viewed here.
The home entrance door range consists of the ThermoPro, TOP Comfort, Thermosafe and Thermocarbon models each offering a different level of specification and unique options. These are quite simply some of the highest quality steel and aluminium entrance doors you will find anywhere and one of the other unique advantages is the ability to co ordinate the door with a matching garage door, either in style, finish or colour.
Hormann manufacture some of the finest up and over and sectional garage doors in the world and are one of only a handful of companies offering the possibility for matching garage doors, side doors and entrance doors. Of course this also means you can co ordinate the locking and access control of the door on your home.
---
Garage personnel doors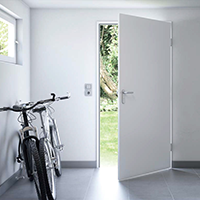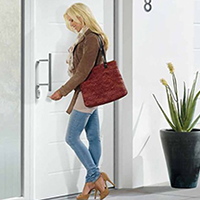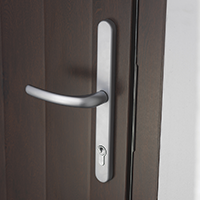 Personnel or Pedestrian door are offered in a range of steel and timber for use on either a garage or any other type of outbuilding.
All of the steel doors have a prefitted steel or aluminium fixing sub frame ready for an easy on site installation. The steel doors are in either single skin or double skin construction offering excellent levels of insulation, and by their construction methods are also very secure against attempted forced entry. The traditional timber pedestrian doors we offer are manufactured using traditional methods and the highest quality timber, this being either Cedarwood, Idigbo or Accoya. The sub frames are optional and available in different sizes with again a factory assembly provided when ordered so the door is delivered with all the hinges, furniture and finishing already taken care of.
The doors are available in some standard sizes but most are available as purpose made doors for a perfect fit and optimising the passage width and height of the opening.