Security Grilles

Profile of X lattice



Profile of S lattice
Security grilles are an effective non-obtrusive means of protecting your premises. They are easy to maintain, even easier to use, and can offer high levels of preventive security, all whilst looking good too - what more could you want from a physical security product?
Retractable security grilles, also known as security gates, are available to protect both your home and working premises. Some of our retractable grilles are so secure, they are recognised, tested, certified and approved by insurance companies.
'Secured by Design' for total peace of mind.


In shop retail locations, security grilles are aesthetically pleasing but allow merchandise to be displayed safely 24 hours a day. In offices, they let the light in and you can even open the windows in most cases for fresh air and ventilation but without a comprimise on security, the opportunist thief is foiled. The ongoing maintenance is almost nothing, with cleaning being about all that is required occasionally.

The grille is an ideal product as it usually sits neatly inside your window or doorway and is easily operated for daily use. Specified correctly it can be very unobtrusive in daily use and provide many years of trouble free use.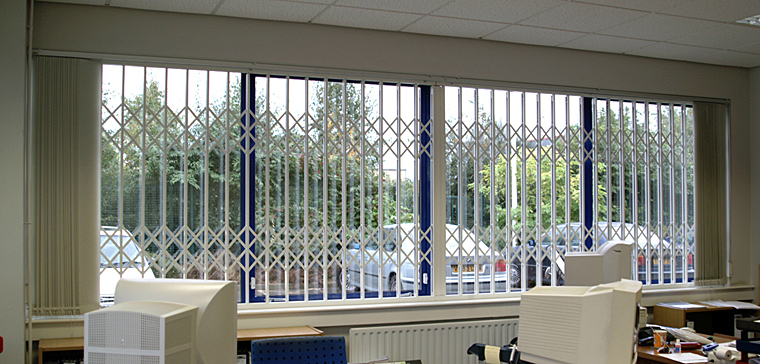 In a home retractable grilles can be fitted to the door or window apertures and disappear neatly behind curtains when retracted and a pelmet can conceal the top track.
Security grilles are available in any size up to 6000mm wide and beyond and 3000mm high in single or bi parting arrangements. They are supplied in a variety of coloured finishes as standard with almost any colour available on request.
Options include: lift up bottom track for doorways, hinged grille stack for doorways, different bottom tracks for windows and doorways dependant on thresholds and a no bottom track option.
There are 2 basic grille designs in an X lattice or an S lattice design and both provide very high levels of security with very little ongoing maintenance requirements.
The Seceuroguard has one of the highest specifications of standard build for any retractable grille with galvanised steel profiles and tracking before powdercoating takes place.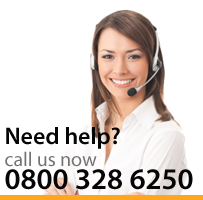 Retractable Security Grilles - Ideal For Windows and Doorways
The SeceuroGuard 1000 is for higher security domestic use and medium security for commercial, retail and counter/cabinet applications. 'S' lattice design option.
Elegant good looks with a heart of steel - the SeceuroGuard Retractable Security Gate System combines a classic appearance with the highest level of protection, ideal for your home or workplace.
For a police and insurance approved grille tested by the LPCB have a look at the Seceuroguard 1001
Designed to keep intruders out while letting maximum light in, they are perfect for any medium to large window and any vulnerable ground floor doors or windows.
When not in use these strong retractable gates are surprisingly unobtrusive. Fitted to the door or window surround, they can disappear neatly into an unobtrusive 'stack' which if colour co ordinated does literally dissappear.
SeceuroGuard retractable gates are exceptionally safe and easy to handle with a smooth, quiet operation. They hang from a top track with a guide track at the base which can be supplied as an optional extra to quickly fold away when not required.
The opportunity to remove the bottom guide track from the opening (an optional extra) leaves doorways and shop entrances free from obstruction.
Because they are fully retractable, each sash can be stacked neatly in the open position away from the door or window openings when not required, and may be hinged to swing away from the opening at 90 degrees or 180 degrees to provide a completely clear opening as an optional extra.
Installed inside a window, retractable gates deliver an exceptionally strong yet aesthetically appealing barrier against intruders, which allows merchandise to be displayed safely, 24 hours a day and computers and belongings to remain in place safely in offices.
Buy Security Grilles Now
Get the very best security grille prices now. Simply head over to our Online Shop and see for yourself or contact us today on 0800 325 6250.

Retractable Security Grille Ranges
| | |
| --- | --- |
| Perfect for medium level security office and domestic use including retail and counter/cabinet applications. | The police and insurance-approved retractably security grille for higher security commercial and domestic use. 'Secured by Design' |
The SeceuroGuard Difference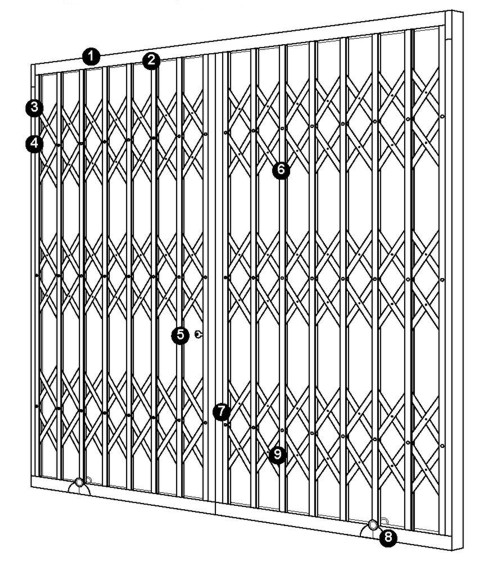 Not just any old steel security grille, but a grille with years of development behind it, engineering excellence and high quality finishing.

1 - Top hung system on nylon coated steel bearings
2 - Galvanised steel high quality construction
3 - Powder coated in a range of standard colours
4 - Installs within or around the reveal
5 - Multi-point locking from single key - 2 point
6 - Strong steel lattice with smooth durable finish
7 - Overlapped locking profiles
8 - Optional folding bottom track for a trip free pedestrian access
9 - Steel riveted lattice assembly system.



For more information, view our Security Gate PDF Technical Guide