Shop Categories

Products Overview

Services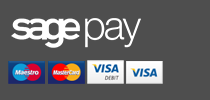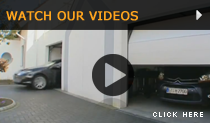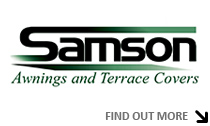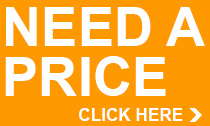 PRODUCT SEARCH

Industrial Roller Shutter Doors
Samson Doors supply a very wide range of roller shutter doors for the industrial sector where the environment is often harsh with high use requirements and sometimes very large sizes. Industrial warehouses and factories can often also be exposed so the wind becomes a key factor in the specification for the roller doors used.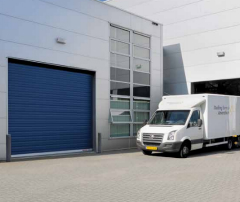 Industrial doors tend to be split onto 2 categories initially - High usage and Low usage, and this defines the need for either a single or three phase electric motor drive system. A single phase motor is not to be used if the door is to open and close many times every day, especially if the door is very high, as this means the motor is operating for longer periods during opening and closing.
Samson do offer manually operated roller doors but they are relatively rare these days in industrial applications, with electric motor prices being so competitive. Manual operation is used on smaller or very low usage roller doors only.
Once the usage is defined you need to think about whether the door needs to be an insulated double skinned curtain or a single skin steel curtain without insulation properties. The double skinned curtain roller doors will also offer greater far strength overall in the curtain so tend to have higher wind ratings when installed with suitable side guides and are highly recommended.
Insulated roller shutter doors also offer higher levels of security which is a key factor theses days too with increased break ins on commercial premises.
The width and height of a door will often define the model and type of curtain to be used as each have their limits and the colour may also affect what is a stock slat or requires painting and therefore affects the overall price.
With massive leaps in technology and materials it is also now possible to have far higher speeds of opening and closing without going to what used to be called a high speed door. The fast action fabric roller door is still used extensively in many applications but there are now new generations of steel and aluminium roller shutter doors capable of fairly fast opening speeds which can negate the requirement for a fabric speed door system in a warehouse or factory depending on the number of operations per day.
Electrical & Insulated Roller Shutters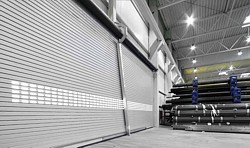 Some industrial sectors are looking for more than just a secure Roller Shutter, for those that require a more technological security measure then an Electrical Roller is the best option. This also applies to Rollers which are very large and too heavy to operate manually. Being a popular shutter, these all come in a wide range of options. You can find out more information on having an Electrical Roller by clicking here.
If your facility requires a consistant temperature, an Insulated Shutter is almost mandatory for keeping a steady temperature no matter the season, weather, or frequency the shutters open and close. These shutters can also come fit with an electrical operating mechanism to get the best of both worlds for your products. To find out more about Insulated Rollers, click here.
Samson Doors offer 2 main ranges of industrial roller doors offering over 20 different models with additional options for specialist roller shutter doors and grilles for specialised use.
Both these ranges are tough, fully compliant with the latest regulations in the industry and offer a solution for 90% of any requirements.
Unsure which range is right for your needs?
Samson Seceuro Roller Shutter Door Range

The SeceuroDoor range which covers about 80% of all requirements in a range of high quality steel and aluminium roller shutters all built for different purposes

Hormann

Hormann range of roller shutters and roller grilles offering specialist functionality and the assurance of German engineering and technology.

This range of roller shutter doors covers nearly every application.

Roller doors for where high performance is required.

Steel and aluminium insulated doors with tubular motors.

Specialists is Roller grilles for underground car parks and high use garages.

Includes single skin industrial doors and insulated industrial doors.

Highly desireable roller doors for small to large openings.

Insulated Double skin, hardened steel, industrial doors.

Rollers door for unheated buildings.

Hand chain manual operated industrial doors.

Designs for light, secure and well ventilated areas.

Industrial door motors including GFA (formerly Guthrie Douglas), recognised as the leading force in electric motor drive technology.

Protective and resistance against adverse weather conditions.

LPCB approved security rated models.

Including double-skinned and thermally-insulated.
| | |
| --- | --- |
| | |