Search ShopIf you know the manufacturer, model or material, you can use our search below.
Industrial Roller Shutter Doors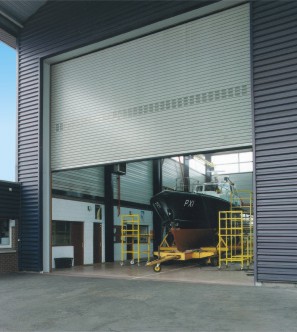 An industrial roller shutter door is important to any industry user regardless of it's size. Samson Industrial Doors aim to offer the best industrial roller shutter doors and best prices on the UK market with our highly competitive pricing policy and commitment to the highest quality doors supplied. If you want a roller door based purely on the price alone then we cannot help you, check out Ebay perhaps, but inspect the warranty details and specifications carefully!
Industrial Roller Shutter Doors offer the neatest possible solution to securing most openings, small or large.
They come in practically any size and the specification depends on many factors such as the requirement for insulation, glazing, opening speed, security and many more.
Samson Industrial Doors have installed and sold roller shutter doors to industrial premises since 1993 and have staff experienced in both the technical and installation aspects who can advise you on the correct specification to suit your individual needs. Over these years, we have learnt about what makes an effective, reliable industrial roller shutter door and have selected many partner manufacturers who have provided this quality time and time again.
Most industrial roller shutters used for warehouse loading bay facilities are quite large to allow lorries to gain full access height and therefore are normally electrically operated. Electric operation is also used if the door has to be frequently opened and closed however we recommend manual operation for low useage smaller doors sizes only.




Our extensive range of roller shutter doors enable the perfect choice to be made based on the individual requirements. We have basic single skin steel roller doors for low security, non insulated buildings with chain hoist manual operation or electric operation with single or three phase motors. We have double skinned fully insulated steel or aluminium roller doors for insulated buildings with a massive choice of operation methods including high speed options. We also have many variations inbetween these doors - open vented grilles for car parks, double skinned steel doors for very large openings and roller doors with different profiles on the slats for creating attractive visual appearances. Whatever industrial roller shutter door you are after Samson will have a solution and it will always be the highest quality for the longest operational life span.
Industrial Roller Shutter Door Range

Samson S77 Insulated
Gliderol Rol-a-Door
SeceuroShield 75
Hormann HR 120 A / S
Hormann HR 120 Aero
Single Skinned
Single Skinned
Hormann Decotherm
Hormann HR 116 A
Insulated
Insulated
Hormann HG75
Hormann HG Grilles
Vision
Open Grilles


Which Roller Door is Best for my Application?
Gliderol Rol-a-Dor
The Gliderol Rol-a-Door is a single skin basic specification steel curtain roller shutter door which is ideal for Industrial and Commercial use where security is not a primary concern. Ideal budget roller door.
This is a non insulated roller door ideal for unheated barns and buildings and is constructed from a continuous steel roller curtain in a choice of finished colours.
It cannot have a pedestrian door in it and does need to be fitted to an internal face inside your aperture.
See Rol-a-Dor in our Online shop >

SeceuroShield 7500
This is the industrial 3 phase version of the standard steel roller shutter suitable for standard factory & warehouse use. A tough and practical solution for most openings.
A multitude of access controls can be provided with this roller door for ease of daily use.
See the Seceuroshield in our Online Shop >
Hormann SB Roller Shutter Door
Cost effective and highly desireable roller door for small to medium sized openings. This is a wonderful piece of engineering with unique mechanics making for an easy installation and maintanance for any opening whether the door is manual or electric operated. It is a door for the 21st century not using the multiple layer assembly of traditional roller shutter doors making installation tricky and maintenance very hard indeed. This is a roller door for someone who thinks about the application and what a roller door can do for them long term. It is sold mainly as an insulated double skinned slat version offering great strength and insulation for any building.

Hormann Classic Roller Shutter Door
Suitable for large industrial roller shutter installations, such as aircraft hangers, car ports, factories, storage facilities and large manufacturing buildings.

Hormann HR 120 A / S
The perfect roller door for unheated buildings. Highly suitable for rough day-to-day operation thanks to it's tough profile. The Hormann roller door is always one of the best.

Hormann HR 120 Aero
The door design for light, secure and well ventilated areas. This is also seen as an alternative to a rolling grille.
Hormann Decotherm
Designed with hinges and features to reduce heat loss. Covered in protective paint to add resistance against adverse weather conditions. The Decotherm insulated door is a superb and versatile system manufactured from the highest quality insulated lath sections in the UK.
Hormann HR 116 A
The roller shutter for large structural openings. Available both double-skinned and thermally-insulated. The HR116 offers unique features ideal for openings of high useage or where security and reliability are an absolute must. It is usually sold in the insulated version and offers great insulation in this form.

Samson S77
The Samson S77 is easy to assemble and install. It comes complete with 3 phase motor and interlocking insulated slats.
Available in many standard colours this is an insulated roller door for general use in most openings
Samson Doors will survey, specify and install any of the roller doors shown above or alternatively you can purchase the door for self installation and either take delivery at your chosen site or collect from our centrally located Wellingborough warehouse with some advice from our team on installation as well as obviously having a full set of instructions to take away.
Security Roller Shutters page for Security Shutters >
Roller Garage Doors page for various Roller Doors for your Home >
Go to our PDF Downloads section for Colour brochures and technical manuals >

Hormann Industrial Roller Shutters PDF >