Search ShopIf you know the manufacturer, model or material, you can use our search below.

Although often overlooked, securing your property provides a peace of mind by protecting the things that matter most to you, whether that is your home and family or your business and consequently, your livelihood. With so much choice, choosing a physical security product that most suits your needs can seem like a daunting task but Samson SeceuroShield industry leading products address all requirements and are manufactured, supplied and installed by industry experts who are there to offer advice and guidance beginning with your initial enquiry through to installation and after care.
Besides securing your property, many SeceuroShield products offer other benefits such as insulation and sound proofing, ventilation, or increased advertising space for your business by use of special graphics on the curtain.
The emphasis behind our range of security shutter and gate designs is on integration into your building and way of life; unobtrusive, attractive and easy to use. Proudly manufactured in the UK and installed to complement the look of the building, SeceuroShield products ensure they are effective and secure in daily use.
Available in both an 'X' and 'S' lattice design the SeceuroGuard 1000 retractable security grille offers medium to high security protection in domestic, commercial and retail applications. Recommended for internal installation primarily it is a very cost effective solution to window and door security with no ongoing maintenance costs and pleasing aesthetics
The LPCB approved SeceuroGuard 1001 is suited to internal and selected external high security domestic, commercial and retail applications. This is the police and insurance 'secured by design' approved version of the Seceuroguard 1000 model.
A useful remedy for openings that fall below the minimum size of the SeceuroGuard retractable security gates, the SeceuroBar is ideal for low security applications in domestic and commercial locations where the device is required only occasionally. The individual bars are removable if required for cleaning or daytime use.
This product is for internal use only in window apertures up to 3000mm wide and 2100mm high.


Choose me if:
You are looking for a compact and attractive security solution
You require shade and ventilation as well as security for your home or office
You need your security to offer insulation and sound proofing
The overall width is not greater than 3400 mm
The 150 aluminium security shutter is ideal for internal low level security domestic sites, bars and servery hatches.
The 150 provides excellent heat insulation, shading and light control. External installation is recommended only on smaller sizes. Not recommended for commercial use unless for shading or insulation purposes only.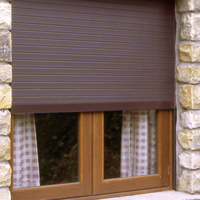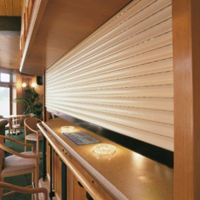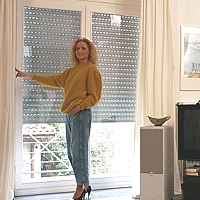 Choose me if:
You want to blend your security solution into your surroundings
You have a medium to higher level security application
You want to choose between manual and electric operation
You are a new build wanting the most integrated seamless system available
You want wireless remote control
The SeceuroShield 38 is used in high security domestic sites, medium security office/commercial use dependant upon space size and exposure risk the 38 security shutter is one of our most frequently used shutters as it offers very good security for the price. Also recommended for smaller shopfronts and single garage doors with restricted headroom. Available both as built-in and built-on models. Double skin extruded lath sections.
3801 - Secured by Design. For installation in domestic retail and commercial premises requiring an above average level of security. This is a security shutter that has a police and insurance approved specification with an LPCB rating level 1. It is 'secured by design' and recognised by the LPCB. This model is the 3801 and achieves level 1 rating.
Perforated.18% vision is obtained using the punched lath version of the Seceuroshield 38. The sections of lath are single skin aluminium in the perforated sections and can be combined with the standard double skinned extruded slats of the standard 38. Powdercoated optional colours available.
Punched. 44% vision is obtained with the punched lath version of the 38 security shutter and again the slats are single skin aluminium sections with or without polycarbonate glazing inserts. Can be combined with the solid or perforated slats. Ideal for bars, smaller shop fronts and offices.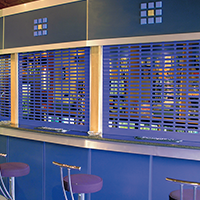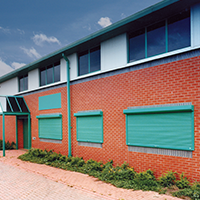 Choose me if:
You need protection over a larger door or window opening
You need externally fitted shutters
Your security needs to blend in with the building and surrounding colours
You prefer a larger slat profile
A high level of security for vulnerable domestic, office, commercial applications and shop fronts wherever special colours are required. The CD60 shutter is one of the strongest aluminium shutter slats available. The extruded double wall aluminium slats are available up to 6000mm wide and 5000mm high (at 4000mm wide) in limited manual operated sizes and electric operated sizes up to 6m wide or 5m high with a large range of access control methods.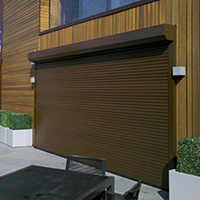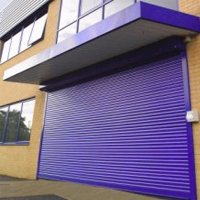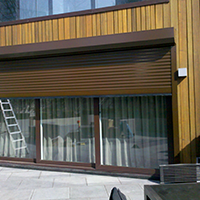 Choose me if:
The overall width is not greater than 6000 mm but the opening is a large size
You need to blend the colour into your surroundings
You prefer the traditional steel shutter type over aluminium and budget is a consideration
You have an external application
Roller shutter with scrolled 75mm galvanised steel slat profile for the most traditional security shutter look. Popular within medium security offices, commercial and industrial applications. Available up to 7000 mm wide or 5000mm high (with a 4200mm width). The 75 is available with single phase barrel motor operation and external mounted 3 phase electric operation on larger sized shutters. This is a most versatile security shutter at all sizes.
7501 - Insurance and secured by design version of the standard 75 this shutter has additonal manual locking and windlock guides. This shutter can only be installed INTERNALLY and the entire shutter box must be above the structural opening to comply. Again this shutter is 'Secured by Design' and insurance and police approved for higher security applications
Galvanised. Very strong gavanised steel slats offer sizes up to 6800mm wide and 4600mm high in 20SWG sections. The 75 is always single phase electrically operated over 4000mm wide or 2800mm high but can be a manual push up shutter up to these sizes. Ideal for many uses and colours.
Variations of the Seceuroshield 75 Shutter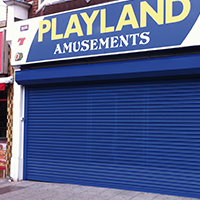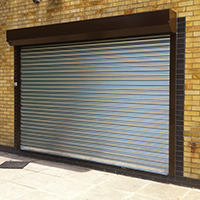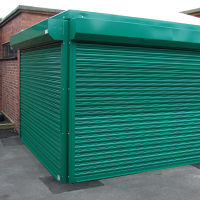 Choose me if:
You're looking for medium security
You need your security with the added benefit of heat and sound insulation
The overall width is not greater than 5400 mm
Ideal for retail and commercial premises
Perfect for single or double insulated garage doors. Also acts as a high security domestic shutter, medium security office entrance doors and external shopfronts with many standard colours available and woodgrain effects too.
The slat used is a larger foam filled double skin aluminium slat with widths available up to 5400 mm wide.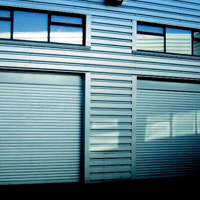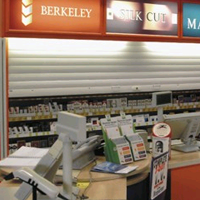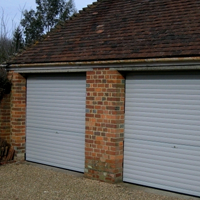 Choose me if:
You require a shutter that offers maximum vision and protection from wind and rain with optional polycarbonate inserts
You want a shutter that can be mixed with solid slats to offer just partial vision
The overall width is not greater than 6000 mm
Designed to provide see-through protection against crime whilst catering for window shoppers, the SeceuroVision 800 is ideal for internal/external applications in retail and commercial outlets. The shutter is very strong whilst delivering up to 58.5% vision - with or without polycarbonate glazing inserts. The shutter is constructed from single skin aluminium sections.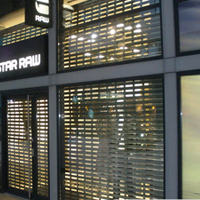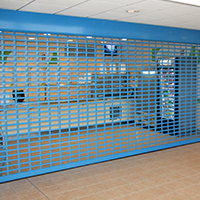 Choose me if:
You require a shutter that offers maximum vision whilst in use
You require shutters for internal use only such as bars, receptions, serveries and shop windows
You want an attractive alternative to traditional shutters
The overall width is not greater than 5000 mm
Recommended for shopfronts or offices the SeceuroVision 900 is suitable for both retail and commercial applications where permanent and high levels of vision are required. There are no polycarbonate insert options for this shutter, only open vented brickbond sections with options on the spacing configuration for aesthetics.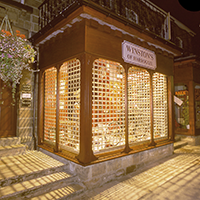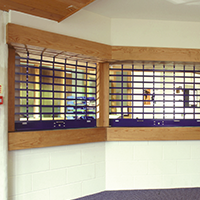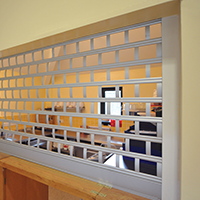 All the Seceuro range of products are manufactured to the highest levels of quality with the latest asembly techniques. The products are mostly factory finished for a high quality, durable paint finish in a choice of colours. Physical security products can look good and enhance a buiding if they are specificed and chosen carefully, and provide many, many years of trouble free use, providing reassurance and comfort that the best efforts have been made to secure against criminal activity and forced entry.
Samson have been trading for over 21 years now and our insistance on providing only the best products available has served us well, the old saying 'quaity remains long after the price has been forgotten' needs carefully thinking about with physical security as it is far too easy to be driven only on the price when the purchase may have been forced due to an attempted break in. Check the specification and quality of any potential security shutter or grille purchase and also pay attention to any requirements for safety as this is another surprisingly overlooked area where cost savings can be made but only at the expense of non compliance with regulations. Be aware!!