Search ShopIf you know the manufacturer, model or material, you can use our search below.
Samson Commercial Doors and Security Shutters
Samson Industrial, Commercial and Residential Doors have built a respected reputation for integrity, reliability and personal service over many years which we strive to maintain. Our security shutters and commercial door systems are of the highest quality and we pay close attention to your unique commercial needs.
The focus at Samson is on quality, with commercial door systems installed to the highest professional standards. Samson also provides regular maintenance to ensure the doors systems operate at maximum efficiency. Samson engineers are remarkably adept at identifying potential hazards and risks drawing from many years of experience to deliver informed and reliable advice and highly honed engineering skills. Imagine the effect on business for a company that suddenly finds itself unable to accept or make deliveries in or out of their premises because the doors have failed. A Samson maintenance service will prevent this sort of costly breakdown.
Unfortunately physical security systems – window and door grilles and shutters - are often pretty low on some business owners' agenda – until they have suffered a break-in or wanton vandalism. Quality products will prevent forced entry and certainly the physical presence of shutters and grilles will deter most offenders from attempting intrusion.
Samson consistently delivers the highest service in all areas of the supply and installation market for commercial window and door grilles and shutters. We will help businesses identify the products that are appropriate for their needs, that will provide the level of security needed, that will accommodate the personal and specific requirements of every user. Samson ensure that customers never spend a penny more than they need to but, conversely, will ensure that false economies are not practiced thus avoiding disastrous and far reaching consequences.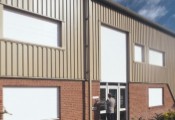 Security Shutters

Security window and door shutters are often the first form of defence against intruders for many exposed commercial premises in the UK. Samson offer a vast range, all made to order.
Whether security is needed for large area shopfronts, large windows or smaller areas and doorways, Samson Doors can professionally supply and install security roller shutters to your exact request, manual or electric operated, medium or high security with almost any colour finish available.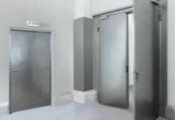 Security Steel Doors

Commercial Security Steel Doorsets are available for a multitude of different applications due to their unique level of adaptability in specification.
Samson Doors supply and install steel doorsets suitable for fire-protection, fire exit, security, sound proofing, smoke proofing, clean room use and strong steel doors for everyday use.
Some standard sizes are available off the shelf with adjustable frame systems but purpose made sizes are readily available too with almost any combination of colours and hardware available.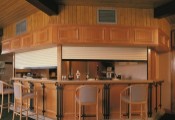 Bar Servery Shutters

Bar Servery Shutters are an excellent form of attractive and easy to use physical security for valuable stock. Samson Doors supply unique security shutters which can be powdercoated to meet your business colours and create a well-designed professional environment.
Easy operation is one of the key points we focus on.
Not only do they look good, but they also act as an invaluable level of protection for the endless levels of stock kept behind a bar, reception or counter.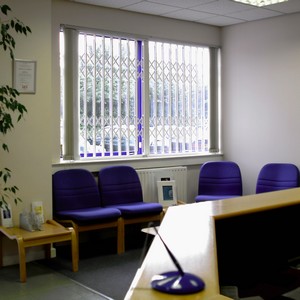 Security Folding Grilles

Security Grilles are a low visual impact style of commercial security. Available in two lattice styles, retractable steel security grilles offer excellent physical security across any door or window to offer both a physical and visual deterrent to thieves.
Security Grilles from Samson Doors are available as both static and retractable models. We also provide a choice of one-piece sets or bi-parting grille security based on personal preference with a choice of almost any colour finish. A huge range of colours and every grille made to order makes these very easy physical security with options also available on whether they are top hung or bottom rolling systems.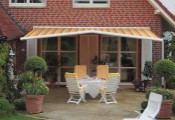 Retractable Awnings & Umbrellas

Retractable Awnings afford you the ability to be able to use your terrace or patio during sun & rain. The strong supporting arms combined with a finely-tensioned waterproof material means our high-quality awnings can block out the powerful rays from the sun in the summer and protect against the rain during the winter.
All of our awnings are available with a choice of manual or electric operation with a wide variety of awning fabrics and designs.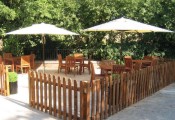 Commercial Umbrellas

The perfect commercial Umbrella can provide a calm, relaxing al-fresco area in corporate dining areas, pub gardens, restaurants and many more locations.
We offer high-quality umbrellas using centre pole and side-arm cantilever supports with sizes up to 36m².
We also have the unique and super strong 'Vortex' umbrella capable of withstanding gale force winds and perfect for all year round use.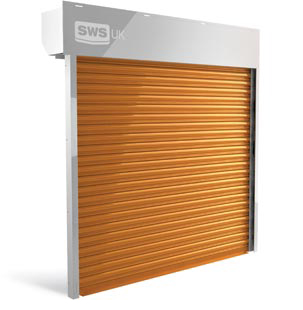 Fire Curtains & Shutters

A range of fire roller shutters and fire fabric curtains from Samson in made to measure sizes.

Fire protection with tested products and a range of control panels to suit al applications.