PRODUCT SEARCH

Security Shutters and Grilles
Samson Doors supply security roller shutters and security grilles for a multitude of uses. There are many different types of security shutters available providing security for high risk through to lower risk protection. The grilles are either retractable or fixed and all made to measure.
All of our security shutters are perfect for domestic, industrial or commercial use with a vast range of colour choices and fixed or remote access control options ensuring the easiest and safest control methods. Integrate your shutters into a home automation or independent control system if required. All our security shutters and grilles are made to order to the millimetre and usually available within 7-10 working days from order confirmation.
Security Roller Shutters
A wide range of aluminium and steel constructed security shutters for doors, windows and other applications including large commercial security rated roller doors where security is important, such as an isolated farm or warehouse building. All our security roller shutters are made to measure for the perfect fit. Our aluminium security shutters are offered in various curtain slat sizes depending on the level of security required and size of the roller shutter. Aluminium roller shutters will nearly always have a far higher quality of finish and combined with aluminium guides, hood and other components also offer a very long life span, resistant to corrosion with any parts easily replaced. Double skinned insulated aluminium shutters offer protection from light and heat over windows and doors and are extensively used for this purpose with the added benefits of burglar protection. Our steel security shutters offer robust solutions to larger or commercial applications and just like the aluminium shutters can have perforated or punched slat sections to allow vision and light through the curtain when closed, a common specification for retail outlet security shutters.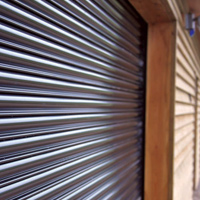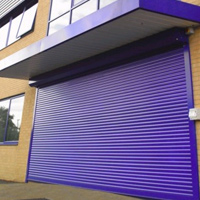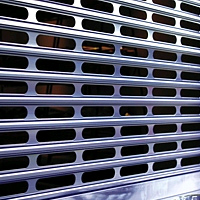 ---
Retractable Security Grilles
Our retractable horizontal sliding security grilles (or gates) offer protection for a very wide size range for doorways and windows and also large open areas where there may be no headroom for any other security products. The security grilles are made to measure and constructed from high quality steel components, galvanised and powder coated to your chosen colour finish. A choice of designs are available as well as top or bottom rolling operation. The bottom tracks can be specified depending on the opening to be protected and the entire gate can also be hinged to allow the 'stack' to be pulled to one side when open and allow maximum width in the aperture. Choose a security rated retractable grille when required with a level 1 LPCB rating and 'secured by design' for peace of mind.
A single point locking position which can be specified on taller gates will operate a multi point locking system and this lock can be accessed from either side of the gate as it is set at 90 degrees to the face which also makes attacks on the lock barrel very hard.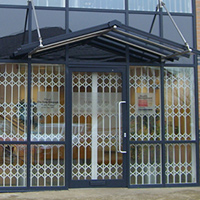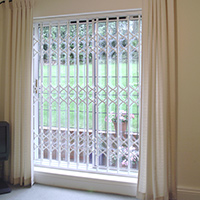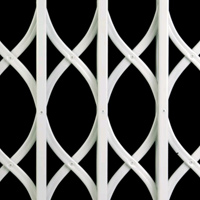 ---
Fixed Security Grilles
Fixed versions of the retractable steel grilles are available when required for any fixed windows or apertures not requiring access. The steel grille design with traditional X or S lattice design provides the maximum resistance to most forms of attack and forced entry attempts.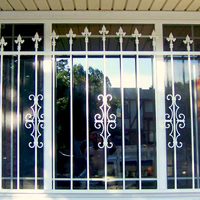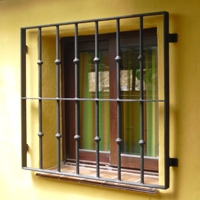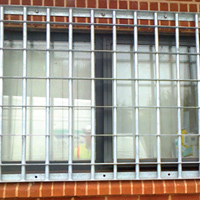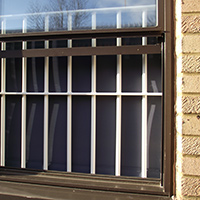 ---
Windows and Door Range
Security door and window shutters can be easily added to the exterior face of any building to provide very real physical protection from forced entry and vandalism. The added advantage quite often can be to have control of the sunlight to control the temperature in the room. The security shutter can be installed outside, inbetween and inside the door or window aperture, depending on requirements or quite often dictated by any obstacles. Although most security shutters are fitted to either a door or window every size is different and the made to measure Seceuro range caters for this. Every shutter we supply is specifically manufactured for the size, the operation method required, the colour and the control of operation to be perfect for each opening and relevant to the site and customer
The hood covers on the majority of security shutters we supply are only 205mm square and with a nice chamfered front edge and the right colour choice it can actually enhance a building and not make it look ugly and vulnerable.
Take note - properly specified security shutters can actually enhance a building visually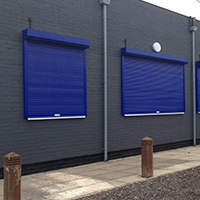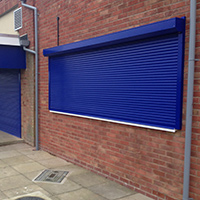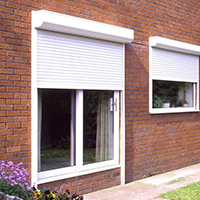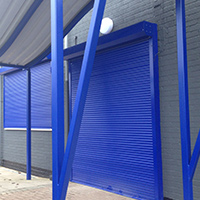 ---
For Your Home
Samson offer some of the very best security shutters in aluminium profiles for your home with either heat and insulation as the main requirement or real physical security from forced entry attempts. using either extruded aluminium or steel security shutters with varying slat sizes and degrees of security offered we tailor make the security shutters for each aperture to be protected.
We can provide electric or manual operated roller security shutters for your home, with options on integration into your home automation system for complete and effortless control. All shutters are made to measure for the optimum fit and maximum security. The shutters can be installed outside, inbetween or inside your windows or doorways. Almost any RAL or BS colour choice is possible for the shutter curtain, the side guides and the hood cover to ensure the best match to your home colour scheme.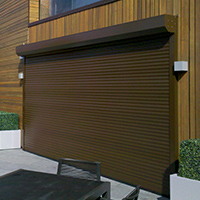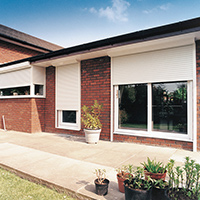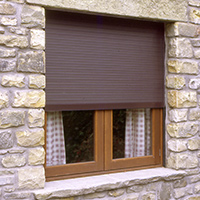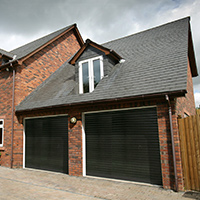 ---
For Retail Shops
Retail shops can be a very vulnerable building type. High visibility with glass in streets which can become extremely busy at night and sometimes rowdy with party goers or nightclub leavers. The obvious potential from vandalism and simple damage is obvious but you don't want to necessarily make your shop look like a grey steel wall. Security shutters do not have to be ugly, although they are functional, correctly specified with some careful colour choice and decent paint finishing can make all the difference. The use of aluminium shutter curtains also helps wherever possible along with aluminium (or continental) style side guides as these do not require greasing and will not have potentially sharo edges.
Samson offer a vast range of security shutters specifically for retail shops and these include shutters with partial or full vision slat curtain sections as well as retractable security grilles, mainly used for internal use. Samson also offer a range of security bars and steel door sets for the rear access to many shops to help protect vulnerable and out of sight entrances. Our range of anti climb gates will also help protect alleyways behind shops and prevent people accessing at any time.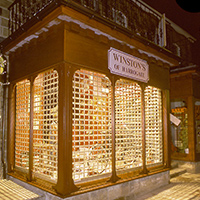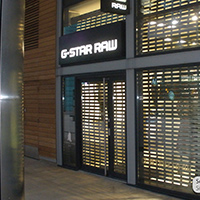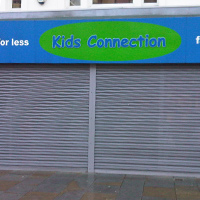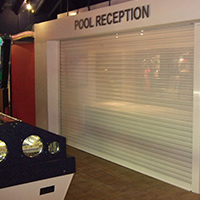 ---
Bar and Servery Security
Samson offer various bar and servery security shutters for either a complete solid shutter curtain and total lockout or a choice of minimal or fairly open shutter curtains to provide high levels of vision when closed but still keeping the areas secure.
Most bar shutters are manually operated and we make all the shutters to order for a perfect fit Options also include a removable guide for the shutters o keep the bar as clear as possible when the shutter is not closed and in use. Nearly all the bar and serving shutters are manufactured from aluminium to avoid any sharp edges and the best finishes whilst keeping the weight lower too for increased efficiency.
Samson offers several shutters which can be powdercoated to specific RAL or BS colours and most have a range of standard colours such as white, brown, black or cream to choose from for fast delivery times.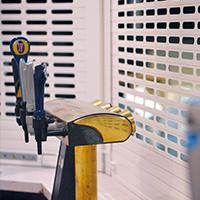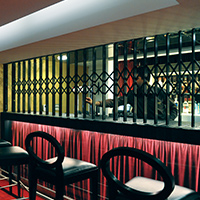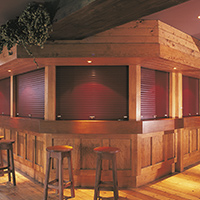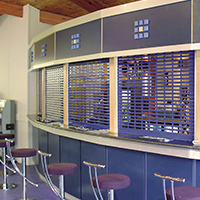 ---
Electric Security Shutters
Most security shutters are electrically operated and for a good reason too. To have a security shutter electric is the simple use of a tube (or barrel) motor inside the barrel which rolls the shutter curtain up and down. When a shutter is manually operated you have to consider locks and keys and springs for balancing so the price difference for electric operation is minimal in most cases. The convenience of electric however is massive, especially when the security shutters are fitted outside. Control the shutters from inside the building, whatever the weather, and having good access control will ensure the shutters are always used to their full potential when operation is so easy
Control of any security shutter can be manual or electric operation but only up to a certain size beyond which electric operation is required as standard due to weight and balancing. Many control methods can be used such as external keyswitch, digital keypads, timer units, remote control, finger readers and so on. Integration into home automation systems is quite normal for ease of control these days and all our motor drives can be specified to allow this.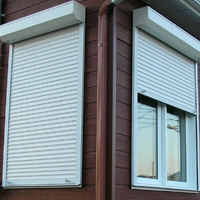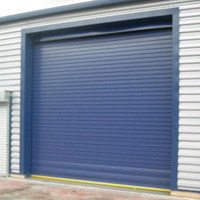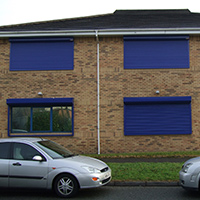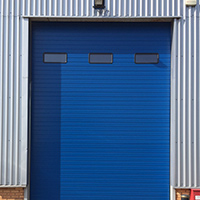 ---
Style, Colour and Branding
A lot of security shutters can be very effectively used for promoting your brand or company even when you are closed. You have a huge section of steel or aluminium to use when a large security shutter is brought down for the evening. With most security shutter models available in almost any RAL or BS colour and the chance to place logos, wording or images onto the outside of the shutter then make the most of it.
The use of partial sections of a security shutter curtain with either perforated or punched sections also give the opportunity to promote the business by allowing vison through the shutter when light is used behind as well.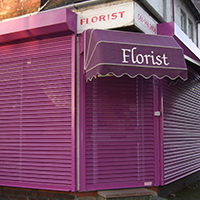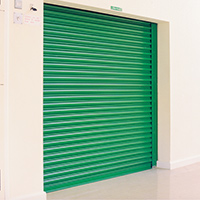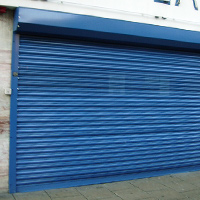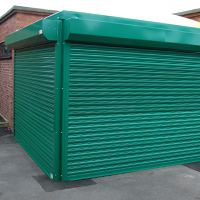 ---
Internal Security and Fire Protection
Internal security shutters can be used to secure stock rooms, warehouses, cupboards or any room or area requiring restricted access and higher security. We also offer security cages for internal security. Security shutters are often used in clubs, pubs and hotels when an area is to be closed for the night such as a bar or serving area to keep any stock safe and ensure increased health and safety routines.
Samson can also provide fire rated roller shutters and fire curtains to close automatically, either triggered by electric impulse or heat sensors and when a fire or smoke detector is activated
Fire rated roller shutters are used mainly in kitchen serving hatches, high risk manufacturing plants and warehouse facilities and public buildings.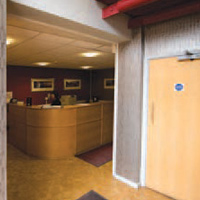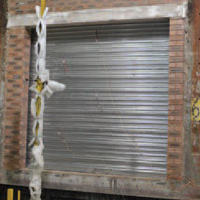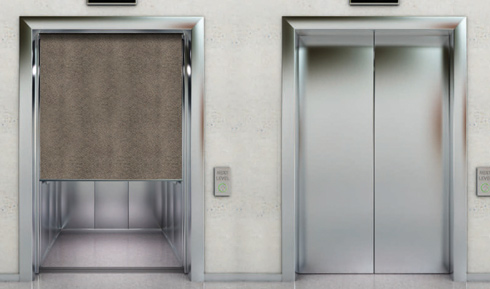 ---
See Through Vision Slats
Many local authorities require security roller shutters to be fitted with a certain amount of vision available. This is achieved by punching sections of the shutter lath either with or without clear acrylic inserts as well as small pin holes in the lath (perforated shutters). Much higher levels of vision can be achieved for retail shops where 24/7 accessibility for passers by is required by using the interlocking tube and link style shutters where levels of 70–80% vision can be achieved.
A balance in the security and the requirement for being able to see through either for light ,or in the case of shop fronts for displaying goods is a careful one and the lath should be sufficiently strong to enable a large section to be cut out without reducing the overall strength of the shutter. The Seceurovision 38, 75, 800 and 900 are all security shutters that can achieve this requirement for see through vision or light very successfully whilst offering great security.

Of course the retractable steel grilles are also an option offering good levels of vision however they are installed.