PRODUCT SEARCH

Bar Servery & Kiosk Security Shutters
Samson specifically offer a vast selection of aluminium and steel security roller shutters designed for effective use as bar, kiosk, serving and reception desk physical protection. Whether one of our bar & kiosk roller shutters are used to protect valuable goods or simply to close off an area after hours, we ensure to provide the highest levels of security needed along with ease of use and the highest of quality in operational design and finish.
Each security bar shutter is designed mainly for use in low and medium risk internal areas. This means they are often not as strong as external security shutters and therefore can be obtained at a lower price.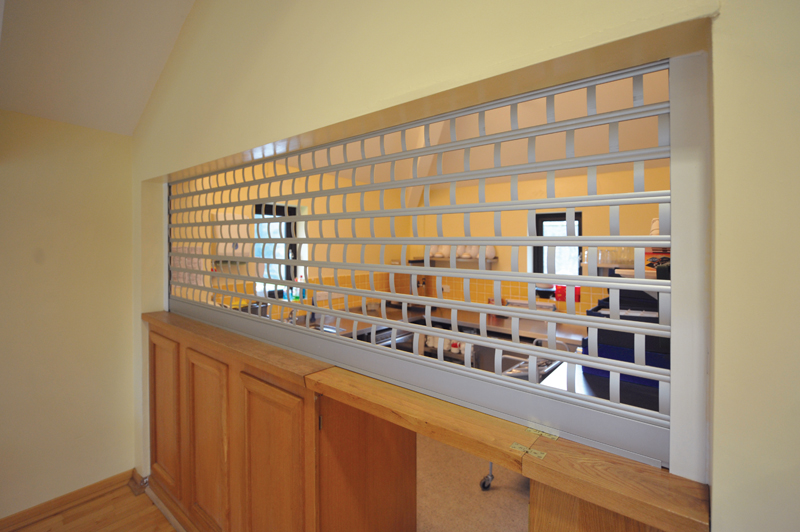 Some shutter types provide a choice between having a totally solid curtain or a high vision curtain which allows high levels of light both in and out of the shutter. This is achieved through having either perforated slats or rectangular punched out open sections inthe slats for maximum vision. There are many benefits of having a high vision see-through security shutter such as improved levels of airflow, natural light being able to light the room to help save energy costs and provide an overall more attractive appearance.
Not only used on bar serving areas and reception kiosks, Samson Doors facilitates the use of roller shutters on servery hatches, catering trailers, service counters, display areas, secure cupboards, shops and more.
One of the major advantages in our security roller shutters is the minimal space required to support the structure. Requiring just two guide rails and a shutterbox above, a secure roller shutter from Samson Doors rewards you with large open spaces when the roller shutter offers the open use of worktops for filling out paperwork in a reception area, presenting displays, resting drinks within a pub/bar and serving food.
Security shutters for bars and serving counters are usually required to be fairly wide and yet have the smallest possible curtain roll to maximise the space above a bar area for the storage of glasses and bottles. This is easily achieved with the SeceuroShield and SeceuroVision range of shutters.
The basic foam filled aluminium SeceuroShield 150 shutter offers low security and minimal colour choice but still provided a good solution in premises where appearances are important e.g. hotels and restaurants.
For higher security requirements, the SeceuroShield 38 and SeceuroVision 9000 models are ideal. The CD 38 model is available with a solid, perforated or a punched open or punched and glazed curtain roll to ensure strength and still offer some good vision. The Seceuroshield 38 is one of the best all round security shutters as it achieves high security with a very strong extruded double skinned slat but also has a small depth to each slat enabling a smaller roll size and therefore it is far more usable in situations where space above may be limited, this is usualy the case in bar and serving areas. We cover the whole of the London area for security shutters, and have surveying and installation servces for London and the surrounding areas

Bar & Kiosk Security Shutter Range
The image to the right shows all the specific basic measurements used when referring to a security roller shutter for almost any purpose.
The roller shutter security layout is the same for almost any model where there is always a roll at the top which is the curtain rolled up so will vary in size depending on the height and the thickness of the curtain lath used.
The side guides are available im any different widths and depths to offer high levels of security as well as extra resistance to high winds in exposed areas, although not normally encountered inside of course this does offer greater resistance to a forced attack.
These variations in the hood and endplate size and the guide width obviously effect the overall width and height so be careful what measurements you are referring to when specifiying a roller shutter. They can obviously be installed outside, inbetween or inside an opening and these sizes will all be relevant to ensuring the best installation. Operation for almost every shutter can be manual or electric and there are many variations in the methods of locking and control. For multi shutter applications some thought must be given to how each shutter is to be controlled if they are electric and to open and close multiple shutters is possible or one by one depending on locations and building layout.
Security roller shutters of any kind can be either spring assisted, rod and crank operated or pulley operated in manual format or the ever increasingly popular electric barrel motor operated for ease and convenience. The motor operation is a very well priced option nowadays for most applications and reliability is not an issue. The motor drive units are inside the barrel so completely hidden with the only requirement being a power source. The control is ever increasingly using complete wireless technology meaning much faster installation times and complete flexibility on the access control methods used.
The standard wall mounted internal switch may well still be the most popular method for commercial use but for the home the choices are endless including control using your mobile smart phone or Ipad.
Side for Handing
The handing when referring to the side for operation for say the crank handle or the side which the motor is fitted and therefore has the power cable and also the manual override is ALWAYS taken from the NON HOOD COVER side - i.e. the side of the security shutter which shows the flat fascia panel. If you were installing the security shutter to the outside face of an opening then this would mean the handing is taken from looking inside the building outwards.
Call us now for a discussion on the options available for security shutters and the very best prices on the highest quality products currently available in the UK. We can supply the shutters for your own installation or provide a full installation service for you or your customer. We offer a consulation service once approximate pricing has been established and agreed. You can send in images of the windows or doors, approximate measurements and we can return with suggestions and pricing options.
General methods of operation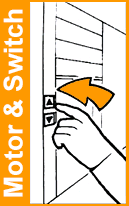 Motor & Switch
These are required on larger shutters and are optional on smaller shutters. Tubular motors fit inside the axle and require a 3 amp fuse. Standard operation is by rocker switch, key switch or remote control.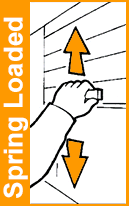 Spring Loaded
For external operation on exit doors, shutters can be spring loaded with a transverse key lock in the bottom slat. A popular option for bar, servery, counter, cabinet and kiosk applications.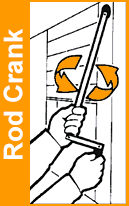 Rod Crank
Shutters are raised and lowered from inside by a geared rod crank winding handle which hangs down vertically underneath the box and secures on a clip when not in use.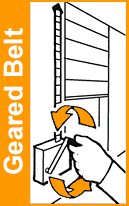 Geared Belt
Depending upon shutter size the belt is operated manually or by geared crank handle. This is a low security option.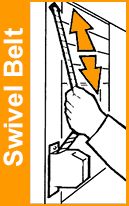 Swivel Belt
Shutters are raised and lowered from inside by a belt.