Search ShopIf you know the manufacturer, model or material, you can use our search below.
Up & Over Garage Door
Up & Over garage doors are one of the more common garage doors found within the UK. Their basic design, high security and simplistic appearances are just some of the beneficial aspects of our up & over garage doors. Up & Over garage doors are available with 2 different operating mechanisms; Canopy & Retractable.
A canopy gear up and over garage door is the most cost-effective and cost-efficient garage door on the market. It is simple in design and easy to use which makes it one of the more popular garage doors sold by Samson Doors.
It's name derives from the position it takes when open. A third of the garage door protrudes outside of the opening when open creating a canopy cover. A canopy up and over garage door is attached to the frame through two rolling wheels in each side and a folding arm attached to each side of the door - as the door is opened, the wheels stay within the roller tracks as they move higher with the door.
A canopy gear up and over garage door is not usually recommended when requesting electric operation due to the way the door opens. If you wish to add electric remote control operation to an up and over garage door, a bow arm converter is required which allows for a somewhat smooth opening cycle.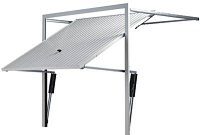 Retractable Operating Gear
A retractable gear up and over garage door is seen as the most practical up and over garage door. Costing slightly in excess of the canopy gear, a retractable gear provides additional strength meaning it can cope with door sizes anywhere over 8 metres in width. All double size up and over garage doors are supplied with retractable gear.
The retractable gear gets its name from the way the garage door retracts into the garage. It is attached to the garage through spring-loaded arms rising from the floor of the fixed frame and assisted into its open position by a frame located inside the garage. Roller wheels in the track wells allow for a smooth and reliable opening.
A retractable gear up and over garage door is recommended for electric operation due to their
smooth opening qualities and full retraction into the garage.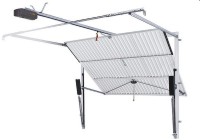 Electric Operation
As commented on above, we recommend a retractable gear system for electric operation. Electric operation allows you to open and close your garage door with the simple push of a button on a handset or keypad - great for those rainy windy days after a hard day at work or in the winter months and when it is dark and cold. Our electric operators are installed with a built-in light which lights up your garage as your electric operator is in use.
A range of remote control handsets so that your garage door remote control doesnt have to be boring, but can even become a fashion accessory! The newest electric operators have 'Bi Secur' technology to alow the operator to talk to the motor unit and let you know at the push of a button whether your garage door is open or not. Clever stuff.
We offer electric operation packages with some of our garage doors to ensure you get the best deal possible for your money.
Matching Entrance Doors
Some of our more common up and over garage doors (such as the Marquess - pictured right) are available with matching side doors to give your home that fully furnished, finished appearance that stands out amongst the rest.
For more information on front entrance doors, click here.

Most Popular Steel Up & Over Garage Doors

Most Popular Timber Up & Over Garage Doors
Most Popular GRP Up & Over Garage Doors