Shop Categories

Products Overview

Services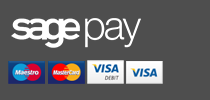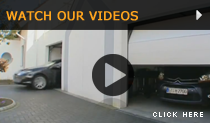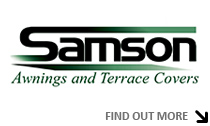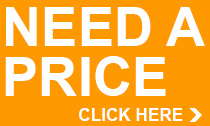 PRODUCT SEARCH

Security Product Range
Samson Doors offer a wide range of physical security products designed to provide physical resistance to forced attempted break ins and vandalism. Many of the products will offer their original designed function and the additional security is down to design and increased strength and locking facilities to give an enhanced overall product.
We provide security products across the UK and you can purchase by either calling us directly and discussing your requirements or browse through some of our products in our online shop. We can provide assistance at any stage
Choose from specific products below for more information and links:
The mesh grilles offer the best chance of some very discreet but extremely effective security with some almost impossible mesh designs to cut and force through with most tools. These are ideal for most domestic and commercial applications
Just some of the standard designs include:
Small Diamond Mesh - 32mm x 76mm open sections
Large Diamond Mesh - 60mm x 190mm open sections
Jewellers Diamond Mesh - 14mm x 42mm open sections
Wire Mesh - 75mm x 12mm open sections
Small Square Mesh - 25mm x 25mm open sections
Square Mesh - 50mm x 50mm open sections
Any of these grilles offer great visual deterrent although it is subtle and not overpowering and also protect glazing when fitted externally but are most often used internally. Being lighter in the amount of steel used in construction for the main mesh section these can much easier be lift off and lift on or hinged in apertures for removal when not required. We can also provide cut outs in almost any part of the mesh for access to letterboxes or other items on a door or window.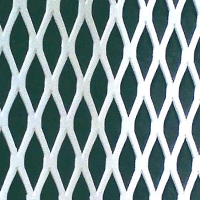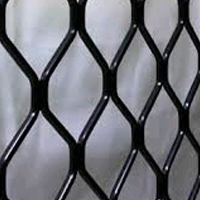 ---
Security Gates
A heavy duty steel hinged gate to protect domestic and commercial properties and outbuildings including fire exits doors, rear access doors to homes and alleyway doors with unobserved access positions. You can install one of these heavy duty hinged doors and leave your normal door open letting fresh air and light in without fear of anyone being able to access.
3 different standard gate section profiles are offered with a general sizing restriction of just over 2 square metres. The size is also affected by which profile is used:
25 or 30mm box section gate and frame chassis with 12mm round or square bar infills
40mm box section gate and chassis with 16mm round or square bar infills
50mm box section gate and chassis with 20mm round or square bar infills
Optional extras can include scrolls, rosettes, cut outs spear head tops, steel infill sheet, mesh sheeting and anti climb spikes. We offer a standard range of powder coat colours and extra protection from an external rated primer when fitted outside.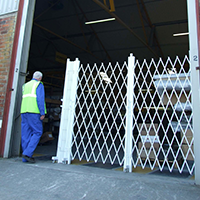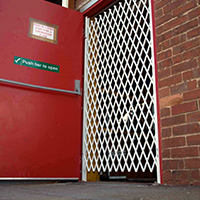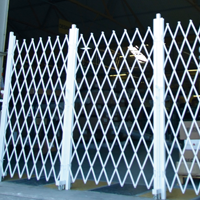 ---
Anti Climb Gates
The anti climb steel gates are ideal for securing the side and rear of houses, shops and factories and are ideal for alleyways and footpath security when required. Also idea in larger sizes and double leaf gate designs for small access driveways where there may be just an opening in-between a tall brick wall.
The principal is simple in that the vertical steel bars used in construction have no cross bars or designs whatsoever to prevent people from getting any sort of hand or foot hold on the gate to attempt to climb over.
The gate is available in 2 variations, either with a fixed frame for smaller applications or with a steel post to concrete into the ground for larger applications. When supplying the posts for concreting in the gate will be supplied with adjustable hinges to aid installation and security collars to prevent theft. Framework for the gates and frames are manufactured from 50mm x 50mm square hollow sections with 20mm x 20mm infill bars. Spikes are added to the top to help prevent jumping over. Dig in posts are either in 100mm x 100mm or 150mm x 150mm depending on the gate size required. Colour finishes from a choice of standard colours.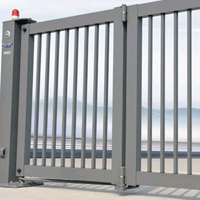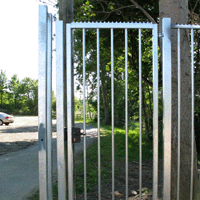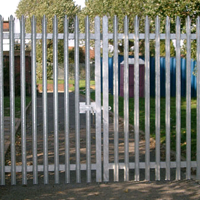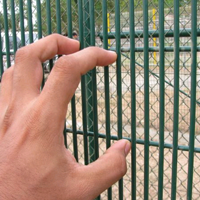 ---
Security Cabinets and Cages
Our security cages are a sturdy steel and mesh construction and designed to be freestanding or fixed to a wall or into a corner as required. These security cages are ideal for computer rooms, compounds, server rooms, quarantine areas, bonded stores and protection of potentially hazardous substances in open yards.
The main chassis construction is from 40mm x 40mm square box section steel and the main protective barrier section can be any of the mesh options we supply. A single or double leaf door access can be provided and can accommodate almost any locking type system as required.
The individual maximum panel size is 1200mm wide and 2400mm high. A range of roof panels can be supplied to cover the open roof section if required and any application can be considered and catered for inside or outside your premises. If it needs securing or protection we can usually help.
The security cabinets are manufactured to protect anything requiring a complete lockdown at some point or even most of the time. With the rise in the use of ticket and vending machines then burglary and vandalism of these systems has risen. Ideal to close down and completely secure almost any size or shape of machine the cabinet will be mainly solid steel sections with a security roller shutter to the front to allow access when in use. The cabinets nearly always have a built in security roller shutter which can be from any of the models we offer depending on size, level of security and colour etc. The shutters are normally a simple spring loaded manually operated system with at least one lock point but others can be provided as required.
Secure cabinets are ideal for indoor use for storing valuable goods in stock rooms, supermarkets and shops. Out of sight and secure for security but can also be used for a display cabinet purpose of course with the out of hours being the time when the goods are secured. Typically the cabinets are constructed from 3mm galvanised steel sections and the security shutters can be either aluminium or steel.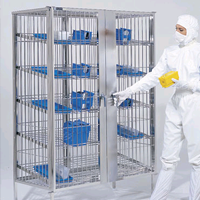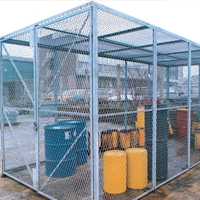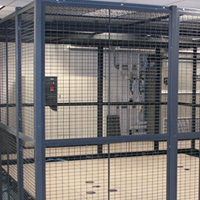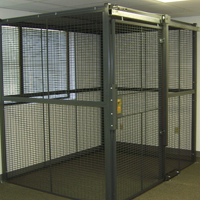 ---
Security Entrance Doors
Samson offer various very high quality front entrance doors from market leaders Hormann and Garador as well as a range of entrance doors purely designed for security and strength.
The Hormann ThermoPro, ThermoSafe and ThermoCarbon not only offer some of the very highest levels of insulation in any front entrance for the security levels are exceptional with multi point locking as standard. Higher levels of security are possible as well as increased levels of security through the use of bio metric access controls and other controls to ensure the home owner is the only person locking and unlocking the door.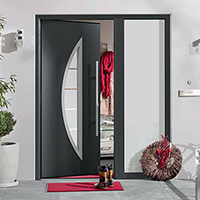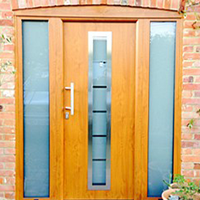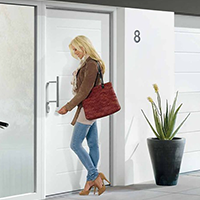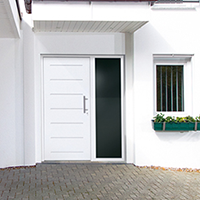 ---
Internal Security Bars
Our internal security bar grilles are for medium levels of security on windows and doorways and can be manufactured to various designs as standard. We offer 'step', 'brick', 'standard' and 'georgian' grille designs as standard but can manufacture to any design required on application.
Like the external grilles, these can be hinged, removable, and designed with cut outs, stand off brackets and other features to help ensure the best installation to the fabric of the building. Colour finished to any colour the internal security grille is ideal for many applications with zero maintenance of course.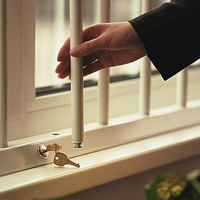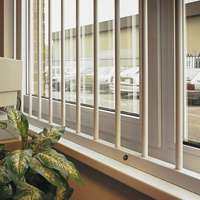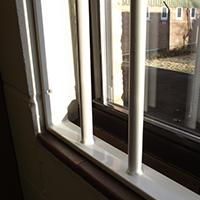 ---
External Security Bars
Samson offer a wide range of security steel bars for external use and where high levels of security are required. For outside installation an additional primer is used for extra protection against corrosion. Being outside fixed the bar grilles are normally fixed and not removable but within a certain weight range it is possible for a grille to be removable using a lift on and lift off steel pin system with a lockable function.
The grilles are made to measure and cut outs for handles and obstacles as well as hinges for fire escape or day access can be added to most grilles. The outer steel frame can be specified for a face or reveal fix with either lugs for an easy installation or a full frame for a more robust installation as long as the aperture is square.
We offer a choice of 12, 16 or 20mm round or square solid steel bars.