PRODUCT SEARCH
Return to Hormann Industrial Sectional Doors home - Windows - Colours - Gear Types - Safety Details
ALR F42 Vitraplan
For demanding building architecture
The ALR F42 Vitraplan sectional door is a highly exclusive version of the standard ALR F42 door with wider glazing areas. The door is especially elegant thanks to offset, flush-fitting glazing. The frame profile is concealed, so nothing detracts from the clear overall appearance. Continuous glazing adds an eye-catching element to modern industrial structures and prestigious private buildings. The interior corresponds to the profile appearance of the ALR 42 B door. Hörmann's proven finger trap protection for industrial sectional doors is also included in ALR F42 Vitraplan doors.



Two colours to choose from
The ALR F42 Vitraplan can be optimally integrated in the facade with glazings in brown and grey, as well as a dark frame profile colour that harmonises with the glass. This exclusive door fascinates from outside with a mix of mirroring and transparency.

| | |
| --- | --- |
| | |
| Offset Glazing in Brown | Offset Glazing in Grey |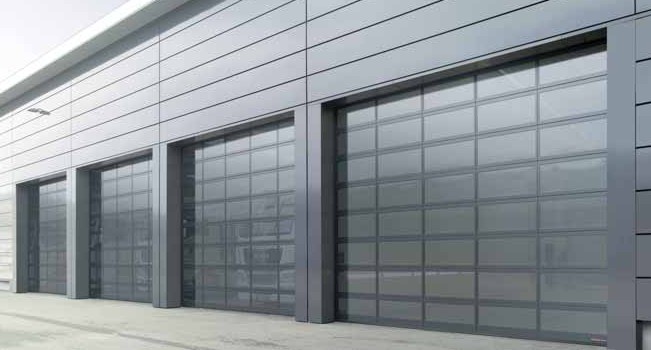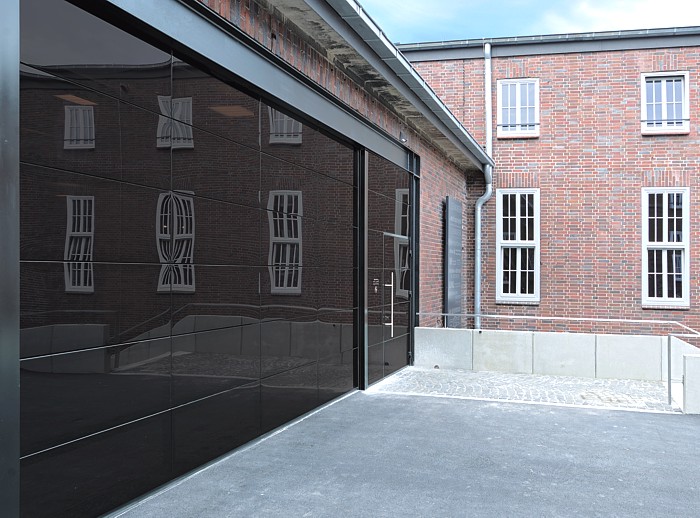 Technical Details
Operation
Manual spring assisted with choice of springing and gear types to suit internal shape and size of building.
Automatic electric operation with vast range of access control methods ranging for push button basic internal control through to external finger reader systems. Keyswitches, keypads, remote controls, timers and many other devices also available to suit your personal preferences and routines during the day and night.
Size Range
Width up to 6000mm
Height up to 7500mm
Resistance to wind load
Class 31
Water-tightness
Class 3 (70 Pa)2
Air Permeability
Class 23
Sound Insulation
R=19dB4
Thermal Insulation to EN 13241 annex B EN 12428
For 25m² door surface U=3.2 W/m²K
and optional triple glazing U=3.1 W/m²K
1 EN 12424 2 EN 12425 3 EN 12426 4 EN 717-1