SEARCH SHOP - If you know the manufacturer, model or material, you can use our search below.

Security Shutters and Grilles
Security shutters and grilles are supplied and installed by Samson for a multitude of uses but what we always supply is the highest quality. The many different types of shutters available means we can offer shutters for low risk, low security use with the added benefit of temperature control and then high security shutters right up to level 1 LPS 1175 security rating classification with the 'secured by design' police preferred specifications.
The retractable and fixed security grilles are also available with the 'secured by design' insurance approved classification with the Seceuroguard 1001 model.
All the security shutters we sell are ideal for domestic or commercial use with a massive range fo colour choices and access control options.

Security Shutters for Windows and Doors



Security door and window shutters can be added to any exterior face of any building to provide very real physical protection from crime and vandalism. The added advantage can be to have control of the sunlight to control the temperature in the room.

This office building has brown powdercoated Seceuroshield 3800 extruded aluminium lath shutters on the windows all electrically operated from controls internally. The hood covers on the majority of security shutters we supply are only 205mm square and with a nice chamfered edge and the right colour choice can actually enhance a building and not make it look ugly and vulnerable. Take note - properly specified shutters can make a building visually better not worse.

Internal Security and Fire Protection



Internal security shutters can be used to secure stock rooms or any room or area requiring restricted access and high security.

Samson can also provide fire rated roller shutters to close automatically either triggered by electric impulse or heat sensors.

Fire rated roller shutters are used mainly in kitchen serving hatches, high risk manufacturing plants and warehouse facilities and public buildings.

Built In Security Shutters



Security shutters can be built into the window and door apertures at design stage if required to provide a very neat finish externally. The curtain roll, and all the operating mechanism is built into the supporting lintel area and then completely hidden by the fabric of the building when the shutter is opened fully.

Control of any security shutter can be manual or electric operation up to a certain size beyond which electric operation is required as standard due to weight and balancing. Many control methods can be used such as external keyswitch, digital keypads, timer units, remote control, finger readers and so on.

Security Shutters with Style and Colours



Certain security shutters can be powdercoated to any RAL or BS colour to match surrounding colour schemes as demonstrated in this school picture to the left.

Careful consideration to colour schemes can actually enhance a building rather than specifying a standard galvanised finish which can look fairly shabby after a short period of weathering.

Samson offers several shutters which can be powdercoated to specific colours and most have a range of standard colours such as white, brown or cream to choose from for fast delivery times.
Security Shutters with Vision Slats

Many local authorities require security shutters to be fitted with a certain amount of vision available. This is achieved by punching sections of the shutter lath either with or without clear acrylic inserts as well as small pin holes in the lath.

A balance in the security and the requirement for vision either for light or in the case of shop fronts for displaying goods is a careful one and the lath should be sufficiently strong to enable a large section to be cut out without reducing the overall strength of the shutter.

The Seceurovision 3800, 7500, 8000 and 9000 are all security shutters that can achieve this requirement for vision or light very successfully.

Security Shutters for Retail Shops



Perforated sections of single skin galvanised steel lath are also a good way of achieving light and vision without large cut out sections. Small pin holes in the lath give very effective vision through the curtain.

With light behind the shutter during the night a good level of detail is available to be seen through the closed shutter curtain.

This method of vision means very little of the shutter lath strength is lost.

Bar Security Shutters



The effective protection of high value stock in bars, restaurants, shops and surgeries is fairly essential. The Seceuroshield 3800 and 3801 insurance approved shutters provide very high levels of security in a neat, compact, attractive product capable of a multitude of uses and sizes, manual or electrically operated.

Punched and perforated options are also available with clear polycarbonate insert options.

Suitable for internal or external applications this is one of the most popular security shutter models sold by Samson for many projects around the UK.



Security Grilles for Windows

The Seceuroguard range of collapsible and fixed security grilles offer an excellent, stylish solution to physical security in all buildings. The grilles have been designed to keep unwanted intruders out whilst maintaining maximum light and vision with the added bonus of easy retraction when required to neatly disappear out of sight.

Constructed from galvanised steel and powdercoat finished in a choice of 12 standard colours with optional extra RAL and BS colours the Seceuroguard is an excellent physical security product for most door and window sizes in any building.

Choose from either X or S lattice design for the Seceuroguard 1000 and the insurance approved 1001 version with a choice of RAL or BS powdercoated finishes. The 1001 is a 'secured by design' rated product rcognised by the police and insurance industry.

Security Grilles Product Overview
| | |
| --- | --- |
| The Seceuroguard range of collapsible and fixed security grilles offer an excellent, stylish solution to physical security in all buildings. The grilles have been designed to keep unwanted intruders out. | Samson Doors offer high quality, maximum strength security grilles that are suitable for shopfronts, café's, restaurants, offices and more. They are available in stylish designs. |
| Retractable security grilles are the perfect deterrent to burglars thanks to the comprehensive manner of their construction. Strength with style, and a massive choice of colours for your home. | |


Security Window Shutter Terminology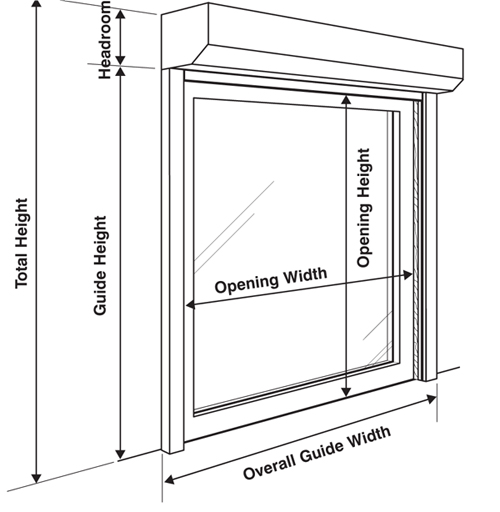 Retractable Security Grille Terminology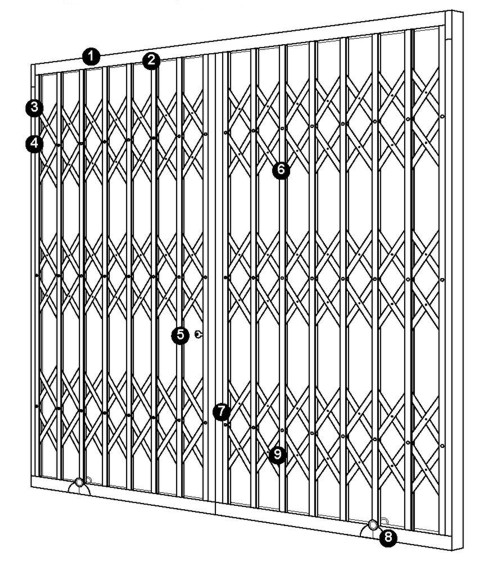 RETRACTABLE SECURITY GRILLE ARRANGEMENT

1 - Top hung on nylon coated steel bearings
2 - All high quality galvanised steel construction
3 - Powder coating finish in a range of colours
4 - Fits within or behind the reveal
5 - Multi-point locking from single key - 2 point
6 - Strong steel lattice with smooth durable finish
7 - Overlapped locking profiles
8 - Optional folding bottom track available
9 - Steel riveted lattice assembly system.