PRODUCT SEARCH

Security Steel Hinged Door Sets
The Sensible Addition to Domestic and Commercial Security
Steel door sets are more often seen in factories and warehouses due to the heightened need for security, but they do not necessarily have to look like factory doors. With a number of attractive styles and colours availble, these doors can be used in the home too. With more money being spent on front entrance doors for outside aesthetics and security, back doors, garage entrance doors and other building entrances may be neglected. With expensive equipment or storage space being used in garages as gyms or offices, it is important to keep these areas protected. With the fire proof system and security properties of a Steel Security Door, it is an investment against potential loss.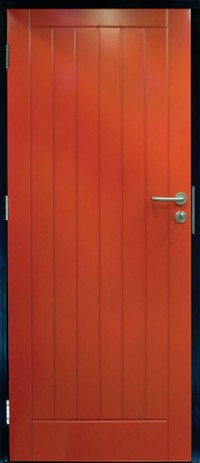 Door Construction
Most domestic situations have a single leaf door set, but taking a look at the security features of a quality double skinned (Insulated) Steel Securty Door set, it is made for those who have concerns for their home. A medium security insulated steel door with 42 - 48mm thickness consisting of a steel sheet skin of 1 - 1.5mm. The core material varies from a mineral wool to a resin impregnated honeycomb. The skins are either galvanised and primed finish with a power coat option (Highlight recommended for external use) or corrosion resistance zintec, primed as standard with a power coat option. The power coating can be produced to match any RAL colour, making blending with colour schemes of building exteriors easy.
Hinges, Handles, Locks
With high security hinges - a modified stainless steel dog bolt hinge should be fitted as opposed to a standard butt hinge. An optional sash locking mechanism where a latch and lever set the key locks in the handle set. Keys are supplied and will always be unique but can be cut from a master. You may feel happier if you specify a higher security cylinder whereby the key cannot be cut from a master but has to be ordered from the cylinder supplies.
Cheaper imported Steel Doorsets will commonly have very low grade door locking mechanisms in order to be able to be cheap. They may look impressive with multiple higher points of locking but these will probably not be very effective and if they do develop any fault, be prepared to replace the whole door as finding compatible replacement parts is likely impossible.
Frames and Fixings
Reassuringly, Steel Door sets are always supplied with a steel or aluminium fixing sub frame specific to the door. This makes sure that the frame has fitting plates that are welded onto the main frame work, providing additional strength around the fixing points which reduces the possibility of the frame being loosened from its fixings.

Thresholds
Normally supplied with door sets, however in some domestic situations there could be a danger that these are likely to become a trip factor. If they are omitted you would be required to have a draught strip attaching to the bottom of the door to prevent rain and wind ingress unless the door is totally internal.
Standard Sizes
The average standard maximum width of a single leaf could be anything up to 1290 wide and 2200 high - standard sizes will usually fit most doorways however special sized doors can be produced on demand. Many Steel Door sets we supply are made to order.
Security and Ventilation
A Louvred door is the ideal choice to those who may use a Steel Door set in a home office or kennel. Designed to provide ventilation, the Louvre door is not as high security as a full solid double skinned door, however the overall impact of an internal door can keep aiflow natural. A bird screen mesh may be fitted externally to prevent birds flying between louvres, other options include panic escape furniture and vision panels.
New Designs
A new range of profile Steel Door sets are available from Samson Doors, taking the security steel door away from a standard flat panel design with standard and bespoke designs that can be created for specific project applications.
All the security features can be incorporated into these steel doors to provide an excellent security door for garage side doors, outdoor barns and external buildings. The doors are a double skinned steel construction with rebated steel frame.