PRODUCT SEARCH

Retractable Security Grilles for doors and windows are becoming one of the most common forms of domestic home and commercial physical security in the UK. This increase is due to a number of reasons obviously including the unfortunate levels of crime and vandalism in the UK. The high levels of security offered by high quality steel security grilles and their unobtrusive yet stylish nature when both open and closed is reassuring.

A physical deterrent is always better than a burglar alarm which only sounds and alerts once a forced entry has been already made.
Stop the intruder from entering your premises in the first place!!
Despite the various other ways of being able to protect your windows, internal retractable security grilles are emerging as the popular choice alongside window and door security shutters and removable window bars.
Window and Door Security Roller Shutters appear to be one of the safest security product for windows, however their quality fluctuates terriblywhen working with a low budget and looking to save money. An additional inconvenience with security shutters is the fact that they come with a shutterbox that must be displayed on either the interior or exterior of the building; this can prove to be an additional pain when looking to retain the aesthetically pleasing look of your home. On top of that, they provide very little transparency even with the addition of window sections or punched/perforated slats so could leave rooms in darkness when closed. You can usually open a window with the security grille still closed and functional for security.

Security grilles are easy to operate, easy to maintain and also require little cleaning and ongoing maintenance
Buy Security Grilles Online Now
Retractable Security Grille Ranges Information

| | |
| --- | --- |
| | |
| The SeceuroGuard 1000 open | The SeceuroGuard 1000 closed |
Window Security Bars offer similar levels of visibility to Security Grilles however they take a lot longer to remove individually.

Window Bars are installed into a permanently fixed top and bottom rail system and require a key to unlock before individually removing each and every single bar - a highly laborious and arduous task when dealing with large windows!
With an Internal Security Window Grille and the smooth retractable operating system there is no need to install a large shutterbox to hide the frame when closed nor do they take long to close either. Security Grilles from Samson Doors can be manually retracted within seconds and tucked away discreetly, even using a hinge aside system with a folding lift up bottom track to give the best possible access when not in use.
A Security Grille Is A No Hassle Solution To Window Security!
Security Grilles for Windows require a simple installation. Installing a security grille can take as little as 45 minutes to fully install to compliant standards. When installing a security grille, they can be installed to either the face of the wall or inbetween the structural opening. When closed, the grille sashes retract to the side where they are neatly bunched and remain almost totally out of view, especially if curtains are fitted as they can retracte behind these.
The Security Grilles supplied by Samson Doors are constructed using strong galvanised steel which is then powder coated to give an attractive colour finish. Not only does this offer fantastic security but it is also attractive unlike many other domestic security products on the market. These are a product built to last and enhance your property. You have the choice of either an S or X lattice design with every Seceuroguard grille.
We supply the SeceuroGuard 1000 and SeceuroGuard 1001 'secured by design' security grille models.
Our Security Grilles are recognised for their stability, strength and security. Even more so with the SeceuroGuard 1001 - a product tested and approved by the independent body responsible for recommending products for their real security properties.
The Security Grilles supplied by Samson Doors are of the very highest quality and all made to order for an exact fit every time.
We recommend you either take some dimensions down by measuring the width and height of the door or window apertures and then either call us or go to our online shop for supplied prices based on 'up to' measurements. Direct line telephone: (01933) 274276
The plan view layout for a security grille is as shown below, either face fitted or reveal fitted:
Face Fitting a Security Grille



The lift up hinged bottom track is generally for doorways only and only when there is a level floor already and the tracking would cause a trip hazard.

Reveal Fitting a Security Grille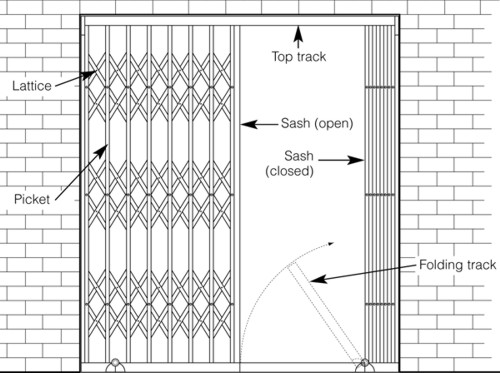 The lift up hinged folding track shown is optional in all cases and only really used on doorways where there is constant traffic and there is a level floor present before the installation of the grille. Obviously this is to avoid any trip hazard.

Whe installing inbetween an opening the size of the 'bunch' size is calculated as per the chart below: