PRODUCT SEARCH
Samson Online Shop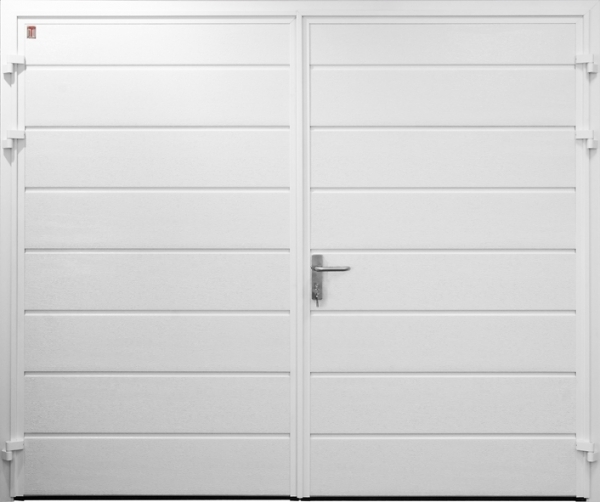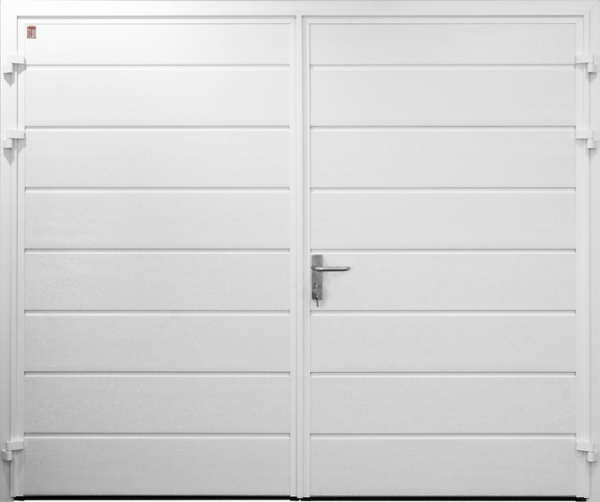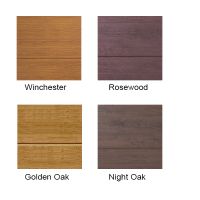 Alternatives to this product
Centre Ribbed Horizontal Smooth Wood Effect
Side Hinged Garage Doors
Material: Steel
Gear Type: Side Hinged


Web Price: £1,289.00
(Excluding VAT and £1,546.80 Inc. VAT)
Description

Specification

Installation

Warranty

Measure
Description
Ideal for creating the appearance of a timber door whilst retaining the low-maintenance of a steel door, the new wood effect Paint finish replaces the Laminate wood effect finish. The new Paint finish benefits from:
- Better wood grain effect
- Resistant to scratches and UV from long term exposure to strong sunlight.
- Matching frame, legs and header.
Please note: Laminate finish will be supplied until stocks deplete. For matching doors, to guarantee the same finish in both doors please notify our sales team.
The Carteck Side Hinged doors are built with 40mm thick interlocking panels that insulate and reduce sound transmission.
The Side Hinged doors are avaialble in either 50/50 split or Asymmetric split opening.

Ordering: The ordering dimensions refer to the OVERALL width and height of the door and sub fixing frame combined and the door is delivered with the frame factory fitted.
Please allow for any tolerances you require in the ordering dimensions and the doors will be manufactured to the exact dimensions specified.
Specification
Carteck door leaves are fabricated using 40mm thick insulated panels with an extruded aluminium perimeter frame and integral seals.
An EPDM black threshold seal is provided at the base. Each leaf is fitted with two or three (dependant on size) Dorma LM surface fixed hinges.
The door frame is a three side 53mm deep extruded aluminium profile with mitred corners and integral seals. An aluminium ramped low profile cill is also included.
Carteck side hinged drive through clearances.

Over frame less 75mm per side.

Height less 53mm for head.

Raised threshold = 16mm.
When ordering the measurements are based on maximum overall frame size.
Hardware
DIN standard CE marked European sash lock and a pair of stainless steel round bar lever handles on 50mm diameter roses. A Euro profile cylinder and thumb turn with stainless steel escuthcheons is included as standard (double cylinder, key both sides is available as an option if required). The inactive leaf is fitted with top and bottom recessed lever action flush bolts. A stay is fitted to each leaf to hold the door in the open position.
Door texture finish:
Smooth - Wood Design

Woodgrain Finishes available:

Golden Oak
Rosewood
Dark Oak
Night Oak
Winchester Woodgrain - available in laminate finish with Brown - RAL 8014 frame


The doors are supplied grey white embossed woodgrain on the inside (RAL 9002).
The inside face of the door panels are very easy to keep clean and have no unsightly bracing bars and locking mechanisms.
Fixing Sub Frame
All Carteck side hinged doors are factory fitted with a fully finished aluminium fixing sub frame to make installation easy and precise with tight tolerances where the door hinges and closes.
The doors are all made to order to ensure a perfect fit and maximise the width and height of your garage opening
The frame is finished in the same colour as the door panel colour chosen and in the case of the laminate woodgrain panels a complimentary RAL colour is used for the framework.
Lipped Threshold

For an improved weather protection a stepped aluminium threshold with a bulb weather strip is available as an optional extra. The door leaves close against the raised weather strip creating an improved barrier to dust and debris. The threshold includes a thermal break reducing heat transfer.
> High Quality Hinges - Aluminium hinges with secured hinge bolts to make it extremely difficult to lever open the door and are easily adjusted. 2 or 3 hinges are fitted to each leaf dependant on size.
> Stainless Steel Handles - High grade stainless steel handles and lock covers are tough and attractive.
> Double seals and mitred corners - In addition to the circumferential seal around the door leaf the door frame has a three sided seal for excellent draught reduction. Profiles are mitre jointed for a neat finish.
> Door stays - Protecting your door from slam closure on windy days these top grade, spring dampened stays hold the door securley in the open position.
> Flush bolt security - The inactive leaf is secured with flush bolts to the top and bottom of the leaf.

To view the window options available, please click here >
Warranty
5-year manufacturer's guarantee
> on castors, hinges, springs, cable castors and cables for normal use (opening/closing max. 5 times a day)
10-year manufacturer's guarantee

> on the panel against rust inside and outside
> on the steel splitting away from the foam
> on material and manufacturing faults of all immoveable frame parts, if it can be proved that they are inoperative or their use is impaired
> on floor seals, central seals, side seals and header seal against perishing
> on high-performance springs
Measure