Centre Ribbed Horizontal - Purpose Made Sizes up to 3188mm Wide
Side Hinged Garage Doors
4 Colour Options Smooth Wood Effect
Material: Steel


(Excluding VAT and £2,140.80 Inc. VAT)
(Excluding VAT and £
2,140.80
Inc. VAT)
NEED HELP?
Let us help you complete your order
Description

Application

Specification

Installation

Warranty

Measure

Videos
Description
All Carteck Side Hinged Doors are now manufactured with Concealed Hinges, come with 3-Part Threshold as standard and will have a new cylinder security door lock upgrade.

All wood effect finishes are currently on extended lead times due to material availability. Please enquire before making your purchase.

A beautiful and clean design of door with a choice of superb fully finished woodgrain effects. This insulated double skinned steel doorset is a real assett to your home and garage, offering durability and stability whoch also brings great levels of security and the benefits of insulated door leaves.
The Carteck Side Hinged doors are built with 40mm thick interlocking panels that insulate and reduce sound transmission.
These side hinged garage doors are made to measure as a standard, no cost offering
The Side Hinged doors are available in either 50/50 split or Asymmetric split opening.

The outer fixing sub frame is a box section aluminium construction and along with the rebated top and sides of the panels create a great seal against weather whilst providing enhanced security levels. The doors are all made to measure to the millimetre with the ordering size and prices derived from the overall width and height of the doors with the frame included.

The doors will be delivered with almost everything already factory fitted for the very easiest on site installation and removing the need to hang the door leaves separately to the sub frame. The door leaves have already been set up in the factory and all that is required is the sub frame is fixed to the building structure.

Side hinged garage doors still make the most sense for so many garages particularly where a vehicle is not being stored inside. The insulation and security offered by the Carteck doors makes the choice even easier to make. If you use your garage for a workshop, gym, playroom, office, etc these doors make sense and if you access the garage regularly on foot they also make perfect sense too.
Application
Domestic garage door or light commercial applications
Specification
Carteck insulated steel door leaves are fabricated using 40mm thick insulated panels with an extruded aluminium perimeter frame and integral seals.
The door frame is a three side 53mm deep extruded aluminium profile with mitred corners and integral seals. An aluminium ramped low profile cill is also included.
Carteck side hinged drive through clearances.

Over Frame Width less 75mm per side.
Overall Height less 70mm for head.

Raised threshold = 16mm.
When ordering the measurements are based on maximum overall frame size.
Hardware
DIN standard CE marked European sash lock and a pair of stainless steel round bar lever handles on 50mm diameter roses. A Euro profile cylinder and thumb turn with stainless steel escuthcheons is included as standard (double cylinder, key both sides is available as an option if required). The inactive leaf is fitted with top and bottom recessed lever action flush bolts. A stay is fitted to each leaf to hold the door in the open position.
Door texture finish:
Smooth - Wood Design

Woodgrain Finishes available:

Golden Oak
Rosewood
Night Oak
Winchester

The doors are supplied grey white embossed woodgrain on the inside (RAL 9002).
The inside face of the door panels are very easy to keep clean and have no unsightly bracing bars and locking mechanisms.
Fixing Sub Frame
All Carteck side hinged doors are factory fitted with a fully finished aluminium fixing sub frame to make installation easy and precise with tight tolerances where the door hinges and closes.
The doors are all made to order to ensure a perfect fit and maximise the width and height of your garage opening
The frame is finished in the same colour as the door panel colour chosen and in the case of the laminate woodgrain panels a complimentary RAL colour is used for the framework.
3-Part Threshold now standard on all Carteck Side Hinged Garage doors
Containing a new bulb seal this will help to improve weather seaing at the bottom of the door.
Being 3 part allows you to extend the end beyond the frame leg allowing a neater job and gives the option to line up with other, in-line, openings. Extended lengths are available upon request.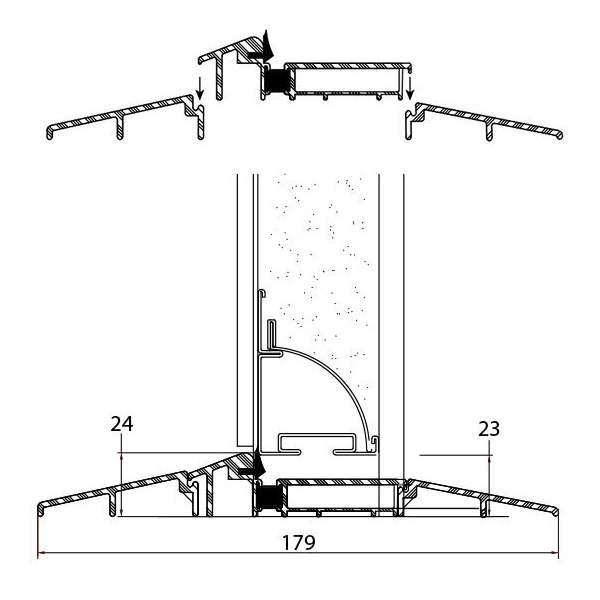 > Concealed Hinges - As part of their constant product development, Carteck have introduced Concealed Hinges to all Side Hinged doors, the benefits of this include:
- Easier trimming up process due to not having hinges at the edge of the door frame
- Only two hinges required per leaf, making adjustments faster and easier
- Improved sleek look
- No additional costs
- Improved security by removing the visible point of attack and making it harder to lever open the door.
> Door Lock Cylinder Security Upgrade - To make it cheaper and easier to obtain replacement keys Carteck have upgraded their locking system, keys can now be sourced from local key cutters rather than via Teckentrup. Additional benefits include:
- BS EN1303 Cylinder Security Grade 2
- Anti-drill and anti-pick design
- 3 keys as standard
- Break off system - designed to prevent the cylinder from being broken by including a 'sacrificial' section that is designed to break off in an attempt to break the cylinder is made, whilst leaving sufficient cylinder remaining to still operate the lock with a key.

> Stainless Steel Handles - High grade stainless steel handles and lock covers are tough and attractive.
> Double seals and mitred corners - In addition to the circumferential seal around the door leaf the door frame has a three sided seal for excellent draught reduction. Profiles are mitre jointed for a neat finish.
> Door stays - Protecting your door from slam closure on windy days these top grade, spring dampened stays hold the door securley in the open position.
> Flush bolt security - The inactive leaf is secured with flush bolts to the top and bottom of the leaf.

To view the window options available, please click here >
Installation
Installation details provided with the door.

The door is delivered with the frame, hinges and all major components factory fitted, ready for easy on-site installation.
Warranty
5 Point Guarantee
The warranty periods below only apply to products that have been correctly installed as per the instructions, maintained by a Garage Door Specialist and operated and cleaned in accordance with the requirements set out in the operating and maintenance sections of instructions and labels.
2-year manufacturer's guarantee
On window units, hinges, locks, handles and stays (opening/closing max. 5 times a day
10-year manufacturer's guarantee
On panels against rust penetration from inside to outside
Against door panel separation of steel from foam
On material and manufacturing flaws of all non-moving parts of the frame that are verifiably unusable or whose usability is substantially compromised
On floor seal, intermediate seals and frame seals against rotting.
The guarantee does not apply to doors which are subjected to extreme conditions, e.g. corrosive influences resulting from use in a coastal climate with high salt content.
Measure
Ordering: The ordering dimensions refer to the OVERALL width and height of the door and sub fixing frame combined and the door is delivered with the frame factory fitted.
Please allow for any tolerances you require in the ordering dimensions and the doors will be manufactured to the exact dimensions specified.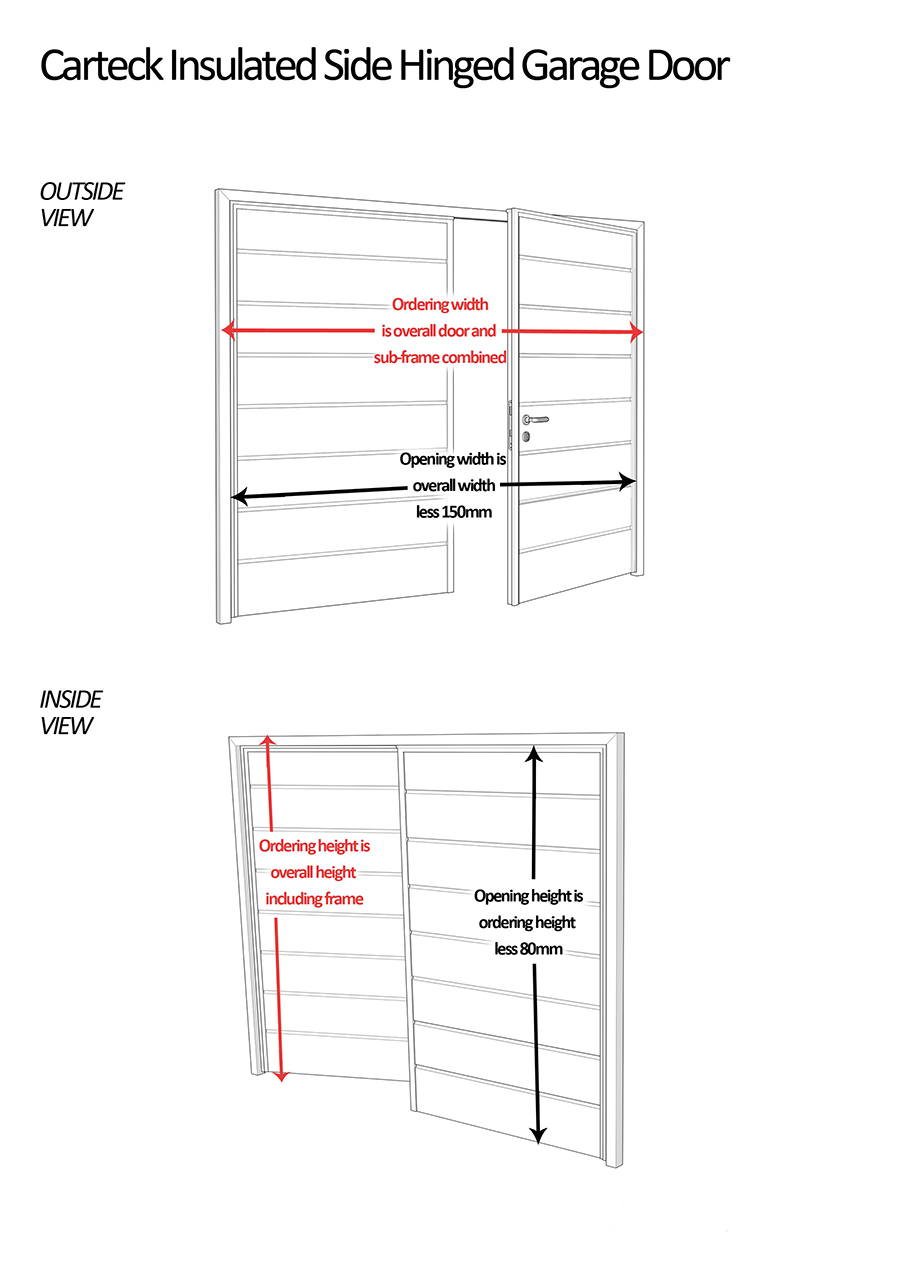 Try some of our best sellers