PRODUCT SEARCH
Samson Online Shop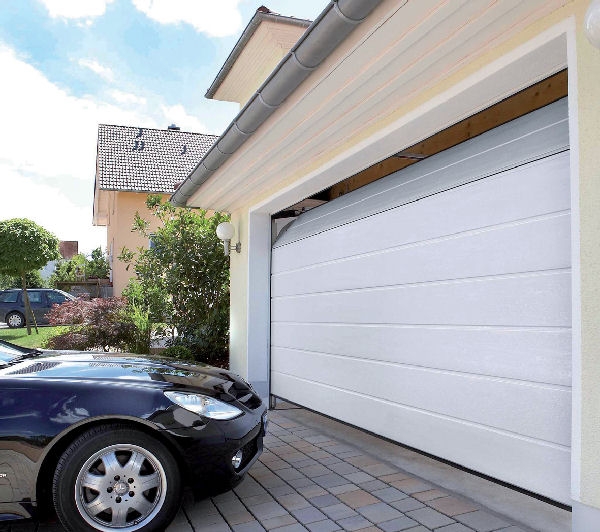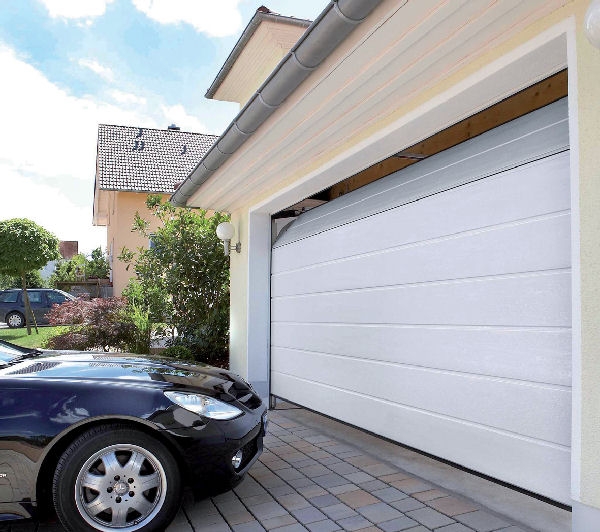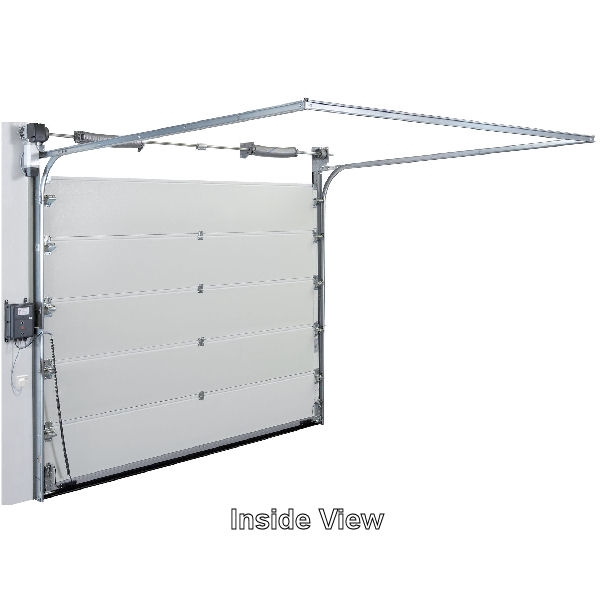 Background Information about this Product
Super Size Centre Ribbed White
Sectional Garage Doors
Material: Steel
Gear Type: Sectional


Web Price: £4,222.00
(Excluding VAT and £5,066.40 Inc. VAT)
Description

Specification

Installation

Warranty
Description
Space Saving - Carteck Sectional Doors increase drivethrough width, and allow you to park right up to the front of your garage.
Design Options - Choose from a range of hard-wearing colours, and have the frame colour-matched. Add easily installed cover plates to surrounding masonry for a perfect finish.
Weather protection - At 40mm thick, each door panel is filled with thermal insulation foam. Weather seals protect the outer edge of the entire door, as well as between each individual panel.
Robust - Outer panel layer comprises 8 individual layers for water sealing, corrosion resistance and stability. Frames are galvanised for corrosion resistance. Separator elements keep the frame off the ground so it remains aerated and dry.
Safe & Secure - Carteck electric drives prevent doors from being forced open. Durable rattle-free plastic wheels and a high quality motor provide quiet operation. Finger pinch protection is built into the panel design. Springs balance door weight from within enclosed chambers. Additional Light barrier is optional.
The Carteck Super Size doors start above 5.5m (18'0") wide and reach 8.0m (26'3") wide in a single span.
The Super Size Sectional Doors are all are power operated by a remote control motor.

The difference between the Super Size doors and the 'normal size' doors is the weight and at these sizes safe operation is paramount. Consequently the doors have up-rated fittings for all load bearing elements and the lifting mechanism is motor driven with torsion spring assistance. A monitored safety edge ensures the door stops and reverses should it encounter an obstruction.
Specification
The Carteck Super Size Sectional doors have solid 40mm thick panels which are strong, rigid and provide excellent thermal and acoustic performance.
Intermediate strips create a thermal barrier that is very effective in reducing heat transmission saving on the energy needed to maintain a pleasant ambient temperature inside the garage.

> N or NSH operating gear only available (NSH up to 7830mm only).

> Other sizes are available on request, please call for more information.

> Approx 6 week delivery.

The Carteck Sectional Super Size Doors have the highest level of safety features and a single phase electric motor of the highest quality.

Safety Edge Mechanism
Doors are factory fitted with a safety edge mechanism which stops the door if it
comes into contact with an obstacle.
Direct Drive
Big doors need power and the direct drive motors are definitely up to the job!
Intelligent control ensures safe operation at all times.
Side Protection
A lateral guard prevents a hand from being accidentally caught between the frame
and the runner rail.
Finger pinch protection
outside/inside
Patented finger pinch protection for outside andinside of the door.
Weather Strips
The door is also has a weather strip at the sides, top and also between the
individual sections across the entire width.
Floor Seal
A rot-proof bottom weather strip made of elastic EPDM rubber profile sits against the floor and will compensate for minor variations in floor level to provide an improved barrier to debris and draughts.

To view the Carteck Super Size Sectional Doors brochure, please click here PDF >
Warranty
2-year manufacturer's guarantee
> all our supersized sectional doors have a 2 year guarantee against mechanical defects

10-year manufacturer's guarantee
> on the panel against rust inside and outside
> on the steel splitting away from the foam
> on material and manufacturing faults of all immoveable frame parts, if it can be proved that they are inoperative or their use is impaired
> on floor seals, central seals, side seals and header seal against perishing

Coastal applications
The guarantee does not apply to doors which are subjected to extreme conditions, e.g. corrosive influences resulting from use in a coastal climate with high salt content.
Dark colours
Please Note: Where doors are exposed to direct sunlight, dark colours should be avoided. Dark coloured doors may undergo expansion due to heat absorption and this can affect the doors performance whilst in an expanded state. Such instances are not covered by the guarantee, however normal performance will return when the door has cooled.