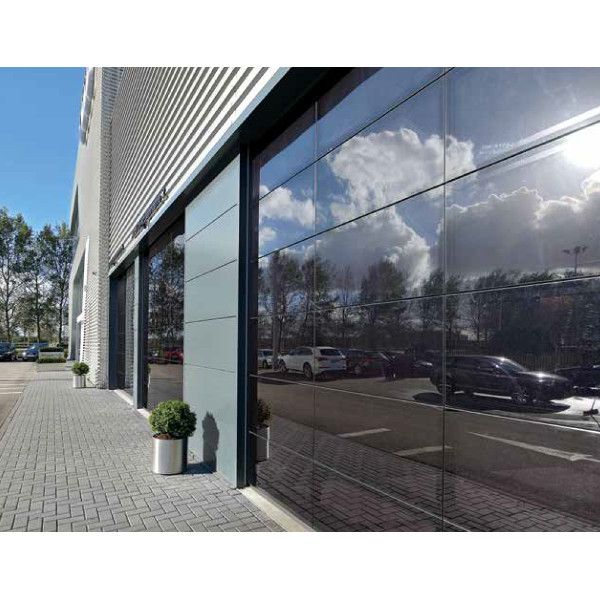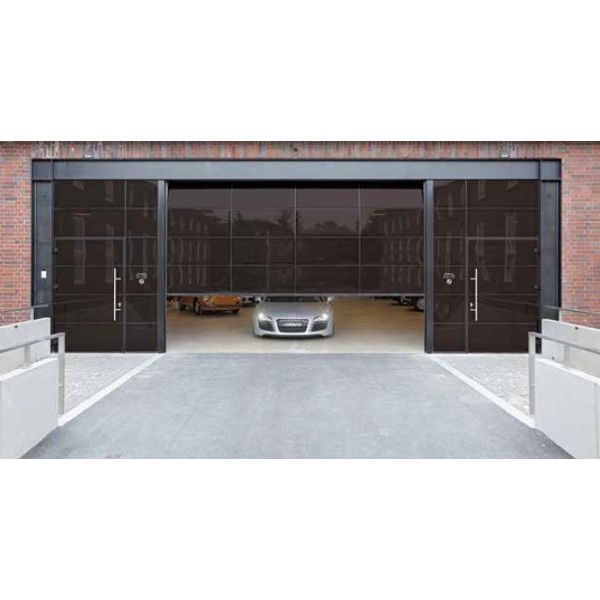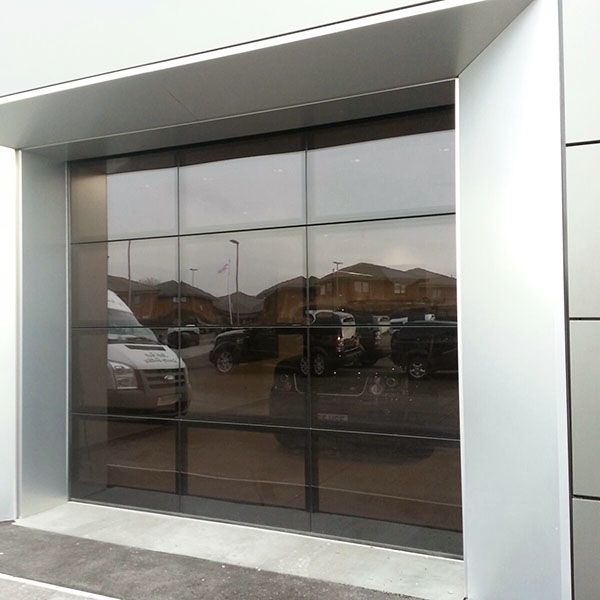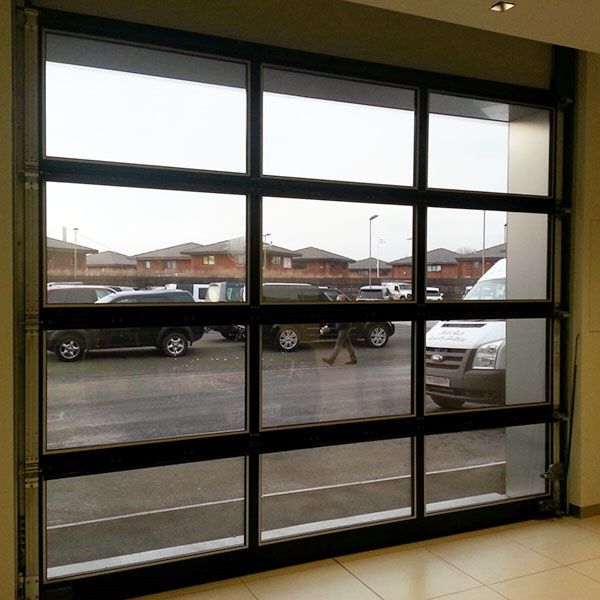 ALR F42 Vitraplan
Sectional Doors - Industrial
Glass Sectional Door
Material: Aluminium


For demanding building architecture
The ALR F42 Vitraplan door is a highly exclusive version of the ALR F42 door with wide glazing areas. The door is especially elegant thanks to offset, flush-fitting glazing. The frame profile is concealed, so nothing detracts from the clear overall appearance. Continuous glazing adds an eye-catching element to modern industrial structures and prestigious private buildings. Hörmann's proven finger trap protection for industrial sectional doors is also included in ALR F42 Vitraplan doors.
Two colours to choose from
The ALR F42 Vitraplan can be optimally integrated in the facade with glazings in brown and grey, as well as a dark frame profile colour that harmonises with the glass. This exclusive door fascinates with a mix of mirroring and transparency.

Door Size: Max. width 6000mm
Door Size: Max. height 7500mm

Thermal insulation EN 13241-1, Appendix B EN 12428
U-value in W/(m².K) for a door surface 5000 x 5000mm

Standard double pane = 3.2
With ThermoFrame = 3.2

Optional triple pane = 3.1
With ThermoFrame = 3.1
For more information view the Hormann Industrial Sectional Doors Brochure.
NEED HELP?
Let us help you complete your order
Specification
Performance Characteristics According to EN 13241-1
Construction and quality features
ALR F42
Vitraplan
ALR F42
Glazing
Resistance to wind load EN 12424
Door without wicket door, class
3 6)
3 6)
Door with wicket door, LZ ≤ 4000, class
–
–
Door with wicket door, LZ > 4000, class
–
–
Door with wicket door, LZ ≤ 8000, class
–
–
Door with wicket door, LZ > 8000, class
–
–
Water tightness EN 12425
Door without wicket door, class
3 (70 Pa)
3 (70 Pa)
Air permeability EN 12426
Door without wicket door, class
2 8)
2 8)
Door with wicket door, class
–
–
Acoustic insulation EN 717-1
Door without wicket door Rw = . . . dB
23
30 1)
Door with wicket door Rw = . . . dB
–
–
Thermal insulation value
EN 13241-1, appendix B EN 12428
Door without wicket door, U = W/(m2·K) 2)
3.2 (3.4 4))
6.1 (6.1 4))
– Optional triple glazing, U = W/(m2·K) 2)
3.0 (2.9 4))
–
– Optional quadruple glazing, U = W/(m2·K) 2)
–
–
– Optional climatic double panes (made of single-pane safety glass) U = W/(m2·K) 2)
–
2.7 (2.6 4))
– Optional double panes (made of single-pane safety glass) U = W/(m2·K) 2)
–
3.8 (3.8 4))
Door with wicket door, U = W/(m2·K) 2)
–
–
– Optional triple glazing, U = W/(m2·K) 2)
–
–
– Optional quadruple glazing, U = W/(m2·K) 2)
–
–
– Section, U = W/(m2·K)
–
–
Design
Self-supporting
●
●
Depth, mm
42
67
Door sizes
Max. width mm, LZ
6000
5500
Max. height mm, RM 3)
7500
4000
Material, door leaf
Steel, double-skinned, 42 mm
–
–
Steel, double-skinned, 67 mm
–
–
Aluminium, standard profile
●
●
Aluminium, profile with thermal break
–
–
Surface, door leaf
Galvanized steel, coated RAL 9002
–
–
Galvanized steel, coated RAL 9006
–
–
Galvanized steel, coated RAL to choose
–
–
Anodised aluminium E6 / C0 (previously E6 / EV 1)
●
●
Aluminium coated in RAL to choose
○
○
Wicket door
–
–
Side Door
Matching the door
○
–
Glazings
Type A section window
–
–
Type D section window
–
–
Type E section windows
–
–
Aluminium glazing frame
●
●
Seals
All-round on 4 sides
●
●
Intermediate seal between the door sections
●
●
ThermoFrame
PVC hard / soft seal
○
○
Locking systems
Internal latches
●
●
Outside / inside locking
–
–
Anti-lift kit
For doors of up to 5 m with shaft operator
●
●
Safety equipment
Finger trap protection
●
●
Side trap guards
●
●
Spring break safeguard for manual operation
●
●
Safety catch for doors with shaft operator
●
●
● = Standard
* With glazing VG, E2 and G2
○ = Optional
** Top door section
1) With optional double pane (single-pane safety glass)
4) Optionally with Thermoframe
7) Class 2 = 0.45 kN/ m2 or 96 km/h
2) For a door surface of 5000 × 5000 mm
5) Door width up to 5500 mm
8) Class 2 = 12 m3/m2h
3) Door height above 7000 mm on request (not with
door type ALR F42 Glazing)
6) Class 3 = 0.7 kN/ m2 or 120 km/h
9) Class 1 = 24 m3/m2h
Try some of our best sellers