Shop Categories

Products Overview

Services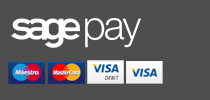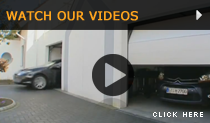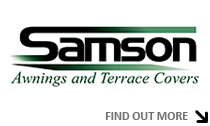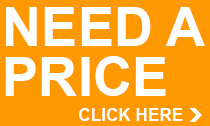 PRODUCT SEARCH
There are many choices of industrial and commercial door types to choose from, and the various options can be a little over whelming at first. So we created this page with the sole purpose of making that choice easier, by explaining the options and their uses.
Quite often there is also confusion over the door type and door action when operating which can restrict the options considered in a renovation or new build project.
Roller Shutter Doors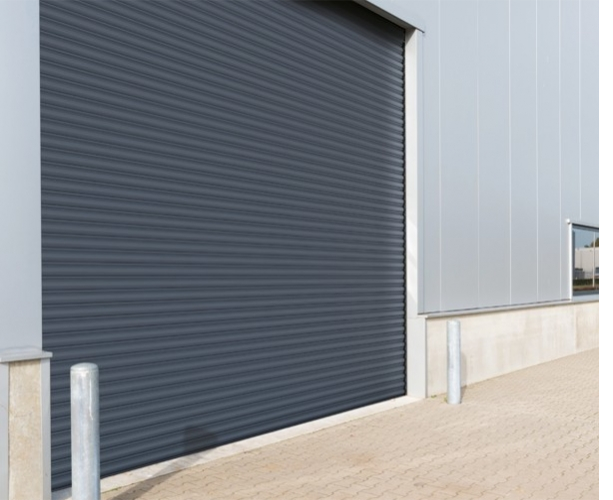 Perhaps the oldest and most well known kind of shutter door. A roller shutter door is a door made up from individual horizontal slats that roll up and down around a steel barrel at the top of the door opening. The slats are held and guided in side channels running either side vertically. This is an efficient door in maximising internal space but limited in its ability to offer higher specifications in areas such as thermal or acoustic insulation. Roller doors are manufactured in single skin steel and aluminium slats as well as double skinned slats with a foam core infill offering a stronger curtain and some levels of insulation.
There are many different roller door types and specifications which are specified depending on the requirement and size usually. Most typical uses are in warehouses, farm buildings, factories, most commercial premises in unheated spaces, etc. A roller shutter is perhaps not ideal these days for high usage operation as there are far more options available with less maintenance requirements over time.

---
Security Roller Grilles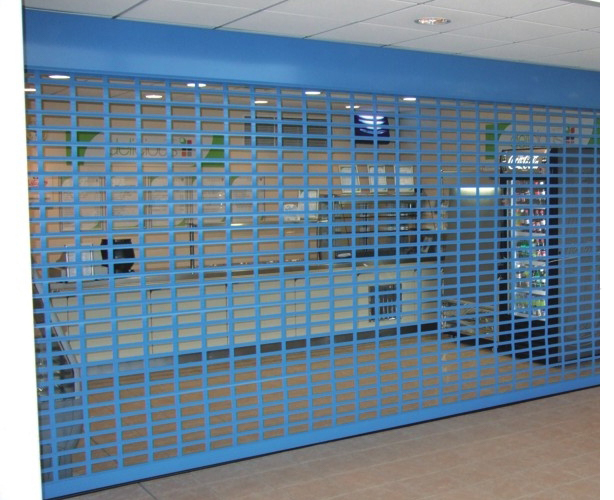 A roller grille is a roller shutter door with a curtain which either has pushed hole sections in each slat used or a tube and link construction and the purpose is for maximum ventilation and vision when the curtain is down and closed. Typical uses are for large shop front shutter security, car parks and other underground spaces or multi user buildings where vehicles are accessing.
The curtains are either steel or aluminium construction depending on size and/or specification.
Extra safety devices are usually required on rolling grilles as they have more entrapment potential because of the open design of the curtain.

---
Sectional Overhead Doors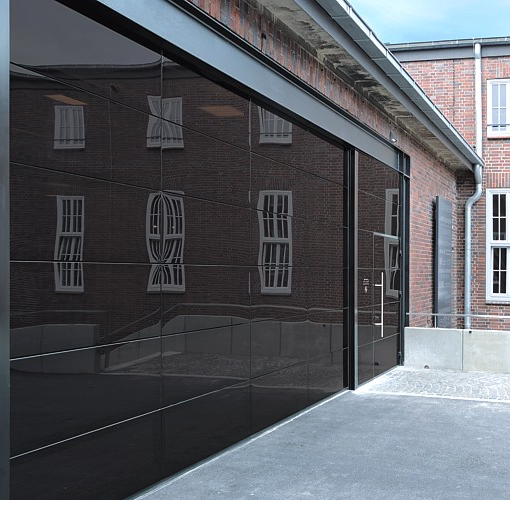 One of the most efficient types of industrial doors for thermal insulation and also available in very large sizes without any compromise in panel strength and integrity. A standard sectional door is manufactured from double skinned steel panels with a foam core sandwich, usually a minimum of 40mm thick and anything up to 100mm thick where high levels of insulation are required such as in cold storage buildings, etc..
A sectional door uses several solid and quite large horizontally stacked panels which slide upwards, curve around a radius and then slide horizontally along until fully opened.
The tracks the panel rollers slide within can be altered in the radius and even go right around to be a straight vertical operation if the internal headroom is sufficient, Sectional doors can be very space efficient by following the roof line of the building or using 'high lift' tracks where the door raises up until just before the roof height and then turn to go inwards.
There are many variations on the types of panels used in sectional doors with larger levels of glazing options right up to an almost fully glazed door design used for showrooms and the like.

---
Folding and Sliding Doors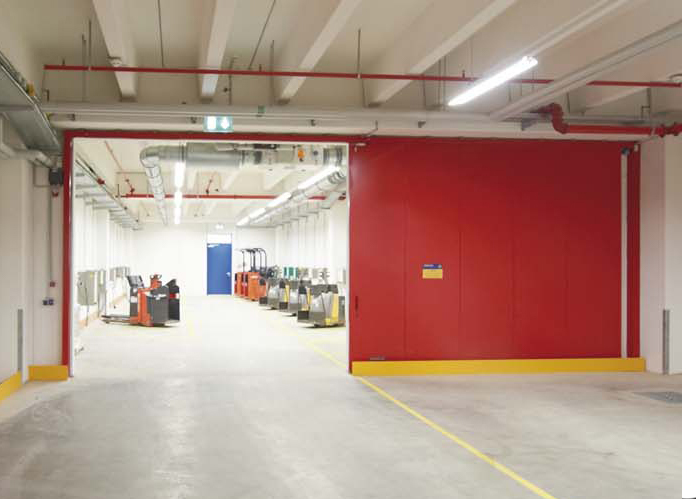 One of the simplest and easiest doors to maintain, a sliding door is a great way to maximise internal space in a building and great for very large apertures with pedestrian access using either a wicket door or partial opening when required. A sliding door is often fitted externally but can be internally fitted. Fitted outside, it has no impact on the internal space.
Straight sliding doors usually have a steel straight top track with wheels rolling inside for sliding doors up to a certain size, after which bottom rollers will be specified. Some of the largest straight sliding doors can be operated manually with a simple push or pull of the door lanes but of course and sliding door can be automated as well. Most sliding door panels are of a similar construction to sectional door panels, 40mm or thicker using twin wall steel sections with a foam core. Windows and wicket pedestrian doors are the 2 main options offered and used.

---
Steel Doorsets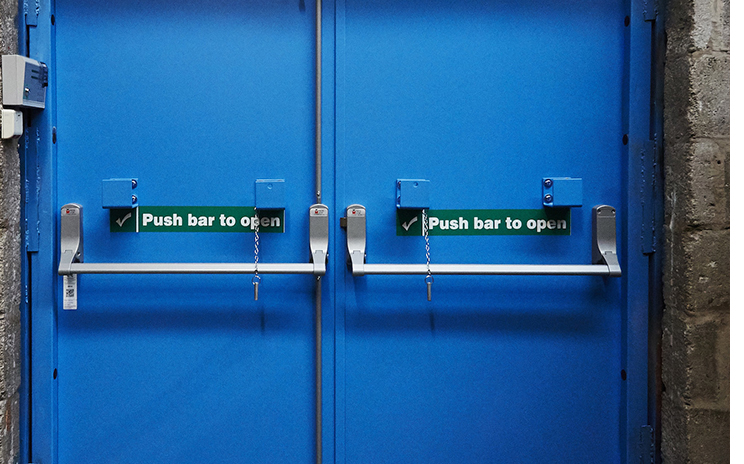 As opposed to buying a door panel in the UK and then sourcing the fixing frame that surrounds it separately a 'doorset' is a door panel AND steel fixing frame which is factory assembled or at least in a kit form to ensure continuity in performance and certification.
Steel doorsets can be either a single hinged leaf or a double leaf for larger openings.
The purpose of the door set in its application will determine the specification for the panel integrity and furniture used to comply with the requirements. Most steel doorsets are used for fire, security, acoustic and fire exit purposes but the specifications can take them to far more specialised industries to include stainless steel panels for food hygiene or ballistic proof ratings as well as many others.

---
Fire Protection Doors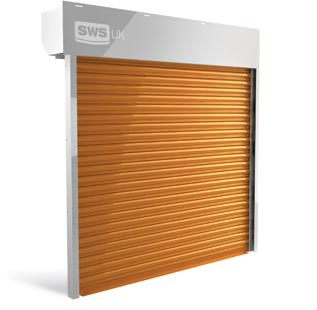 Any door type which has been tested and certified to be able to prevent the spread of fire in a building, These are typically hinged doors and roller shutters but we also provide fire sliding doors as a solution and a good one too. These types of doors and shutters are the perfect solution where fire protection is needed alongside security.
These have a wide range of uses, from blocks of flats and apartments where fires can easily spread, to factories where machinery and equipment can cause fire hazards.
Typically there are 30, 60, 90 or even 120 minute ratings available as well a standard now for providing a smoke barrier in a fire.

---