Hormann ET500 – An engineering masterpiece.
How can you design and build a timber garage door to be different or even to blend in with the surroundings of a building and yet ensure you have all the security, convenience of automation, reliability and full compliance with all safety regulations regarding remote control electric garage doors?
Take a look at the Hormann ET500, a one piece garage door available as a steel garage door with options in panel designs or also as a complete chassis designed for the creation of almost any timber door with very high weight tolerances enabling the use of dense hardwood timbers or other materials that simply would not be possible using ordinary garage door operating mechanisms.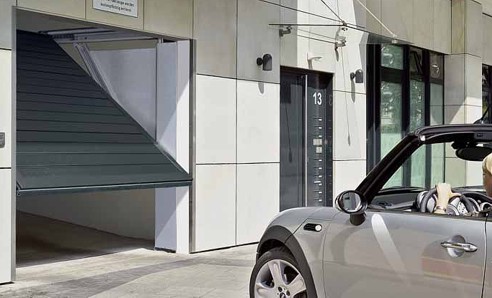 The Hormann ET500 garage door was designed originally for multi user, high volume traffic door operations in car parks and similar applications and this is why it was built so sturdy in the first place.
It is a commercial specification up and over one piece garage door that can be used for many applications where security, large sizes and maybe high useage is required above and beyond the capabilities of all normal domestic up and over door mechanisms.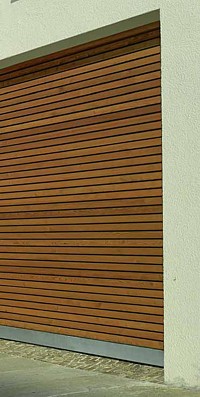 The Hormann ET500 is always electrically operated as standard using the Hormann Supramatic H heavy duty electric opener or the ITO400 for commercial type and very large applications and both have various access controls available depending on the specific requirements from the application.
Items such as basic remote control or key switches through to digital keypads and biometric finger readers are all possible and very well priced with this door.

The ET500 is an beautifully quiet and smooth garage door with counterweight balance technology to reduce stress on all major moving parts. The door panel is mainly constructed from galvanised steel or aluminium and has a sturdy steel sub fixing frame as a standard feature with the main door panel fitted with rubber seals all round for maximum weather protection and anti finger trap protection in all necessary parts. The door mechanism is sturdy and precise in its operation and the strength enables sizes up to 6000mm wide and 2500mm high.

The door panel also has the option available of a built in pedestrian access door, again very uselful in large sizes if required.
For projects requiring excellent engineering and a smooth, sturdy, long lasting mechanism in a garage door that is purpose made to your requirements then take a look at the Hormann ET500.

Advantages at a glance
• Smooth, very quiet door travel
• Tested combination of door and door operator for low operator wear, a long service life, high operational safety and low operating costs
• Door construction designed for at least 250,000door cycles
• Low required headroom, ideal for tight spaces. An optional subframe is available for fitting situations without lintel and sideroom.
• Galvanised, powder-coated door leaf in RAL 9006, other RAL colours on request
• Minimum swivelling out of door leaf
• Double cables and counter weight technology for safety, low wear, and permanent reliability of door action
• Synthetic rollers with ball bearing
• Also available with wicket door and side door

Call Samson Doors now for the latest information and prices for the various options.
(0800) 328 6250