These doors are made to provide a fast, safe and reliabe solution for industrial and commerical application. Due to their unique features and cutting edge technology, they are preferred option for businesses of all sizes.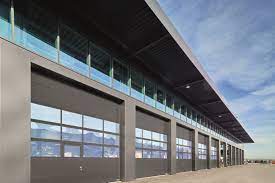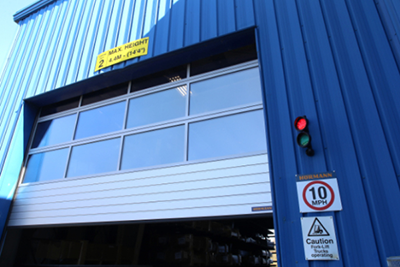 In this articles, Samson Doors will explore 4 benefits and features of the Hormann Series 69 High Speed Industrial Sectional Door. We will explain how it works, its durability and design, as well as its security features. Additionally, we will discuss the various application of the door and the industries that can benefit from it.

In order to highlight just how fast the Series 60 is, Hormann has released a speed test video that clearly show the new door's greater when compared directly with eariler model of the door.
1. What makes it exceptional in design?
In addition to the Series 60 doo's superior opening speed, enhanced track radii and larger rollers make the door up to 5 dB(A) quieter and more stable, which results in less wear and a smoother door movement. Reduced components and the availability of press-fitted screws make installation and maintenance simple, and transition sleeves allow for perfect tracking and radius fitting. When it was delivered to commercial business, it was pre -set with the most favourable speed, however, it is easily adjustable, and the speed can be changed to meet specific operational requirements.
2. How secure it is?
Anti-lift kits are installed on both sides of the bottom of the door, working as a standard security measures; and extra RC2 security measures are offered in accordance with DIN/TS 18194 for ever more protection. You are also worry free if an obstacle arises while the door is closing, thanks to the addition of an in-line light grill that automatically pauses.
3. Is it a smooth travel when operated?
Yes, it is. The brand new WA 500FU operator has guaranteed constrant travel speed for both high lif and vertical track applications, as well as soft start and soft stop for gentle, smooth door travel operation.
4. How convenient it is?
The Series 60 door comes with a cutting edge Bluetooth app, which easily set up and active. You could access via a mobile phone or tablet, which offers users with ease in fault detection and diagnostic information!
From a small shop to large warehouse site, the Hormann Series 60 meets any business requirements. Phil Thorpe, Industrial DIvison Manager at Hormann UK comments, ''We are all excited about the opportunities the new Series 60 sectional offers the industrial door market. It can provide the opening speed normally associated with a sprial door, combined with the inherent qualities of a sectional door - all at a competitve price point. Obviously seeing is believing, so our short speed test film has been produced to illsutrate the fast opening speed in an informative and fun manner.''
Whether you are a business owner, an architect or a contractor, we hope that this article will provide you with valuable insights into the Hormann Series 60 High Speed Industrail Sectional Door. Contact us today if you have any questions!