In addition to the industrial SeceuroDoor 75 roller shutter, SWS now have two further additions of this door available with added security features.
The SeceuroDoor 7502 is the newest addition to this range, becoming available this summer after its predecessor, the SeceuroDoor 7501. These two doors are as a result of thorough research and testing in alignment with the standards of the LPCB (Loss Prevention Certification Board); the 7501 consequently achieving the Security Rating Level 1, and the 7502 Level 2.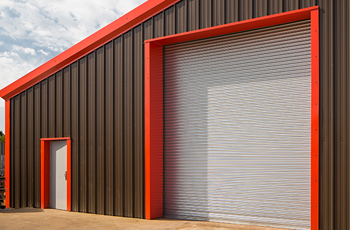 The industrial roller shutter has also been certified with the Secured by Deign accreditation, an initiative supported by the UK Police in order to protect against crime by testing products for security.
With both the Secured by Design and LPCB accreditations, as well as the constant commitment to design and manufacture quality security products by SWS, the SeceuroDoor 7502 has a distinctive level of burglary resistance.
The SeceuroDoor 7502 remains to perform to a high standard and with ease of operation like every SWS product, despite its new and re-enforced features, including:
- - 18-gauge steel
- - Windlocks
- - Wind guides
- - Internal bullet locks
- - Strong, single skin galvanised steel profile
- - Widths available up to 7000mm
How are the doors tested?
The LPCB asseses doors by carrying out a series of tests by using various specified tools within a certain number of minutes; products are able to achieve higher SR levels as a result of resisting against increasingly advanced tools and devices.
These tests and ratings allow one to identify the level of security and burglar resistance that a product may have. Once this is established, a decision can be made based on the product's ability to resist against potential intruders in alignment with the risk of security of the specific application.
Contact Us
If you're interested in the SeceuroDoor 7502, or any industrial roller shutter, our dedicated team will be happy to help.
Simply give us a call on 01933 274276 or e-mail us via enquiries@samsondoors.co.uk