H3530 High Speed, Vertical Operation Door
Please note: This doors are no longer available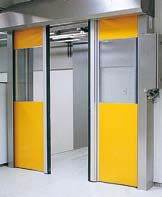 Did you know what Samson Doors offers a fast action horizontal (internal use only) high speed door?
The H3530 model is a door which is manufactured in a variety of materials such as aluminium or stainless steel. The system, which is designed for openings up to 3500mm wide and 3500mm high have been specifically evolved around the standards present within the food industry.
The H3530 is specifically only to be used for internal applications. The function of the system means that the door panels effectively open to the sides and immediately ensures the full passage height available, something which many other door models suffer with. This enables fast traffic flow and increases safety throughout its application, specifically, and above all, for personnel traffic.
Despite the fast opening speed of 3 m/sec, the soft start and stop are offered by the frequency converter control, which helps reduce the door component wear and increase longevity and use.
Further benefits with side opening doors include 2 opening widths that can be programmed for personnel and vehicles. With safety in mind, when the H3530 is presented with the event of a malfunction, the door can quickly be opened with a hand pulley or automatically during a power failure by using an operating current brake, which is an additional addon.
For further information, please contact the Samson Doors team.