Shop Categories

Products Overview

Services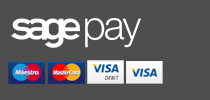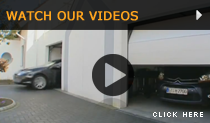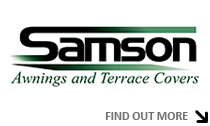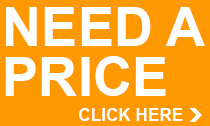 PRODUCT SEARCH
Return to Industrial Roller Shutter Doors

Gliderol Industrial Roller Shutter Door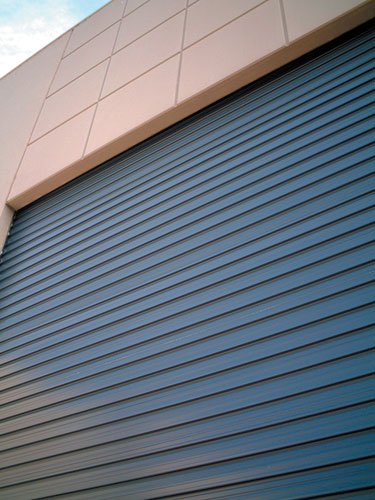 The Gliderol Industrial Rol-a-Door is a continuous sheet steel curtain roller shutter door. It is a stylish, characteristic addition to any commercial/industrial opening and is designed to provide reliable service for years to come.
The Gliderol Industrial Roller Shutter Door will provide provide you with strength and safety as a priority at all times. The strength gained from the unique broadline profile and aluminium bottom profile is unrivalled. It is not a door however for exposed and high wind areas at larger sizes and attention should be payed to the right type of roller door in these environments.
Designed as a roller shutter for both Industrial and Commercial premises, security must be taken into account. The security offered by the Gliderol Rol-a-Door means that security is guaranteed for many years, particularly when the windlock guide system is used
A Gliderol Roller Door will always remain a very safe roller shutter for you to operate throughout its lifespan. The unique spring assted spindle assembly will enable the Rol-a-Door to always open and close easily proving reliable performance at all times.
Gliderol are well established manufacturers in the residential garage door market and have many years experience in offering efficient and secure roller shutter products.
The size of these large roller shutters is available up to a maximum width of 16'4" and a maximum height of 16'0".
Available in 13 standard colours, the Gliderol Rol-a-Door is able to be plastisol-coated in a variety of colours to matching your structure or company colours accordingly. We also provide 3 laminate wood-effect colours in Golden Oak, Rosewood and Mahogany Woodgrain colours. These are available at a surcharge however they create a very distinguished, natural effect.
In terms of technical excellence and its distinguished design, the Gliderol Industrial Roller Shutter Door is incomparable to anything in the current manufacturing industry.
Gliderol Industrial Roller Shutter Features
1) ROLLER DOOR CURTAIN
Weather-resistant, durable and able to withstand the harshest Industrial demands. The curtain provides Industrial strength and quality in design to enhance the overall appearance.
2) SPRING ASSISTANCE
The Gliderol Industrial Roller Shutter Door is precisely balanced by its spring assisted mechanism allowing the user efficient, easy operation. A fine balance between the weight of the curtain and the upward pull of the springs is maintained regardless of the position of your door.
3) DRUM WHEEL
Gliderol was the first to employ the use of engineering plastics in the manufacture of the effective drum wheel. This nylon drum wheel has been developed and enhanced over time into a hard-wearing high performance component.
4) POLYGLIDE™
Revolutionary new material developed by Gliderol specifically for this Industrial Roller Shutter. PolyGlide™ allows effortless operation with minimum noise and friction. It was tested for over 22,000 cycles in continuous use - the equivalent of 21 years service, based on three cycles per day.
5) WEATHER SEAL
Durable weather seal prevents any undesirable material entering your garage from the outside when the Gliderol Roller Door is closed.
6) BOTTOM RAIL
Constructed using aluminium, this bottom rail has been design specifically to reinforce this Industrial door against intruder penetration. Lockseamed to the roller door curtain, the bottom rail will provide sustained security and strength.
7) DOOR STOP/ROLLER
Specially designed to reduce friction and to assist in easing operation when opening and closing your Gliderol Industrial Roller Shutter.
8) DIRECT CHAIN WHEEL
Constructed using glass reinforced nylon, the direct chain wheel provides the user with smooth efficient lifting assistance.
9) CHAIN GUIDE
Prevents the chain from slipping or releasing from the chain wheel ensuring safety is maintained at all times.
Gliderol Industrial Roller Shutter Colours
Colours are important in branding your business and colour coding your buildings appropriately. Gliderol have offered a varied selection of standard colours to meet your needs. All roller shutters are coated in a plastisol finish. Laminate finishes are available at a surcharge.
Standard Colours

White

Vandyke Brown

Mushroom

Terracotta

Olive Green

Black

Juniper Green

Burgundy

Navy Blue

Honesty

Goosewing Grey

Merlin Grey

Ocean Blue

Laminate Finishes

Golden Oak

Rosewood

Mahogany Woodgrain
Gliderol Industrial Roller Shutter Electric Operation
The Gliderol Rol-a-Door is fitted with manual operation with standard however upgrades are available to either the Glidermatic Dual Motor system or the IGDU Heavy Industrial Motor.
The Glidermatic Dual Motor system covers most of the Rol-a-Door size range however it cannot provide electric operation for some of the larger sizes. It comes complete with 2 handsets for easy use.
The IGDU Heavy Industrial Motor is ideal for all Industrial sites which would use the roller shutter regularly (5 times or more a day). The IGDU is not supplied with handheld remote controls and is instead included with a deadman control box, low level release as standard and a manual chain hoist.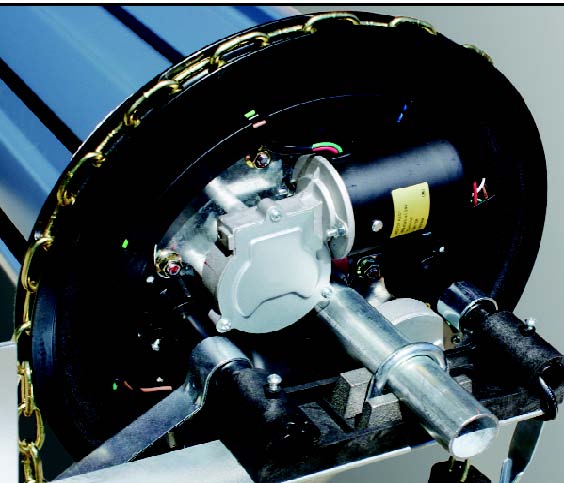 Side View of IGDU drive unit installed on an Industrial Roller Door showing 24 volts DC motors, anti-slip chain guide and chain.
Also shown is the anchor block assembly attached to wall bracket with dual anchor pins into the drive housing.

Features:
• Twin 24 Volts DC motor operation and service alert feature.
• Fully insulated control box with three button switch mounted on control box to independently control
up, down and stop operations of the door.
• Built-in safety overload protection, delayed closing feature.
• Suits a wide range of commercial and industrial doors.
• Terminals for additional safety devices like photo cells and edge cell available.
• Minimal field installation is required for the control box which is wall mounted at close proximity to door.

Options:
• Simple remote control upgrade (with receiver, PE beam and 2 handsets).
• Photo electric safety beams are available.
• Wide range of accessory options readily available.

Normal Operating
Position

Manual Operation
Position

IGDU Control Box

Front view of IGDU control box with inbuilt three button switch to independently control up, down and stop operation of the roller door.


Emergency Chain Hoist

The IGDU unit can be easily put into manual operation in the event of power failure by simply pushing the manual override handle tomanual position located at convenient waist high above the floor without having to climb a ladder to reach the operator. The unit can be put back to automatic operation by just pushing back the manual override to auto position.