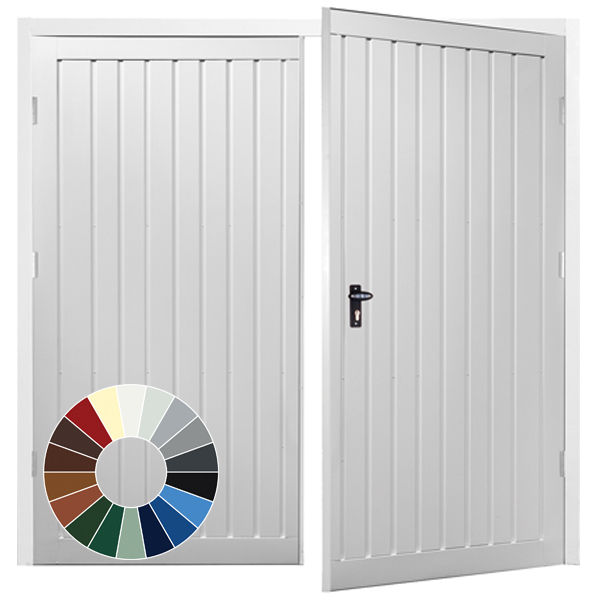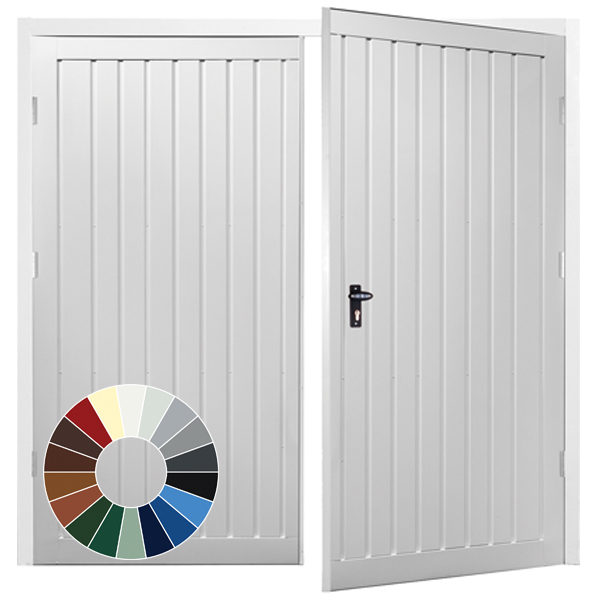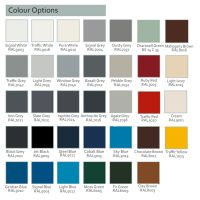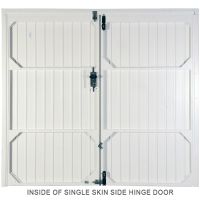 Drayton Vertical Standard Rib - Standard Sizes up to 10ft Wide
Side Hinged Garage Doors
18 RAL Colour Options
Material: Steel


(Excluding VAT and £925.20 Inc. VAT)
(Excluding VAT and £
925.20
Inc. VAT)
NEED HELP?
Let us help you complete your order
Description

Application

Specification

Installation

Warranty

Measure

Videos
Description
This set of side hinged doors is additionally strengthened at the back of each leaf with steel supporting bars, which gives extra security as well as stability in high winds.
The vertical design gives the impression of tongue and groove planks and these are our narrower plank effect design choice, whilst being in a smooth factory finished powder coat, in a choice of 18 different RAL colours. The standard is Traffic white RAL 9016 at no extra cost.
If you choose to have the factory fitted steel frame with this set of doors this will enable smooth and easy application to your building, it simply screws into the brick or blockwork and the doors remain in place with their hinges already fixed for you.
Each set of side hinged doors come with a black handle and lock which attaches the top and the bottom when the key is turned, enabling easy access to the homeowner from either side, and you can fix the non leading door at the top and the bottom with two shoot bolts.
These doors come up to an over frame size of 2844mm wide and they open outwards. You will be able to select the leading door and you can have either a 50-50 split or ask for a 70-30 split so that your most commonly used door is the smaller one and the lesser moving door is the larger one that stays fixed for longer.
Application
Ideal for all residential applications.
Specification
The Drayton design has a standard rib vertical design and is only available in 50/50 split.
These doors open outwards as standard. The steel bracing on these single skin doors provides a robust feel, ensuring durability and longevity.
These side-hinged doors come with a standard black handle and internal lock handle. The high-grade corrosion-protected hinges ensure smooth operation and eliminate leaf sag.
All of our side-hinged doors feature a strong sub-chassis with bracing plates that provide rigidity to the door panel. Standard doors come with top and bottom cable-operated lock latches to the active leaf and shoot bolts to the inactive leaf for dependable security.
Our side-hinged doors are available in White RAL 9016 as standard, or in a range of on-trend RAL colour options:
Jet Black RAL 9005
Anthracite Grey RAL 7016
Traffic Grey RAL 7042
Window Grey RAL 7040
Light Grey RAL 7035
Light Blue RAL 5012
Signal Blue RAL 5005
Steel Blue RAL 5011
Fir Green RAL 6009
Moss Green RAL 6005
Chartwell Green BS 14 C 35
Brown RAL 8017
Mahogany Brown RAL 8016
Clay Brown RAL 8003
Terracotta Brown RAL 8004
Ruby Red RAL 3003
Ivory RAL 1015
If you select to order a threshold strip, it will be pre-fitted to the door for added ease of installation.
To ensure a successful installation, all necessary information and instructions are provided with every door purchase. Choose our side-hinged garage doors for a combination of strength, style, and security.
Installation
Installation instructions provided with the door.
Warranty
1. Warranty Period. A warranty covering the safe and reliable operation of the garage door for a period of 10 years from the date of purchase is given to the original purchaser.
The purchaser is given a 2 year warranty for all springs; tracks; rollers; and hinges for normal use, whereby normal use constitutes no more than 5 operations (open/close) per day. We recommend that they are inspected annually by a competent engineer. The warranty period for replacement parts is 6 months or for the remainder of the warranty period.
2. Requirements. Warranty is valid in the country where the garage door was purchased.
The product must have been purchased through one of our authorised partners and a barcode and receipt of purchase provided.
The warranty only covers damage to the garage door.
3. Performance. During the warranty period we will rectify defects to the Fort product that can be proved to be material or manufacturing faults. At our discretion we will either exchange; repair; or reduce the price. We will not accept any costs for dismantling; installation; or delivery.
The warranty does not cover damage caused by:
- Improper transport and fitting.
- Repairs by non-qualified or non competent individuals.
- External influences such as fire, water, alkaline solutions, acid, bird droppings or abnormal atmospheric pollution.
- The use of non Fort Doors parts without the approval of the manufacturer.
Additional Information
It is a fundamental condition of this guarantee that the product has been installed, maintained and serviced correctly and is used solely for the purpose for which it was designed.
Incorrect installation, maintenance and service will invalidate this warranty.
The door must be kept in a clean condition and free from impact damage.
Fort garage doors come with pull handles to the front panel as standard.
The pull handles are made using grade 304 Stainless steel for use externally and internally in heavily sanitised areas such as kitchens and washrooms.
Like all steel, failure to keep the item clean can cause surface blemishes and what looks like a major product failure and rusting.
You will often find marks appearing in the winter when the roads have been gritted, salt on the surface are all steel products arch enemy.
If your pull bars develop small blemished areas during December, January and February in particular then you should wash them off using cold water and washing up liquid, you can use a cream cleaner like CIF rubbed lightly to remove the blemishes.
If you have them appear it means you have salt on the surface and need to increase the frequency of the door washdown.
Please remember all stainless steel can blemish even knives and forks in a dishwasher because salt is used as a scrubbing agent, wiping blemishes off with a cloth is standard practice and you should treat the door bars the same, clean and wipe regularly.
If you live close to the sea or estuary you should apply a light oil after washing once a month to keep the item clean and fresh.
Measure
The ordering sizes refer to the dimensions of the internal sub frame size. Please add on the dimensions for the sub frame to provide your overall dimensions. Allow 10mm minimum tolerance on the width and between 5-10mm on the height for your brickwork opening sizes.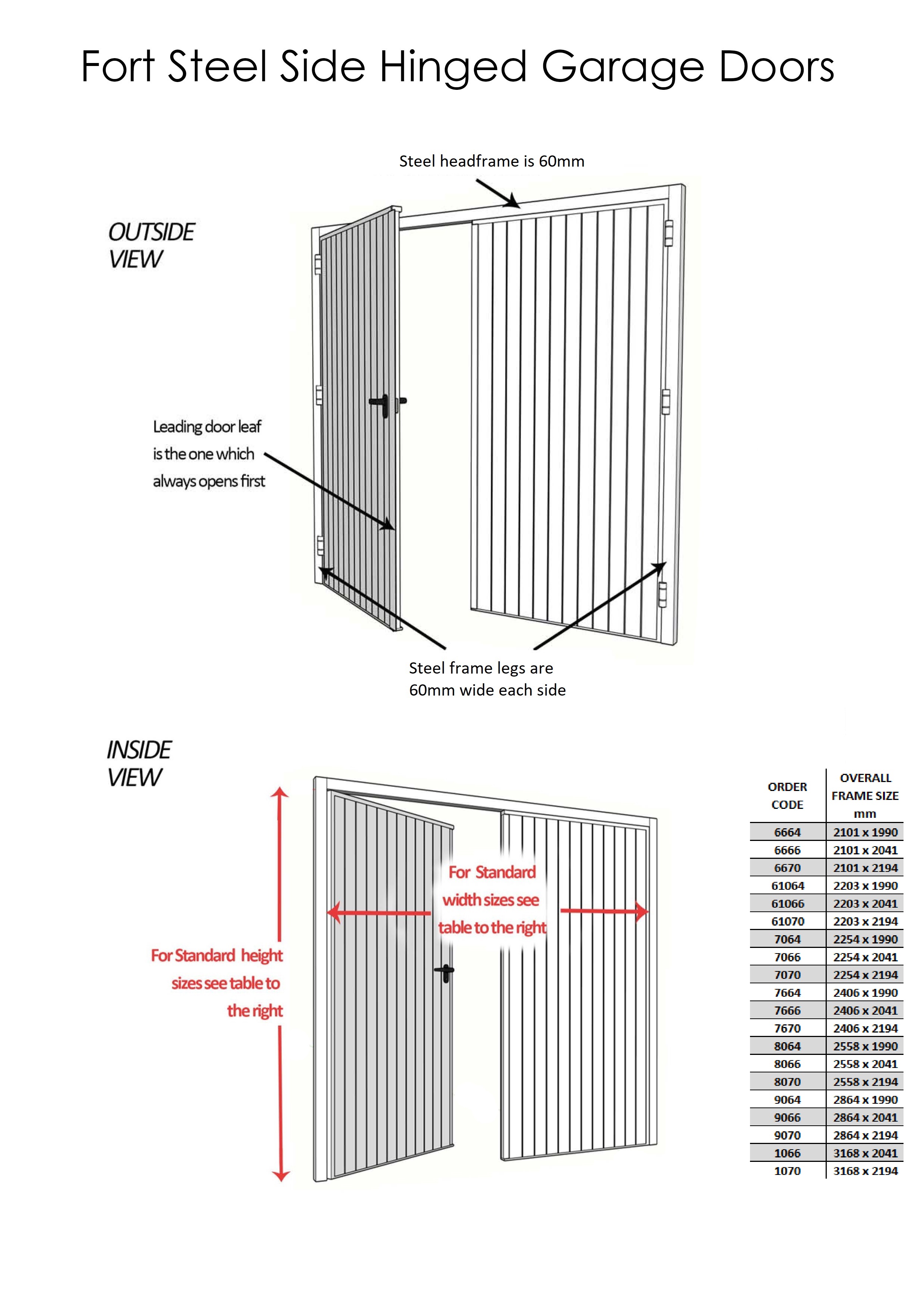 Video
Try some of our best sellers