Shop Categories

Products Overview

Services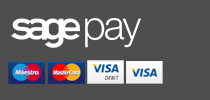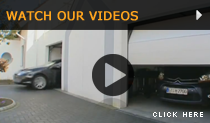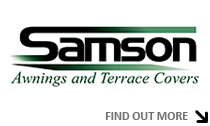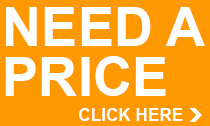 PRODUCT SEARCH
Vortex Commercial Umbrella
Manufactured in the UK, the Vortex High Tensile Commercial Umbrella is the ultimate solution for commercial outdoor cover, providing both shade and shelter all year round.
It really is the ultimate outdoor umbrella, and the only one of its kind. If you need a large umbrella in a commercial application where there is a risk of staff and management leaving the umbrella open in high winds or very bad weather then this is the umbrella to specify.

The Vortex Umbrellas have a sturdy stainless steel frame structure and high tensile canopy in white as standard, or a choice of many different colours, with the option of logos and signwriting available to promote your business with this superb umbrella and advertising opportunity. The umbrella can be lowered very easily but this is not very often necessary.

Tested to Wind Force 11 !!
These Umbrellas have been designed so they can be left up and open all year round (except for the occasional extreme weather!) and when required the umbrellas can be opened and closed easily.

The specially designed super strong cover fabric is easily maintained, long lasting and tear resistant. It will outperform any other large umbrella in commercial applications for a truly lasting outdoor sun and rain protection system.

Commercial sun and rain protection with the added advantage of a very high wind rating making it perfect for the catering and restaurant trade where management of umbrellas is difficult with the weather changes. When the weather can change so rapidly it is all too easy for unbrellas and awnings to be left open and sustain damage very quickly.
The Vortex would need a hurricane warning before it is required to be taken down and that might only be 2 or 3 times in an average year in the UK.

With lights and heaters and the pole mounted table this is a perfect addition to any outdoor area in a bar, restaurant, cafe or club.
When there is a requirment for larger areas the Vortex umbrellas can be sited next to each other and a fabric 'gutter' fixed between the umbrella edges will take the rainwater away to whichever side is required. This system allows the installation of a multitude of umbrellas to cover very large areas indeed.

See the options and accessories available below:
Solamagic Heater 1.5kW Electric Heater
(Hirschmann Plug, cable and velcro bracket).
Mast Mounted 4 x 50W Spot Light
(1 x 2.0m cable included and fitted).
5-channel hand held remote control or
Remote Receiver 0.5kW (operates lights only).
Various ways to install the Vortex Umbrella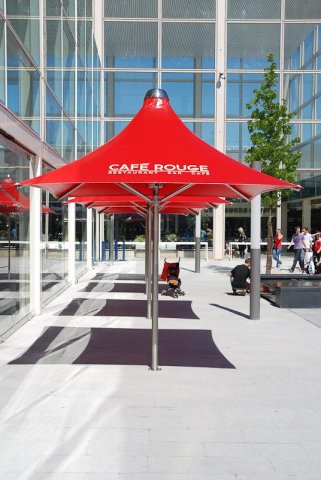 In Ground base:
These are suitable for permanent fixing of the Vortex Umbrellas and provides the best stability for the product all year round. The sleeve in the ground is stainless steel and also has a cover plate for when the umbrella is removed so as nt to be a trip hazzard.
Electrical cables should be run through the ground, throughout the ground base, completely hiding them.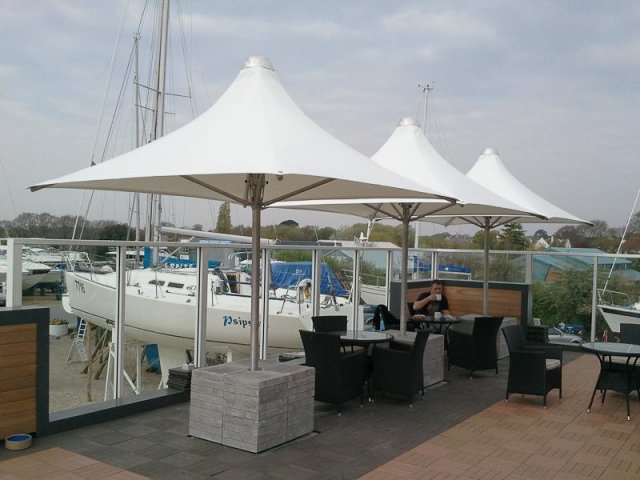 Mobile base:
This is a large steel base with concrete slabs. These allow a non permanent fix and although they are very heavy this installation does allow the umbrella to be moved when required. The slabs can also be clad in timber to provide a very useful 4 sided seat or if made higher a table area for drinks and snacks to rest on.

PARASOL COLOURS

All of the Vortex parasols are manufactured from durable and long lasting Ferrari 502 PVC material. The fabric is suitable for most climatic conditions and is easy to clean and maintain during the seasons.

With a choice of 40 colours to choose from to suit your environment there is always a colour for you. White is the standard and stock colour for fast delivery.


Perfect for advertising your business!

Vortex provide the best platform for high visibility branding and because the umbrella is so tall it will ensure your message is seen.

For a permanent solution, the Vortex canopies can be screen printed at the time of order. Please ask for further details (0800) 328 6250.

Removable vinyl can also be applied for temporary branding once the parasol is in place.

Logos or the screen print can be applied to either inside or outside of the parasol panes.