Retractable Steel Security Grilles
Collapsible, Retractable, Fixed & Folding - All at the best direct internet prices
Samson Doors offer the highest quality, robust and reliable, made to measure range of folding security grilles for effective long term and easy use around the home or the office.
These are a superb tried and tested way to ensure the casual opportunist or determined thief cannot gain entry to your premises.
Security Grilles Overview:
- Effective security solution for the home and office
- Distinct visible deterrent when in use
- Discreet when open, and can be effectively hidden behind curtains
- Made to measure to the millimetre to ensure the very best fit and maximum effective security
- Extensive choice of colours to match to window frames, doors and surrounding furnishings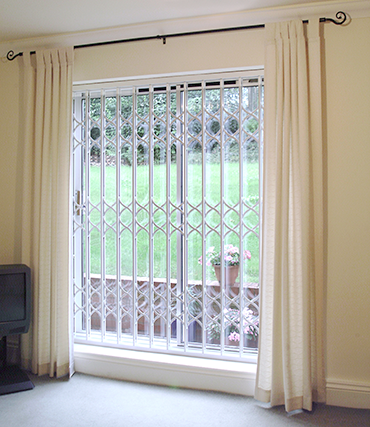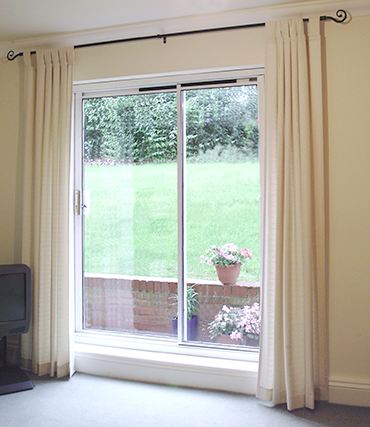 Manufacturing
Every retractable steel grille is manufactured using high quality galvanised steel with precision parts used in the joints and rolling sections. The quality product and manufacturing makes for a smooth, long lasting security grille that requires little, if any, maintenance at all. The principal is to have a good physical security products to protect your doors and windows, but when opened remain very discreet indeed. Our range of grilles are able ot be stacked up neatly to the sides, and can be hidden behind curtains, as seen above.
Installation
Samson offers a professional supply and installation service for security grilles. Our skilled installers are trained to efficiently fit and repair retractable grilles and related products.
Fitting the security grille internally to the window or doorway is the normal practice and usually gives the best visual solution. A grille fitted inside a window also means the intruder would have to smash the glass before even attempting to penetrate a physical security item to which he can usually see is going to be some challenge.
Security grilles can be easily fitted inside or outside the door or window aperture with very little headroom required and a choice of bottom track systems of varying sizes. Most security grilles are fitted internally but can be externally fitted if required, but not recommended normally. When used in exposed external applications there is the option of an extra coating to help protect the steel sections from the elements.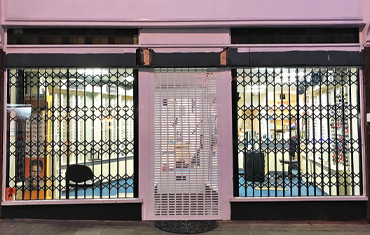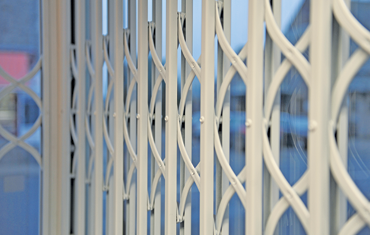 Easy & Convenient Usage
Our security grilles offer easy manual operation with very little maintenance required at all, with simple one point locking, even with multiple latch points.
Each of our high quality security grilles are built to open and close easily thanks to their folding joints.
Doors and windows can usually be left open with the security grille left closed. This makes them ideal for ventilation during the hot summer months, whilst retaining security and peace of mind for out of sight areas. With the security grille being relatively unobtrusive, we find most installations on windows are left closed most of the time as the loss of light and vision is minimal.
Options
There are options for hinging aside and folding bottom track for doorways and lower bottom track for window sills.
There is a choice of different lattice designs and sash layouts to suit the aperture surroundings. The lattice is available in an X Design (below, left) or S Design (below, right).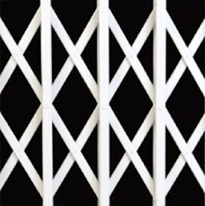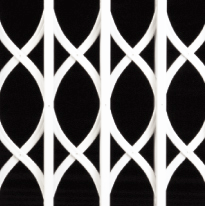 Security
Doors and windows are obviously one of the most common points of access for any forced or illegal entry into a building. The forced type of entry can take place at many levels depending on the strength and size of the intruder and what tools they may be carrying at the time. From smashing a pane of glass, to disc-cutting through door panels, a lot depends on the location of the door or window, and the attraction of what rewards there may be behind it.
If you require more advanced security grilles, our insurance rated Level 1 'Secured by Design', LPCB rated security grilles offer very long periods of resistance and have been tested in strict, established conditions. Consider the Securoguard 1001 if you require such security, otherwise the 1000 will offer fantastic security way above basic security bars and grilles of a lesser quality.
SeceuroGuard 1000 Security Grilles
The SeceuroGuard 1000 grilles are the perfect deterrent to would be intruders, thanks to the comprehensive manner of their overall construction.
Our range of SeceuroGuard shutters offer strength with style, and are available in a massive choice of colours. Every security grille is made to order to ensure a perfect fit.
The standard SeceuroGuard can also be upgraded to the 1001. The 1001 offers the same quality product, but with enhanced features to further increase security. These grilles are tested to Secured by Design standards, an initiative backed by UK Police and insurance companies.
In commercial applications the inherent strength from the design and construction ensures that whatever the application, the Seceuroguard is up to the job.
Fit correctly and choose the colour and specification wisely, and you will have a very functional, attractive physical security system for peace of mind when away from your property.
Colour Options
The SeceuroGuard offers an enormous range of standard finished colours to blend in with colour schemes. Special colours are also available on request.
(The below colours are not necessarily up to date).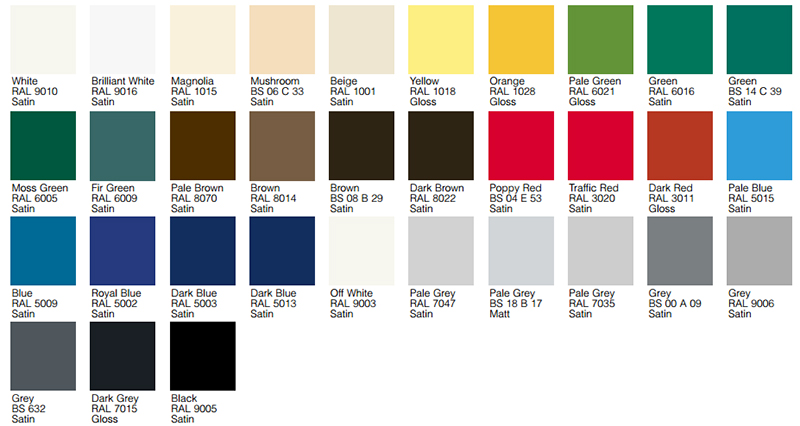 Ideal for Various Environments
Grilles are available in very large sizes, ideal where other security solutions cause problems. A grille application does not require space to accommodate a curtain roll, as with a roller shutter. In fact, they are able to fit into almost any aperture, with or without space challenges.
More likely to be used all the time as operation is so easy, roller shutters tend to be only opened and closed once a day as a routine. However, grilles more often than not tend to be left closed and secure in many situations, making security more constant, day and night.
Planning permission is a lot less likely to be required for security grilles over security shutters mounted externally.
The flexibility in how a security grille can be installed is what is most appealing. Although you may not be able to see an image of how it may look on your house or business premises, consider the many options of how and where it can be fitted. Most installations we have carried out tend to just become part of the everyday fixtures and fittings of the building, rather than an add on item that can be considered an eyesore.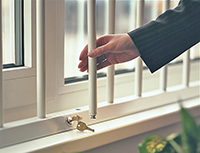 Not what you're looking for?
We also supply and install high security removable bars!
The SeceuroBar in an award winning system which boasts anti-cut steel bars.
The bars are securely locked into position which protects vulnerable windows. They can also be released on the inside to give you total vision and allow for maintenance of windows.
For more advanced security systems, Samson Doors offer various types of security steel doorsets. Our range also consists of many different types and levels of security shutters, with solid, perforated or open lattice options.